Results and Scorers:
RESULTS: 2017 Intrust Super Cup Round 20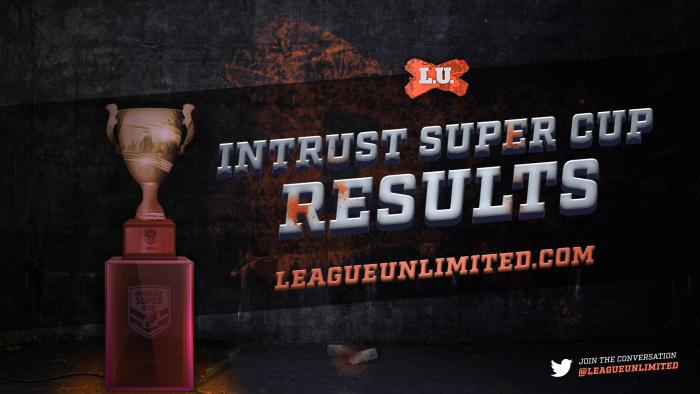 All the results and scorers from the twentieth round of the QRL Intrust Super Cup.

All listed times are AEST (NSW/QLD/VIC/ACT).
---
RELATED: See the full list of 2017 Intrust Super Cup Draw and Results.
---
Wynnum Manly Seagulls 16 Northern Pride 40
Venue: Yusia Ginau Oval
Date: Saturday 22 July 2017 at 3:00pm
Wynnum Manly Seagulls (16)
Tries: Shaun Nona, Daniel Ogden, Peter Gubb
Goals: Paora Kemp 2
Northern Pride (40)
Tries: Brad Stephen 2, Jared Allen, Shawn Bowen, Marcus Jensen, Patrick Mago, Gideon Gela-Mosby
Goals: Jordan Biondi-Odo 6
---
Central Queensland Capras 6 Redcliffe Dolphins 42
Venue: Bear Park, Clermont
Date: Saturday 22 July 2017 at 5:00pm
Central Queensland Capras (6)
Tries: Billy Glibert
Goals: Krys Freeman 1
Redcliffe Dolphins (42)
Tries: Tom Opacic 2, Curtis Johnston 2, Troy Giess, Shane Pumipi, Rulon Nutira, Zach Strasser
Goals: Tyson Gamble 5
---
Ipswich Jets 22 Townsville Blackhawks 20
Venue: Eric Lenton Memorial Recreation Ground
Date: Saturday 22 July 2017 at 6:00pm
Ipswich Jets (22)
Tries: Tyson Lofipo, Marion Seve, Nat Neale, Luke Capewell
Goals: Wes Conlon 3
Townsville Blackhawks (20)
Tries: Jordan Drew, Blake Leary, Sione Lousi, Jonathon Reuben
Goals: Carlin Anderson 2
---
Easts Tigers 34 Norths Devils 12
Venue: Archer Park
Date: Sunday 23 July 2017 at 1:40pm
Easts Tigers (34)
Tries: Leon Ellia-Niukore, Billy Walters, Brayden Tropy, Adam Crear, Linc Port, Charlie Galo
Goals: Brayden Tropy 5
Norths Devils (12)
Tries: Michael Lucas 2, Luke Pollock

---
Souths Logan Magpies 32 Tweed Heads Seagulls 18
Venue: Kev Bannah Oval
Date: Sunday 23 July 2017 at 2:00pm
Souths Logan Magpies (32)
Tries: Sam Scarlett 2, Joe Boyce, Cameron Booth, Jamayne Isaako, Lenny Magey
Goals: Jamayne Isaako 4
Tweed Heads Seagulls (18)
Tries: James Wood 2, Jenan Parrish
Goals: Lindon McGrady 3
---
Burleigh Bears 32 Sunshine Coast Falcons 26
Venue: Rowden Park
Date: Sunday 23 July 2017 at 2:00pm
Burleigh Bears (32)
Tries: Jake Carl 4, Sami Sauiluma, Jamie Dowling
Goals: Jamal Fogarty 4
Sunshine Coast Falcons (26)
Tries: Matt Soper-Lawler 2, Justin Olam, Ryley Jacks, Tui Kamikamica
Goals: Guy Hamilton 3
---
PNG Hunters 22 Mackay Cutters 22
Venue: National Football Stadium
Date: Sunday 23 July 2017 at 3:00pm
PNG Hunters (22)
Tries: Bland Abavu 2, Israel Eliab, Stargroth Amean
Goals: Ase Boas 3
Mackay Cutters (22)
Tries: Yamba Bowie 2, Johnny Faletagoa'i, Shane Wright
Goals: Jack Joass 3
---
RELATED: Click here to view the current Intrust Super Cup ladder.