Results and Scorers:
RESULTS: 2017 Sydney Shield Round 24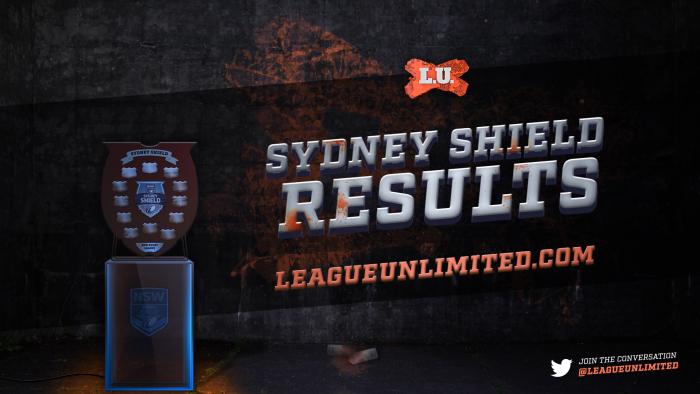 All the results and scorers from the NSWRL Sydney Shield's 24th and penultimate round.
All listed times are AEST (NSW/QLD/VIC/ACT).
---
RELATED: See the full list of 2017 Sydney Shield Draw and Results.
---
Western Suburbs Magpies 16 Belrose Eagles 26
Venue: Campbelltown Stadium
Date: Saturday 19 August 2017 at 11:00am
Western Suburbs Magpies (16)
Tries: Chris Coleman, Jake Scott, Junior Mapesone
Goals: Mason Farrell 1, Ben Powers 1
Belrose Eagles (26)
Tries: George Aroyan, Francis Laloua Tui, Christian Bate, Andrew Layton, Cody Abrahams
Goals: Andrew Layton 3
---
Mounties def Asquith Magpies on forfeit
Venue: Aubrey Keech Reserve
Date: Saturday 19 August 2017 at 1:00pm
---
St Marys Saints 40 Wentworthville United 28
Venue: St Marys Stadium
Date: Saturday 19 August 2017 at 2:00pm
St Marys Saints (40)
Tries: Aiden Glanville 2, James Conroy, Patrick Hollis, Peter Nay, Antonio Faguuaea, Meni Luke
Goals: Aiden Glanville 6
Wentworthville United (28)
Tries: Inoke Vunipola, Siaosi Sisifa, Kamren Cryer, Lionel O'Mally, Braydon Walsh
Goals: Kamren Cryer 4
---
Cabramatta Two Blues 42 Moorebank Rams 22
Venue: New Era Stadium
Date: Saturday 19 August 2017 at 3:00pm
Cabramatta Two Blues (42)
Tries: Jay Belgrove, Tim McDonald, Zac Wedesweiler, Sione Kaivelata, Patrick Dumont, Jordan Bichan, Keiran Pope, Nephi Kapinga
Goals: Patrick Dumont 5
Moorebank Rams (22)
Tries: Sepu Ryder, Jonty Timoti, Corey Matthews, Kieran Hayman
Goals: Kieran Hayman 3
---
Guildford Owls 28 East Campbelltown Eagles 29
Venue: McCredie Park
Date: Saturday 19 August 2017 at 3:30pm
Guildford Owls (28)
Tries: Cameron Mazzelli 2, Todd Sapienza, Treyvon Leuluai, Tyrone Shelley
Goals: Todd Sapienza 4
East Campbelltown Eagles (29)
Tries: Ben Baker 2, Aaron Teariki, Theodore Leato, Fusi Toutai
Goals: Ben Baker 4
Field Goals: John Da Silva 1
---
Hills District Bulls 44 Blacktown Workers Sea Eagles 4
Venue: Crestwood Oval
Date: Sunday 20 August 2017 at 1:00pm
Hills District Bulls (44)
Tries: Sam Shepherd 2, Jake Lennox 2, Troy Black, Isaac Gorman, James Horvat, Hayden McWilliam
Goals: James Horvat 5, Liam Walker 1
Blacktown Workers Sea Eagles (4)
Tries: Lolu Ma'u
---
RELATED: Click here to view the current Sydney Shield ladder.