Results and Scorers:
RESULTS: 2017 Intrust Super Cup Round 25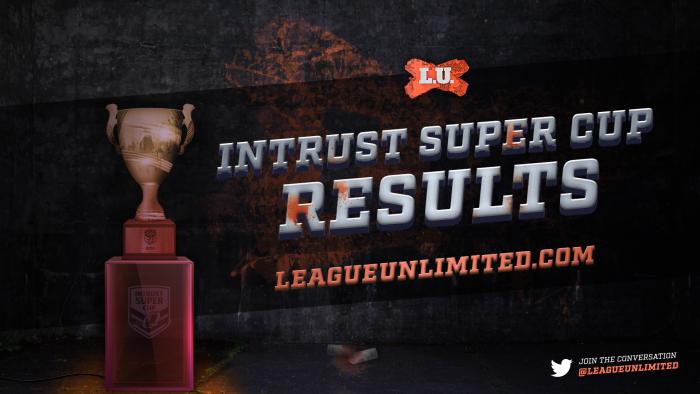 All the results and scorers from the 25th and final round of the QRL Intrust Super Cup.
All listed times are AEST (NSW/QLD/VIC/ACT).
---
RELATED: See the full list of 2017 Intrust Super Cup Draw and Results.
---
Ipswich Jets 44 Central Queensland Capras 4
Venue: Cahill Park
Date: Saturday 26 August 2017 at 5:00pm
Ipswich Jets (44)
Tries: Julian Christian 3, Nat Neale 2, Josh Seage, Michael Purcell, Marion Seve
Goals: Jayden Connors 6
Central Queensland Capras (4)
Tries: Chanel Seigafo
---
Northern Pride 16 Redcliffe Dolphins 40
Venue: Barlow Park
Date: Saturday 26 August 2017 at 5:30pm
Northern Pride (16)
Tries: Jack Campagnolo, Gideon Gela-Mosby, Marcus Jensen
Goals: Jordan Biondi-Odo 2
Redcliffe Dolphins (40)
Tries: Jonus Pearson 3, Myles Taueli 2, Matthew Lodge, Christian Hazard
Goals: Tyson Gamble 6
---
Easts Tigers 32 Burleigh Bears 12
Venue: Suzuki Stadium, Langlands Park
Date: Saturday 26 August 2017 at 6:00pm
Easts Tigers (32)
Tries: Jake Foster, Charlie Galo, COnor Carey, Shane Neumann, Tom Butterfield, Jarrod McInally
Goals: Billy Walters 4
Burleigh Bears (12)
Tries: Jamal Fogarty 2
Goals: Jamal Fogarty 2
---
Mackay Cutters 18 Souths Logan Magpies 32
Venue: BB Print Stadium Mackay
Date: Saturday 26 August 2017 at 6:00pm
Mackay Cutters (18)
Tries: Nathan Saumalu, Nicho Hynes, Daniel Boyd
Goals: Jack Joass 3
Souths Logan Magpies (32)
Tries: Lenny Magey, Sam Scarlett, Brendon Gibb, Paul Rokolati, Jordan Scott, Jack Anderson 
Goals: Jamayne Isaako 4 
---
Sunshine Coast Falcons 42 Townsville Blackhawks 16
Venue: Sunshine Coast Stadium
Date: Sunday 27 August 2017 at 1:40pm
Sunshine Coast Falcons (42)
Tries: Justin Olam 2, Scott Drinkwater, Alex Bishop, Jahrome Hughes, Tui Kamikamica, Matt Soper-Lawler, Chris Lewis
Goals: Guy Hamilton 4, Scott Drinkwater 1
Townsville Blackhawks (16)
Tries: Michael Parker-Walshe, Oshae Tuiasau, Johnathon Reuben
Goals: Carlin Anderson 1, Blake Leary 1
---
Tweed Heads Seagulls 26 PNG Hunters 18
Venue: Piggabeen Sports
Date: Sunday 27 August 2017 at 2:05pm
Tweed Heads Seagulls (26)
Tries: Sam Meskell, Nick Harrold, Jayden Baker, Tristan Lumley
Goals: Lindon McGrady 5
PNG Hunters (18)
Tries: Ase Boas, Stargroth Amean, Wartovo Puara
Goals: Ase Boas 3
---
Norths Devils 30 Wynnum Manly Seagulls 16
Venue: Bishop Park
Date: Sunday 27 August 2017 at 3:00pm
Norths Devils (30)
Tries: Todd Murphy, Luke Pollock 2, Dane Chang, Delouise Hoeter
Goals: Haydan Lipp 5
Wynnum Manly Seagulls (16)
Tries: Billy Solah, Daniel Ogden, Alex Barr
Goals: Shaun Nona 2
---
RELATED: Click here to view the current Intrust Super Cup ladder.