Results and Scorers:
RESULTS: 2017 Sydney Shield Round 25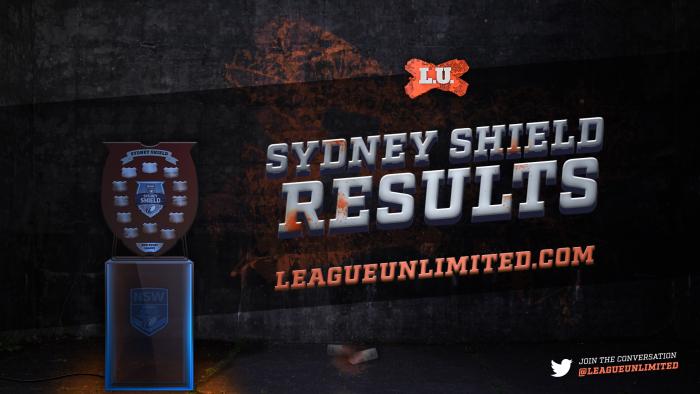 All the results and scorers from the 25th and final round of the NSWRL Sydney Shield.
All listed times are AEST (NSW/QLD/VIC/ACT).
---
RELATED: See the full list of 2017 Sydney Shield Draw and Results.
---
Mounties 72 Blacktown Workers Sea Eagles 20
Venue: Aubrey Keech Reserve
Date: Saturday 26 August 2017 at 11:15am
Mounties (72)
Tries: Jye Ellul 2, Sonny Bristow 2, Brad Speechley, Ilija Cotric, Corey Makelim, Logan Geyer, Brandon Raeli, Damon Smith, Michael Morris, Kenny Soumpholphakdy, Ben Chahoud
Goals: Jye Ellul 6, Michael Stig 4
Blacktown Workers Sea Eagles (20)
Tries: Tala Semu, Bill Benjamin, Debraska Rikiriki, Lolu Ma'u
Goals: Luke Chalkley 2
---
Western Suburbs Magpies 52 Hills District Bulls 4
Venue: Campbelltown Stadium
Date: Saturday 26 August 2017 at 1:00pm
Western Suburbs Magpies (52)
Tries: Mason Farrell 3, Hans Taala, Joe Kaufusitua, Jason Tuuala, Nathan Tui, Justin Frain, Rod Ceasar
Goals: Blake Higgins 7, Rod Ceasar 1
Hills District Bulls (4)
Tries: Anthony Overton
---
Moorebank Rams lost to Guildford Owls on forfeit
Venue: Hammondville Oval
Date: Saturday 26 August 2017 at 3:00pm
---
Asquith Magpies 32 Cabramatta Two Blues 30
Venue: Storey Park
Date: Saturday 26 August 2017 at 4:00pm
Asquith Magpies (32)
Tries: Ari Bou-Sleiman 3, Alex Nicholls-O'Neill 2, Shae Jarvis
Goals: Shae Jarvis 3, Vinnie Ngaro 1
Cabramatta Two Blues (30)
Tries: Tim Jones 2, Lautusi Mailei 2, Tenisio Ahovelo, Kisi Taulani
Goals: Patrick Dumont 1, Tom Harris 2
---
Wentworthville United 16 Belrose Eagles 16
Venue: Ringrose Park
Date: Sunday 27 August 2017 at 11:15am
Wentworthville United (16)
Tries: Braydon Walsh, Jack Miller, Brendon Newton, Jermaine Mati-Leifi
Belrose Eagles (16)
Tries: Charlie Buttrose 2, Christian Bate
Goals: Shem Grieve 2
---
St Marys Saints 24 East Campbelltown Eagles 22
Venue: St Marys Stadium
Date: Sunday 27 August 2017 at 5:00pm
St Marys Saints (24)
Tries: Robbie Graham, Ben Cartwright, Andrew Oughtred, Jesse Jackson, James Conroy
Goals: Aiden Glanville 2
East Campbelltown Eagles (22)
Tries: Ben Baker 3, Fusi Toutai
Goals: Ben Baker 3
---
RELATED: Click here to view the current Sydney Shield ladder.