Results and Scorers:
RESULTS: 2018 Harvey Norman Tarsha Gale Cup Round 2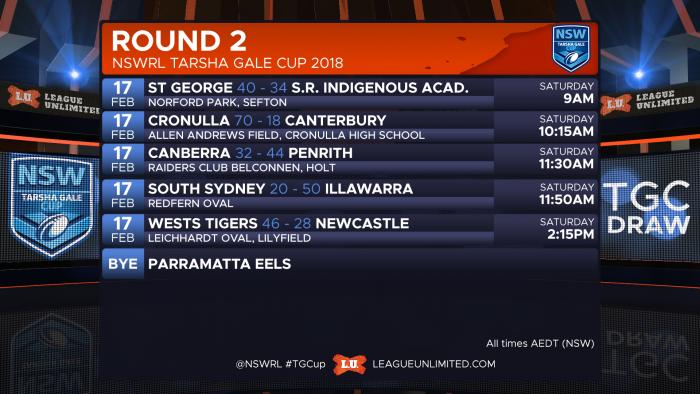 All the results and scorers from the second round of the NSWRL's Harvey Norman Tarsha Gale Cup under 18 girls junior rep competition.
All listed times are AEDT (NSW/QLD/VIC/ACT).
---
RELATED: See the full list of 2018 Harvey Norman Tarsha Gale Cup Draw and Results.
---
St George Dragons 40 Sydney Roosters Indigenous Academy 34
Venue: Norford Park
Date: Saturday 17 February 2018 at 9:00am
St George Dragons (40)
Tries: Leanne Toomalatai 2, Sereana Naitokatoka, Ema Rainima, Aaliyah Fasavalu-Fa'amausili, Taina Naividi, Seraia Yasa, Anastacia Shum-Cottrell
Goals: Sereana Naitokatoka 3, Anastacia Shum-Cottrell 1
Sydney Roosters Indigenous Academy (34)
Tries: Shataya King 2, Brandii Davis-Welsh 2, Summer Dann, Dakota Blacklock, Robyn Draper
Goals: Dakota Blacklock 2, Shataya King 1
---
Cronulla-Sutherland Sharks 70 Canterbury-Bankstown Bulldogs 18
Venue: Allen Andrews Field
Date: Saturday 17 February 2018 at 10:15am
Cronulla-Sutherland Sharks (70)
Tries: Madison Higgins-Ashby 4, Quincy Dodd 2, Zali Fay 2, Kaleah Salmon, Temukisa Ioane, Alilia Veikoso, Elly Hazelton, Lynda Howarth
Goals: Lynda Howarth 5, Quincy Dodd 3, Madison Higgins-Ashby 1
Canterbury-Bankstown Bulldogs (18)
Tries: Anita Nelson, Rhiannon Gregorio, Koniseti Tinao, Joy Tedeschi
Goals: Rhiannon Gregorio 1
---
Canberra Raiders 32 Penrith Panthers 44
Venue: Raiders Club Belconnen
Date: Saturday 17 February 2018 at 11:30am
Canberra Raiders (32)
Tries: Mackenzie Dodds, Emily Hoffman, Jada Olsen-Flanagan, Cassidy Whitehouse, Tamika Millard, Emma Johnson
Goals: Tamika Millard 2, Lauren Kelly 2
Penrith Panthers (44)
Tries: Teagan Toa Toa 2, Christian Pio, Suresa-Moana Enese, Akela Pitcaithly, Dean Isaako, Nikita Katoa, Justyce Cleverly, Emma Parker
Goals: Christian Pio 4
---
South Sydney Rabbitohs 20 Illawarra Steelers 50
Venue: Redfern Oval
Date: Saturday 17 February 2018 at 11:50am
South Sydney Rabbitohs (20)
Tries: Kiarna Dymock 2, Tatum Allchin, Bryanna Murray
Goals: Lashawnda Kelly 1, Kobe Dymock 1
Illawarra Steelers (50)
Tries: Mikayla Kidd 2, Keeley Davis 2, Maddison Weatherall 2, Rhiannon Brown, Emily Andrews, Abby Holmes, Chantelle Newman
Goals: Keeley Davis 5
---
Wests Tigers 46 Newcastle Knights 28
Venue: Leichhardt Oval
Date: Saturday 17 February 2018 at 2:15pm
Wests Tigers (46)
Tries: Emily Curtain 3, Shaylee Bent 2, Litiana Smith Warwick, Keighley Tarlington, Sophie Curtain, Mackenzie Stone
Goals: Emily Curtain 4, Keighley Tarlington 1
Newcastle Knights (28)
Tries: Skye Pullman 2, Shenay Ball 2, Eleanor Russell, Caitlan Johnson
Goals: Skye Pullman 1, Sophie Buller 1
---
Parramatta Eels had a bye this round.
---
RELATED: Click here to view the current Harvey Norman Tarsha Gale Cup ladder.