Results and Scorers:
RESULTS: 2018 UNE SG Ball Cup Round 2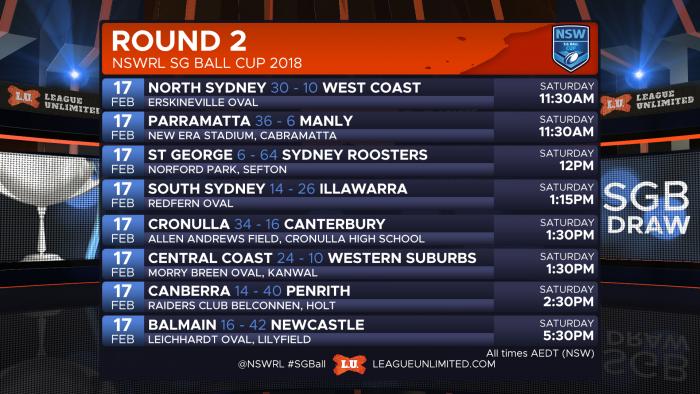 All the results and scorers from the second round of the NSWRL SG Ball Cup Under 18's junior reps competition.
All listed times are AEDT (NSW/VIC/ACT).
---
RELATED: See the full list of 2018 UNE SG Ball Cup Draw and Results.
---
Parramatta Eels 36 Manly-Warringah Sea Eagles 6
Venue: New Era Stadium
Date: Saturday 17 February 2018 at 11:30am
Parramatta Eels (36)
Tries: Matthew Doorey 2, Peter Tevaga, Stefano Utoikamanu, Tyler Tuigamala, Charbel Tasipale, John-Paul Nohra
Goals: Kyle Schneider 4
Manly-Warringah Sea Eagles (6)
Tries: Joshua Schuster
Goals: Joshua Fepuleai 1
---
North Sydney Bears 30 West Coast Pirates 10
Venue: Erskineville Oval
Date: Saturday 17 February 2018 at 11:30am
North Sydney Bears (30)
Tries: Malaki Malaki 2, John Pangan, Kohen Wright, Samuel Stratis
Goals: Samuel Stratis 5
West Coast Pirates (10)
Tries: Tyler Hunt, Bowman Stein
Goals: Tyler Hunt 1
---
St George Dragons 6 Sydney Roosters 64
Venue: Norford Park
Date: Saturday 17 February 2018 at 12:00pm
St George Dragons (6)
Tries: James Coyne
Goals: Cody Ramsey 1
Sydney Roosters (64)
Tries: Lathan Hutchinson-Walters 3, McKenzie Baker 3, Luke Sommerton 2, Harry Larkin, Duwayne Fuimaono, Asu Kepaoa
Goals: Harry Wilson 10
---
South Sydney Rabbitohs 14 Illawarra Steelers 26
Venue: Redfern Oval
Date: Saturday 17 February 2018 at 1:15pm
South Sydney Rabbitohs (14)
Tries: Aidan Manowski, Trevor-Joseph Sionetali, John Dodds
Goals: Kaylib Savage 1
Illawarra Steelers (26)
Tries: Jayden Sullivan 2, Zach Herring, Jack Walsh, Mathew Feagai
Goals: Jayden Sullivan 3
---
Cronulla-Sutherland Sharks 34 Canterbury-Bankstown Bulldogs 16
Venue: Allen Andrews Field
Date: Saturday 17 February 2018 at 1:30pm
Cronulla-Sutherland Sharks (34)
Tries: Jonaiah Lualua, Isaac Longmuir, Angus Ernst, Brad Middlebrook, Kai Broadhurst, Elliott Moaga
Goals: Kai Broadhurst 5
Canterbury-Bankstown Bulldogs (16)
Tries: Michael Fahd, Logen Dillon, Jake Averillo
Goals: Jake Averillo 2
---
Central Coast Roosters 24 Western Suburbs Magpies 10
Venue: Morry Breen Oval
Date: Saturday 17 February 2018 at 1:30pm
Central Coast Roosters (24)
Tries: Scott Casson, Lewis Sheens, Harrison Edwards, Jack Frasca, Brae Verheyen
Goals: Jack Frasca 2
Western Suburbs Magpies (10)
Tries: Jacob Wright, Thomas Delailoa
Goals: Cameron Oitmann 1
---
Canberra Raiders 14 Penrith Panthers 40
Venue: Raiders Club Belconnen
Date: Saturday 17 February 2018 at 2:30pm
Canberra Raiders (14)
Tries: Benjamin Nanesa, Jordan Little
Goals: Regan McClennan 3
Penrith Panthers (40)
Tries: Spencer Leniu 2, Maurice Trindall, Patrick Naicori, Matthews Faauila, Charlie Staines, Zachary Cini
Goals: Stephen Crichton 6
---
Balmain Tigers 16 Newcastle Knights 42
Venue: Leichhardt Oval
Date: Saturday 17 February 2018 at 5:30pm
Balmain Tigers (16)
Tries: Callum Ellis, Joel Saldaneri, Ethan Mokoia
Goals: Tane Edmed 2
Newcastle Knights (42)
Tries: Caleb Nicholls 2, Campbell Sheppard, Mitchell Black, Phoenix Crossland, Nathanael Sasagi, Starford Toa
Goals: Jock Madden 6, Caleb Nicholls 1
---
RELATED: Click here to view the current UNE SG Ball Cup ladder.