Results and Scorers:
RESULTS: 2018 Harvey Norman Tarsha Gale Cup Round 3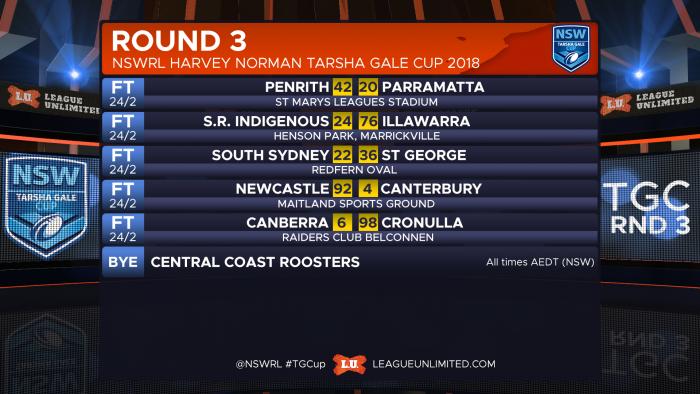 All the results and scorers from the third round of the NSWRL Tarsha Gale Cup Under 18's girls junior reps competition.
All listed times are AEDT (NSW/VIC/ACT).
---
RELATED: See the full list of 2018 Harvey Norman Tarsha Gale Cup Draw and Results.
---
Penrith Panthers 42 Parramatta Eels 20
Venue: St Marys Stadium
Date: Saturday 24 February 2018 at 8:30am
Penrith Panthers (42)
Tries: Justyce Cleverly 2, Cheryl Varga 2, Teagan Toa Toa, Lavinia Taiseni, Cydney-Lee Cherrington, Christian Pio
Goals: Christian Pio 4, Litiana Tuifua 1
Parramatta Eels (20)
Tries: Ngalika Barker 2, Shilea-T Schaaf, Tatyana-Louise Elisara
Goals: Karla Wise 2
---
South Sydney Rabbitohs 22 St George Dragons 36
Venue: Redfern Oval
Date: Saturday 24 February 2018 at 9:00am
South Sydney Rabbitohs (22)
Tries: Tatum Allchin 2, Raquel Willoughby, Bryanna Murray, Shae Hampson
Goals: Annabel Stojanovska 1
St George Dragons (36)
Tries: Ema Rainima 2, Aya Elosman, Taina Naividi, Sereana Naitokatoka, Betty Mose, Aaliyah Fasavalu-Fa'amausili
Goals: Sereana Naitokatoka 4
---
Newcastle Knights 92 Canterbury-Bankstown Bulldogs 4
Venue: Maitland Regional Sportsground
Date: Saturday 24 February 2018 at 10:30am
Newcastle Knights (92)
Tries: Eleanor Russell 2, Caitlan Johnston 2, Olivia Glanville 2, Skye Pullman 3, Emily Harman, Sophie Buller, Tazmyne Luschwitz, Olivia Kernick, Harmony Liddell, Bree O'Neill, Joeli Morris
Goals: Sophie Buller 5, Caitlan Johnston 8, Skye Pullman 1
Canterbury-Bankstown Bulldogs (4)
Tries: Sinead Sio
---
Canberra Raiders 6 Cronulla-Sutherland Sharks 98
Venue: Raiders Club Belconnen
Date: Saturday 24 February 2018 at 11:30am
Canberra Raiders (6)
Tries: Tamika Millard
Goals: Tamika Millard 1
Cronulla-Sutherland Sharks (98)
Tries: Quincy Dodd 3, Madison Higgins-Ashby 5, Alila Veikoso 2, Kaleah Salmon 2, Talei Holmes, Jaida White, Lynda Howarth 2, Temukisa Ioane
Goals: Quincy Dodd 15
---
Sydney Roosters Indigenous Academy 24 Illawarra Steelers 76
Venue: Henson Park
Date: Saturday 24 February 2018 at 1:00pm
Sydney Roosters Indigenous Academy (24)
Tries: Brandii Davis-Welsh, Lillyann Mason, Robyn Draper, Montana Roberts, Beverley Beale
Goals: Dakota Blacklock 2
Illawarra Steelers (76)
Tries: Keeley Davis 5, Abby Holmes, Lilly-Rose Bennett 3, Bronte Girdler, Rhiannon Brown, Mikayla Kidd, Maddison Weatherall
Goals: Keeley Davis 11, Bronte Girdler 1
---
Wests Tigers had a bye this round.
---
RELATED: Click here to view the current Harvey Norman Tarsha Gale Cup ladder.