Results and Scorers:
RESULTS: 2018 UNE SG Ball Cup Round 3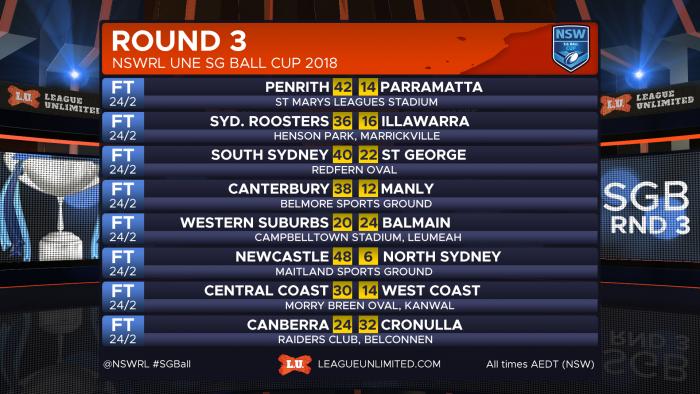 All the results and scorers from the third round of the NSWRL SG Ball Cup under 18's junior rep competition.
All listed times are AEDT (NSW/VIC/ACT).
---
RELATED: See the full list of 2018 UNE SG Ball Cup Draw and Results.
---
Penrith Panthers 42 Parramatta Eels 14
Venue: St Marys Stadium
Date: Saturday 24 February 2018 at 11:00am
Penrith Panthers (42)
Tries: James Taufetee 2, Hayden Bonanno, Matthew Faauila, Maurice Trindall, TBC x 3
Goals: Stephen Crichton 5
Parramatta Eels (14)
Tries: William Kei 2, Charbel Tasipale
Goals: Kyle Schneider 1
---
Sydney Roosters 36 Illawarra Steelers 16
Venue: Henson Park
Date: Saturday 24 February 2018 at 11:30am
Sydney Roosters (36)
Tries: Anthony Pele, Egan Butcher, Lewis Afeaki, Luca Moretti, Luke Sommerton, Asu Kepaoa
Goals: Harry Wilson 6
Illawarra Steelers (16)
Tries: Tyrone Harding, Hudson Spicer, Jayden Sullivan
Goals: Jayden Sullivan 2
---
South Sydney Rabbitohs 40 St George Dragons 22
Venue: Redfern Oval
Date: Saturday 24 February 2018 at 11:45am
South Sydney Rabbitohs (40)
Tries: Ratu Vesikula 2, Aidan Manowski 3, Raine Dellow, Logan Aldridge
Goals: Kaylib Savage 5, Logan Aldridge 1
St George Dragons (22)
Tries: Clayton Faulalo, Volkan Er, Simeone Taateo, Jared Wooster
Goals: Cody Ramsey 3
---
Canterbury-Bankstown Bulldogs 38 Manly-Warringah Sea Eagles 12
Venue: Belmore Sports Ground
Date: Saturday 24 February 2018 at 12:00pm
Canterbury-Bankstown Bulldogs (38)
Tries: Tommy Talau 2, James Valevatu, Iverson Fuatimau, Ryan Gray, Logen Dillon, Jackson Topine
Goals: Jackson Topine 5
Manly-Warringah Sea Eagles (12)
Tries: Josh Schuster 2
Goals: Tom Hardcastle 1, Luke Rouland 1
---
Western Suburbs Magpies 20 Balmain Tigers 24
Venue: Campbelltown Stadium
Date: Saturday 24 February 2018 at 12:15pm
Western Suburbs Magpies (20)
Tries: Christian Urso, Rajko Jankovic, Pilauu Junior Togamaga, Leam Carr
Goals: Harrison Meredith 2
Balmain Tigers (24)
Tries: Jason Smyth, Ben Cody, Josh Rizk, Viliame Ravouvou, Reg Alofipo
Goals: Josh Rizk, Tane Edmed 2
---
Newcastle Knights 48 North Sydney Bears 6
Venue: Maitland Regional Sportsground
Date: Saturday 24 February 2018 at 1:30pm
Newcastle Knights (48)
Tries: Starford Toa 2, Nathanael Sasagi 3, Darcy Heaney, Jock Madden, Taylor Fiu
Goals: Jock Madden 8
North Sydney Bears (6)
Tries: William O'Toole
Goals: Samuel Stratis 1
---
Central Coast Roosters 30 West Coast Pirates 14
Venue: Morry Breen Oval
Date: Saturday 24 February 2018 at 1:30pm
Central Coast Roosters (30)
Tries: Fletcher Berry, Scott Casson, Jack Wilkinson Alipate, Toby Elliott, Ryan Jones, Aaron Commins
Goals: Jack Frasca 3
West Coast Pirates (14)
Tries: Kade McDonald, Leighmon Hohaia Katene, Jackson Bond
Goals: Kade McDonald 1
---
Canberra Raiders 24 Cronulla-Sutherland Sharks 32
Venue: Raiders Club Belconnen
Date: Saturday 24 February 2018 at 2:30pm
Canberra Raiders (24)
Tries: Jordan Martin, Regan McClennan, James Atonio, Jacob Sturt
Goals: Regan McClennan 4
Cronulla-Sutherland Sharks (32)
Tries: Vito Tevaga 2, William Swann, Jonaiah Lualua, Angus Ernst, Thomas Demeio
Goals: Kai Broadhurst 4
---
RELATED: Click here to view the current UNE SG Ball Cup ladder.