Results and Scorers:
RESULTS: 2018 Hastings Deering Colts Round 2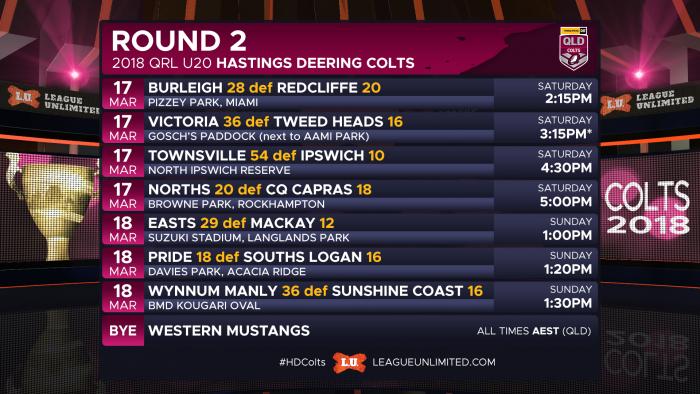 All the results and scorers from the second round of the QRL's Under 20's competition - the Hastings Deering Colts.
All listed times are AEST (QLD).
---
RELATED: See the full list of 2018 Hastings Deering Colts Draw and Results.
---
Burleigh Bears 28 Redcliffe Dolphins 20
Venue: Pizzey Park
Date: Saturday 17 March 2018 at 2:15pm
Burleigh Bears (28)
Tries: Taine Tuaupiki, Reece Tapine, Corey Alexander, Kai O'Donnell, Apiata Noema-Matenga, Darius Farmer
Goals: Jaxson Paulo 2
Redcliffe Dolphins (20)
Tries: Sam Armstrong, Michael Walit, James Flack, Oscar Carter
Goals: Oscar Carter 2
---
Victoria Thunderbolts 36 Tweed Heads Seagulls 16
Venue: Goschs Paddock
Date: Saturday 17 March 2018 at 4:15pm
Victoria Thunderbolts (36)
Tries: Tino Fa'asuamaleaui 2, Iliesa Ratuva, Trent Toelau 2, Derek Maota, Chris Schwalger
Goals: Cooper Johns 4
Tweed Heads Seagulls (16)
Tries: Ben Thomas 2, Gerard Ah-Nau
Goals: Bayley Gill 1, Bostyn Hakaraia 1
---
Ipswich Jets 10 Townsville Blackhawks 54
Venue: North Ipswich Reserve
Date: Saturday 17 March 2018 at 4:30pm
Ipswich Jets (10)
Tries: Faatupu Lisati, David Iopu
Goals: Regan Wilde 1
Townsville Blackhawks (54)
Tries: Duarne Dempsey 2, Nathan Barrett 2, Jack Glossop 2, Lachlan La Rosa 2, Jake Riley, Slomon Vasuvulagi, Yaza Stephen
Goals: Duarne Dempsey 3, Marshall Hudson 1
---
CQ Capras 18 Norths Devils 20
Venue: Browne Park
Date: Saturday 17 March 2018 at 5:00pm
CQ Capras (18)
Tries: Eli Noovao, Jack White, Richard Sisifa, Zaine Hammond
Goals: Jack White 1
Norths Devils (20)
Tries: Michael McGrath 2, Matt Sila, Ethan Quai-Ward
Goals: Gerome Burns 2
---
Easts Tigers 29 Mackay Cutters 12
Venue: Suzuki Stadium, Langlands Park
Date: Sunday 18 March 2018 at 1:00pm
Easts Tigers (29)
Tries: Lachlan Vellacott 3, Kea Pere, Luke Self, Jaiyden Hunt
Goals: Joel Hughes 2
Field Goals: Lachlan Vellacott 1
Mackay Cutters (12)
Tries: Jayden O'Shannessy 2
Goals: Harry Green 2
---
Souths Logan Magpies 16 Northern Pride 18
Venue: Davies Park
Date: Sunday 18 March 2018 at 1:20pm
Souths Logan Magpies (16)
Tries: Blake Scott 2, Sam Tolu
Goals: Kye Oates 2
Northern Pride (18)
Tries: Quinlyn Cannon, Ewan Moore, Evan Child
Goals: Jack Campagnolo 3
---
Wynnum Manly Seagulls 36 Sunshine Coast Falcons 16
Venue: BMD Kougari Oval
Date: Sunday 18 March 2018 at 1:30pm
Wynnum Manly Seagulls (36)
Tries: Ryan O'Keefe, Jack Callow, Mitipere Tuatai, Jalen Tangiitii-Turner, Shannon Gardiner 2
Goals: Shannon Gardiner 6
Sunshine Coast Falcons (16)
Tries: Wyatt Reynolds, Dakota Tolhurst, Stephen Buckley
Goals: Augustus Rangihuna 2
---
Western Mustangs had a bye this round.
---
RELATED: Click here to view the current Hastings Deering Colts ladder.