Results and Scorers:
RESULTS: 2018 Intrust Super Cup Round 3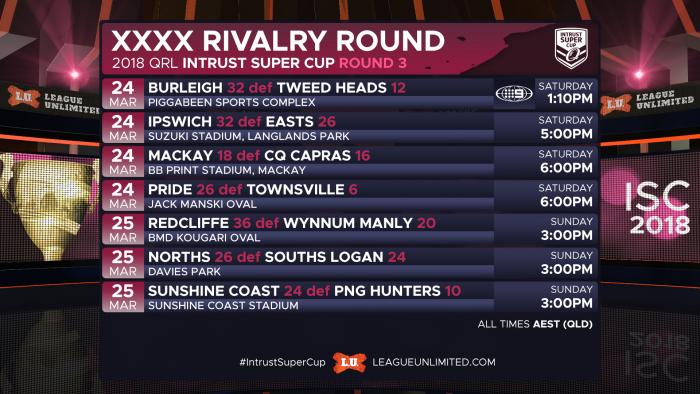 All the results and scorers from the third round of the QRL Intrust Super Cup.
All listed times are AEST (QLD).
---
RELATED: See the full list of 2018 Intrust Super Cup Draw and Results.
---
Tweed Heads Seagulls 12 Burleigh Bears 32
Venue: Piggabeen Sports
Date: Saturday 24 March 2018 at 1:10pm
Tweed Heads Seagulls (12)
Tries: Alex Grant, Regan Muir
Goals: Eli Levido 2

Burleigh Bears (32)
Tries: Tyrone Roberts-Davis, Dallas Wells, Jai Whitbread, Jamal Fogarty, Luke Page, Jamie Dowling
Goals: Jamal Fogarty 3, Kurtis Rowe 1
---
Easts Tigers 26 Ipswich Jets 32
Venue: Suzuki Stadium, Langlands Park
Date: Saturday 24 March 2018 at 5:00pm
Easts Tigers (26)
Tries: Patrick Kaufusi, Jarrod McInally 2, Brayden Torpy, Scott Drinkwater
Goals: Brayden Torpy 2, Billy Walters 1
Ipswich Jets (32)
Tries: Michael Purcell, Wes Conlon, Nat Neale, Dane Phillips, Tyson Lofipo
Goals: Wes Conlon 6
---
Mackay Cutters 18 Central Queensland Capras 16
Venue: BB Print Stadium Mackay
Date: Saturday 24 March 2018 at 6:00pm
Mackay Cutters (18)
Tries: Kurt Wiltshire, Jayden Hodges, Kyle Laybutt
Goals: Kyle Laybutt 4
Central Queensland Capras (16)
Tries: James Hill, Nathan Bassani, Billy Gilbert
Goals: Connor Broadhurst 2
---
Townsville Blackhawks 6 Northern Pride 26
Venue: Jack Manski Oval
Date: Saturday 24 March 2018 at 6:00pm
Townsville Blackhawks (6)
Tries: Jaelen Feeney
Goals: Carlin Anderson 1
Northern Pride (26)
Tries: Jake Clifford 2, Murray Taulagi, Darryn Schonig
Goals: Jake Clifford 5
---
Wynnum Manly Seagulls 20 Redcliffe Dolphins 36
Venue: BMD Kougari Oval
Date: Sunday 25 March 2018 at 3:00pm
Wynnum Manly Seagulls (20)
Tries: Daniel Ogden 2, Pat Carrigan
Goals: Shaun Nona 4
Redcliffe Dolphins (36)
Tries: Kotoni Staggs 2, Tony Tumusa, Tom Geraghty, Jonus Pearson, Cameron Cullen, Jake Sparey
Goals: Kotoni Staggs 4
---
Souths Logan Magpies 24 Norths Devils 26
Venue: Davies Park
Date: Sunday 25 March 2018 at 3:00pm
Souths Logan Magpies (24)
Tries: Patrick Mago, Sam Scarlett 2, Brendon Gibb
Goals: Guy Hamilton 4
Norths Devils (26)
Tries: Chevi Ellis 2, Paul Ulberg, Jamayne Taunoa-Brown, Sam Wright
Goals: Todd Murphy 3
---
Sunshine Coast Falcons 24 PNG Hunters 10
Venue: Sunshine Coast Stadium
Date: Sunday 25 March 2018 at 3:00pm
Sunshine Coast Falcons (24)
Tries: Ryley Jacks, Jake Ainsworth, Matt Soper-Lawler, Jye Ballinger
Goals: Matt Soper-Lawler 4
PNG Hunters (10)
Tries: Nixon Putt, Wartovo Puara
Goals: Ase Boas 1
---
RELATED: Click here to view the current Intrust Super Cup ladder.