Results and Scorers:
RESULTS: 2018 Harvey Norman Tarsha Gale Cup Round 7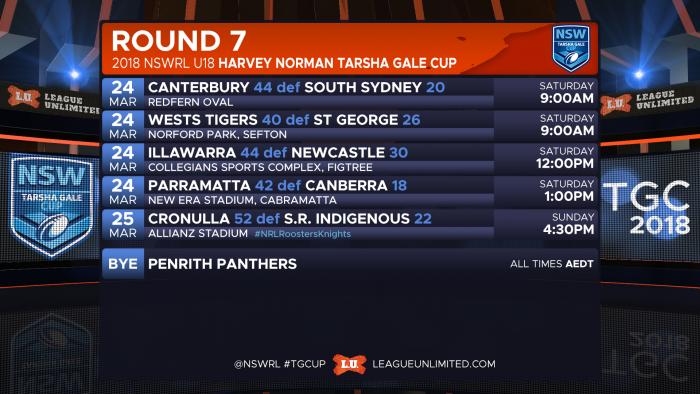 All the results and scorers from the seventh round of the 2018 NSWRL Tarsha Gale Cup.
All listed times are AEDT (NSW/VIC/ACT).
---
RELATED: See the full list of 2018 Harvey Norman Tarsha Gale Cup Draw and Results.
---
South Sydney Rabbitohs 20 Canterbury-Bankstown Bulldogs 44
Venue: Redfern Oval
Date: Saturday 24 March 2018 at 9:00am
South Sydney Rabbitohs (20)
Tries: Zali Dymock 2, Annabel Stojanovska, Raquel Willoughby
Goals: Lashawnda Kelly 1, Annabel Stojanovska 1
Canterbury-Bankstown Bulldogs (44)
Tries: Kerri Putahi 3, Joy Tedeschi 2, Lupe Fatai 2, Sinead Sio, Rhiannon Gregorio
Goals: Rhiannon Gregorio 4
---
St George Dragons 26 Wests Tigers 40
Venue: Norford Park
Date: Saturday 24 March 2018 at 9:00am
St George Dragons (26)
Tries: Betty Mose, Taina Naividi, Aaliyah Fasavalu-Fa'aumausili 2, Anastacia Shum-Cottrell
Goals: Sereana Naitokatoka 2, Ana Tohi-Hiku 1
Wests Tigers (40)
Tries: Shaylee Bent 3, Treiahna Lake, Makayla Ward, Marisa Posiano, Emily Curtain
Goals: Emily Curtain 6
---
Illawarra Steelers 44 Newcastle Knights 30
Venue: Collegians Sports Complex
Date: Saturday 24 March 2018 at 12:00pm
Illawarra Steelers (44)
Tries: Lilly-Rose Bennett 2, Mikayla Kidd, Maddison Weatherall, Keeley Davis 2, SHannon Scutts, Michaela Scutts
Goals: Keeley Davis 3, Bronte Girdler 2, Lilly-Rose Bennett 1
Newcastle Knights (30)
Tries: Skye Pullman 2, Caitlin Shoulders, Sophie Buller, Emily Harman, Tia Cook
Goals: Sophie Buller 2, Skye Pullman 1
---
Parramatta Eels 42 Canberra Raiders 18
Venue: New Era Stadium
Date: Saturday 24 March 2018 at 1:00pm
Parramatta Eels (42)
Tries: Tahlia Alexander 4, Shilea-T Schaaf 2, Allison Futialo, Ngalika Barker
Goals: Rosita Utia 4, Allison Futialo 1
Canberra Raiders (18)
Tries: Lauren Kelly, Tara McGrath-West, Hayley Whatman, Caitlin Fazey-Robinson
Goals: Lauren Kelly 1
---
Cronulla-Sutherland Sharks 52 Sydney Roosters Indigenous Academy 22
Venue: Allianz Stadium
Date: Sunday 25 March 2018 at 4:30pm
Cronulla-Sutherland Sharks (52)
Tries: Faith Nathan 4, Sariah Paki 2, Alilia Veikoso, Madison Higgins-Ashby, Mareva Swann, Temukisa Ioane
Goals: Quincy Dodd 6
Sydney Roosters Indigenous Academy (22)
Tries: Shataya King 2, Beverley Beale, Lillyann Mason, Summer Dann
Goals: Brittany Hunt 1
---
Penrith Panthers had a bye this round.
---
RELATED: Click here to view the current Harvey Norman Tarsha Gale Cup ladder.