Results and Scorers:
RESULTS: 2018 Mal Meninga Cup Round 5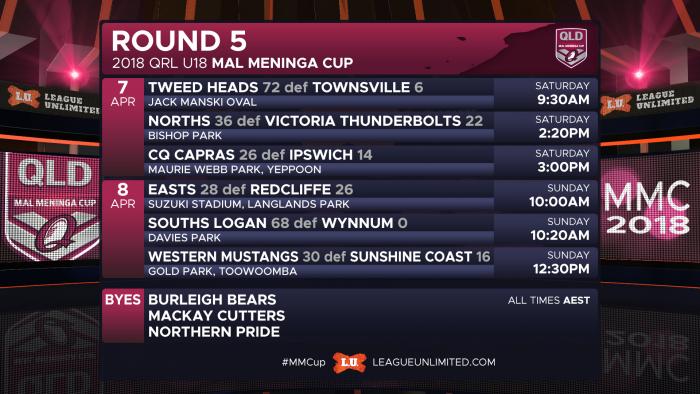 All the results and scorers from the fifth round of the QRL Under 18's Mal Meninga Cup.
All listed times are AEST (NSW/QLD/VIC/ACT).
---
RELATED: See the full list of 2018 Mal Meninga Cup Draw and Results.
---
Townsville Blackhawks 6 Tweed Heads Seagulls 72
Venue: Jack Manski Oval
Date: Saturday 7 April 2018 at 9:30am
Townsville Blackhawks (6)
Tries: Isaac Locke
Goals: Kayleb Vosseler 1
Tweed Heads Seagulls (72)
Tries: Tom Dearden 5, Glenn McGrady 2, Blake Campbell, Xavier Coates, Indiha Saotui-Huta, Toby Sexton, Codey McLaughlin, Noah Gafa
Goals: Toby Sexton 9, Lazeryth Sua 1
---
Norths Devils 36 Victoria Thunderbolts 22
Venue: Bishop Park
Date: Saturday 7 April 2018 at 2:20pm
Norths Devils (36)
Tries: Nesta Watene, Brock Diment, Daejarn Asi, Fruean Easthope, Josh James, Jack Paterson, Cory Paix
Goals: Cory Paix 4
Victoria Thunderbolts (22)
Tries: Filo Seigafo 2, Haele Finau, Dean Ieremia
Goals: Jakey Reedy-Bartlett 3
---
CQ Capras 26 Ipswich Jets 14
Venue: Maurie Webb Park
Date: Saturday 7 April 2018 at 3:00pm
CQ Capras (26)
Tries: Liam Grant 2, Harrison McIndoe 2, Ben Farr
Goals: Keaton White 3
Ipswich Jets (14)
Tries: Nathan Stephensen 2, Brad Zampech
Goals: Brad Zampech 1
---
Easts Tigers 28 Redcliffe Dolphins 26
Venue: Suzuki Stadium, Langlands Park
Date: Sunday 8 April 2018 at 10:00am
Easts Tigers (28)
Tries: Ben Bucknell, Stanley Jackson, Andrew Jackson, Brandon Frescon, Connor Murray
Goals: Hayden Ryan 4
Redcliffe Dolphins (26)
Tries: Kalem Brown 2, Will Greensill, Tahj Wood, Dylan Briggs
Goals: Dylan Briggs 3
---
Souths Logan Magpies 68 Wynnum Manly Seagulls 0
Venue: Davies Park
Date: Sunday 8 April 2018 at 10:20am
Souths Logan Magpies (68)
Tries: David Fifita 3, Vahai Finau 3, Fanitesti Niu 2, Tanah Boyd, Cruise Ten, Ioane Seiuli, Ezra Coulston
Goals: Ezra Coulston 10

Wynnum Manly Seagulls (0)

---
Western Mustangs 30 Sunshine Coast Falcons 16
Venue: Gold Park
Date: Sunday 8 April 2018 at 12:30pm
Western Mustangs (30)
Tries: Jordan Lipp 2, Benji Neliman, Jake Simpkin, Luke Maiden, Richard Murray
Goals: Richard Murray 3
Sunshine Coast Falcons (22)
Tries: Cameron Hanson, Ryan Sauer, Joey Lowe, Nick Ellems
Goals: Aidan Young 3
---
Burleigh Bears, Mackay Cutters and Northern Pride had a bye this round.
---
RELATED: Click here to view the current Mal Meninga Cup ladder.