Results and Scorers:
RESULTS: 2018 UNE Harold Matthews Cup Round 9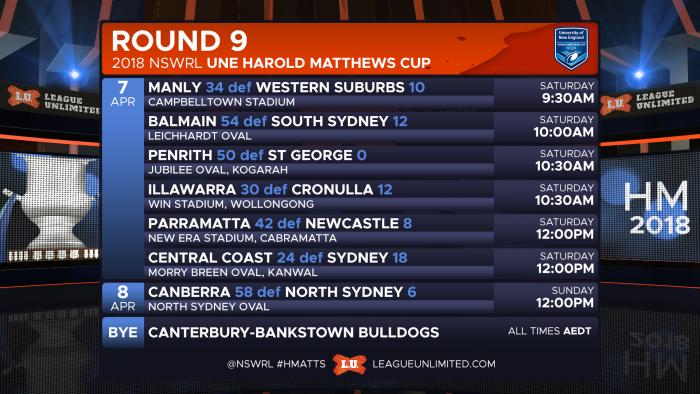 All the results and scorers from the ninth and final round of the NSWRL Under 16 Harold Matthews Cup.
All listed times are AEST (NSW/QLD/VIC/ACT).
---
RELATED: See the full list of 2018 UNE Harold Matthews Cup Draw and Results.
---
Western Suburbs Magpies 10 Manly-Warringah Sea Eagles 34
Venue: Campbelltown Stadium
Date: Saturday 7 April 2018 at 9:30am
Western Suburbs Magpies (10)
Tries: Cameron Lawrence, Jay Kirk
Goals: Daniel Wood 1
Manly-Warringah Sea Eagles (34)
Tries: Tyrone Holakeituai 3, Logan Fox, Siosiua Fotu, Tony Francis, Uluaki Tuipulotu
Goals: Tony Francis 2, Uluaki Tuipulotu 1
---
Balmain Tigers 54 South Sydney Rabbitohs 12
Venue: Leichhardt Oval
Date: Saturday 7 April 2018 at 10:00am
Balmain Tigers (54)
Tries: Livai Saukuru 2, Jaycob Anjoul 2, Cougar Wheeler 2, William Abou-Arrage 2, Sam Kanaan
Goals: Zane Camroux 9
South Sydney Rabbitohs (12)
Tries: Terrell Kalo Kalo, Livai Tikoipau
Goals: Dion Teaupa 2
---
Illawarra Steelers 30 Cronulla-Sutherland Sharks 12
Venue: WIN Stadium
Date: Saturday 7 April 2018 at 10:30am
Illawarra Steelers (30)
Tries: Harley Nizza 2, Fletcher Blackett, Tyrone Roberts, Talatau Amone
Goals: Tyrone Roberts 5
Cronulla-Sutherland Sharks (12)
Tries: Maxwell Scanlon, Kade Dykes
Goals: Jordan Samrani 2
---
St George Dragons 0 Penrith Panthers 50
Venue: Jubilee Oval
Date: Saturday 7 April 2018 at 10:30am
St George Dragons (0)
Penrith Panthers (50)
Tries: Zion Tauasa 3, Sunia Turuva 2, Niwhai Puru, Liam Kennedy, Kristian-Li Mai, Connor Mason
Goals: Donovan Boney 6, Zion Tauasa 1
---
Central Coast Roosters 24 Sydney Roosters 18
Venue: Morry Breen Oval
Date: Saturday 7 April 2018 at 12:00pm
Central Coast Roosters (24)
Tries: Sandon Smith 2, Phoenix Steinwede, Jeremiah Ratabua
Goals: Josh Martin 4
Sydney Roosters (18)
Tries: Ronald Volkman, Vaiala Tamati, Isaac Rosario
Goals: Ronald Volkman 3
---
Parramatta Eels 42 Newcastle Knights 8
Venue: New Era Stadium
Date: Saturday 7 April 2018 at 12:00pm
Parramatta Eels (42)
Tries: Oscar Mezzomo, Lachlan Maric, Des Raukete Jabriel Kalache, Josh Tuipulotu, Mika Tonu, Simon Tito
Goals: Sam Loizou 7
Newcastle Knights (8)
Tries: Tyrone Nean, Kodi Crowther
---
North Sydney Bears 6 Canberra Raiders 58
Venue: North Sydney Oval
Date: Sunday 8 April 2018 at 12:00pm
North Sydney Bears (6)
Tries: Dan Stovold
Goals: Louis Reyes 1
Canberra Raiders (58)
Tries: Jack Williams 4, Clay Webb 3, Livai Kaloutolu 2, Jesse Buchan
Goals: Junior Tupou 6, Jack Williams 1, Harrison Alder, Bryce Magnone 1
---
Canterbury-Bankstown Bulldogs had a bye this round.
---
RELATED: Click here to view the current UNE Harold Matthews Cup ladder.