Results and Scorers:
RESULTS: 2018 Jersey Flegg Cup Round 5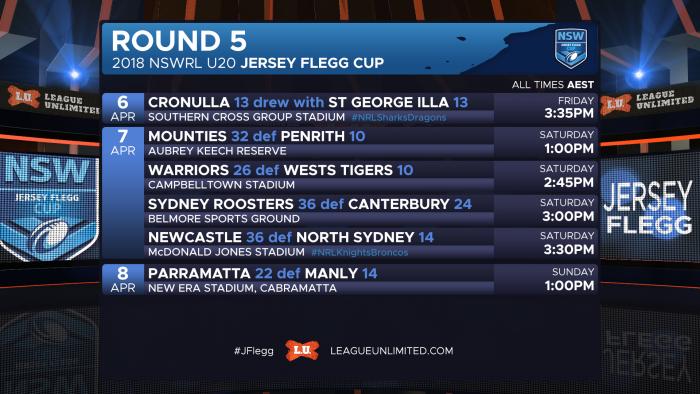 All the results and scorers from the fifth round of the NSWRL U20 Jersey Flegg Cup.
All listed times are AEST (NSW/QLD/VIC/ACT).
---
RELATED: See the full list of 2018 Jersey Flegg Cup Draw and Results.
---
Cronulla-Sutherland Sharks 13 St George Illawarra Dragons 13
Venue: Southern Cross Group Stadium
Date: Friday 6 April 2018 at 3:45pm
Cronulla-Sutherland Sharks (13)
Tries: Isaac Lumelume, Ronaldo Mulitalo
Goals: Braydon Trindall 2
Field Goals: Braydon Trindall 1
St George Illawarra Dragons (13)
Tries: Bailey DIckinson, Trent Peoples
Goals: Jackson Willis 2
Field Goals: Jackson Willis 1
---
Mounties 32 Penrith Panthers 10
Venue: Aubrey Keech Reserve
Date: Saturday 7 April 2018 at 1:00pm
Mounties (32)
Tries: Darby Medlyn, Corey Horsburgh, Josh Stuckey, Mat Lyons, Lachlan Cooper, Semi Valemei
Goals: Brendan O'Hagan 4
Penrith Panthers (10)
Tries: Shannon Harris 2
Goals: Dean Blore 1
---
Wests Tigers 26 Warriors 10
Venue: Campbelltown Stadium
Date: Saturday 7 April 2018 at 2:45pm
Wests Tigers (26)
Tries: Connelly Lemuelu, Lucas Castle
Goals: Connelly Lemuelu 1
Warriors (26)
Tries: Lewis Sio 2, Kayal Iro, Tom Ale 2
Goals: Eiden Ackland 3
---
Canterbury-Bankstown Bulldogs 24 Sydney Roosters 36
Venue: Belmore Sports Ground
Date: Saturday 7 April 2018 at 3:00pm
Canterbury-Bankstown Bulldogs (24)
Tries: Blake Clayton 2, Reuben Taylor, Zac Hetherington
Goals: Morgan Harper 3, Blake Clayton 1
Sydney Roosters (36)
Tries: Tyrell Neiufi 2, Daniel Suluka Fifita, Billy Smith, Josh Curran, Fletcher Baker
Goals: Sean O'Sullivan 6
---
Newcastle Knights 36 North Sydney Bears 14
Venue: McDonald Jones Stadium
Date: Saturday 7 April 2018 at 3:30pm
Newcastle Knights (36)
Tries: Tex Hoy, Mitch Andrews, Lachlan Farr, Tevita Alifa, Matt Moon, Beau Fermor, Matt Cooper
Goals: Kurtis Dark 4
North Sydney Bears (14)
Tries: Ethan Abou-Ghaida 2, Josh Cook
Goals: Kieran Hayman 1
---
Parramatta Eels 22 Manly-Warringah Sea Eagles 14
Venue: New Era Stadium
Date: Sunday 8 April 2018 at 1:00pm
Parramatta Eels (22)
Tries: Dylan Brown, Jaeman Salmon, James Porter, Reed Mahoney
Goals: Dylan Brown 3
Manly-Warringah Sea Eagles (14)
Tries: Bilal Maarbani, Tevita Funa, Maxwell Barry
Goals: Luke Metcalf 1
---
RELATED: Click here to view the current Jersey Flegg Cup ladder.