Results and Scorers:
RESULTS: 2018 Intrust Super Cup Round 5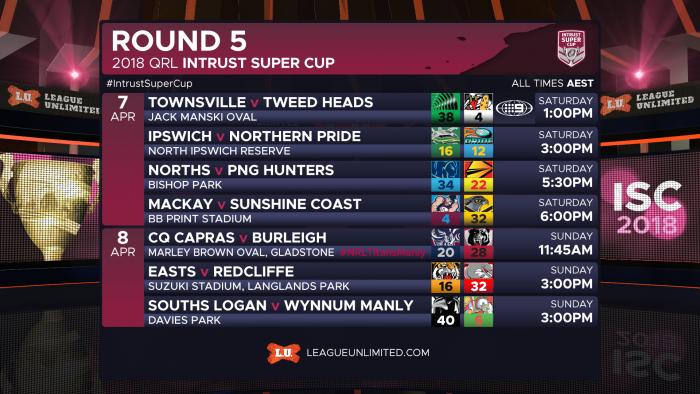 All the results and scorers from the fifth round of the QRL Intrust Super Cup.
All listed times are AEST (NSW/QLD/VIC/ACT).
---
RELATED: See the full list of 2018 Intrust Super Cup Draw and Results.
---
Townsville Blackhawks 38 Tweed Heads Seagulls 4
Venue: Jack Manski Oval
Date: Saturday 7 April 2018 at 1:10pm
Townsville Blackhawks (38)
Tries: Jonathon Reuben 2, Jordan Drew, Carlin Anderson, Zach Clay, Ross Bella, Brent Woolf
Goals: Zach Clay 5
Tweed Heads Seagulls (4)
Tries: Lamar Liolevave
---
Ipswich Jets 16 Northern Pride 12
Venue: North Ipswich Reserve
Date: Saturday 7 April 2018 at 3:00pm
Ipswich Jets (16)
Tries: Michael Purcell, Pio Seci, Nat Neale
Goals: Wes Conlon 2
Northern Pride (12)
Tries: Will Bugden, Shawn Bowen
Goals: Jake Clifford 2
---
Norths Devils 34 PNG Hunters 22
Venue: Bishop Park
Date: Saturday 7 April 2018 at 5:30pm
Norths Devils (34)
Tries: Chevi Ellis 2, Michael Sio, Sam Tagataese, Calum Gahan, Todd Murphy
Goals: Todd Murphy 5
PNG Hunters (22)
Tries: Moses Meninga, Wartovo Puara, Butler Morris, Edene Gebbie
Goals: Ase Boas 3
---
Mackay Cutters 4 Sunshine Coast Falcons 32
Venue: BB Print Stadium Mackay
Date: Saturday 7 April 2018 at 6:00pm
Mackay Cutters (4)
Tries: Blake Atherton
Sunshine Coast Falcons (32)
Tries: Keelyn Tuuta-Edeards, Harrison Muller, Lachlan Timm, Brentt Warr, Harry Grant
Goals: Khan Ahwang 6
---
Central Queensland Capras 20 Burleigh Bears 28
Venue: Marley Brown Oval
Date: Sunday 8 April 2018 at 11:45am
Central Queensland Capras (20)
Tries: Blake Goodman, Chanel Seigafo, Jamie Hill, Dave Cowhan
Goals: Connor Broadhurst 2
Burleigh Bears (28)
Tries: Tyronne Roberts-Davis 2, Dallas Wells, Pat Politoni, Josh Rogers
Goals: Josh Rogers 2
---
Easts Tigers 16 Redcliffe Dolphins 32
Venue: Suzuki Stadium, Langlands Park
Date: Sunday 8 April 2018 at 3:00pm
Easts Tigers (16)
Tries: Jake Foster, Kea Pere, Linc Port
Goals: Brayden Torpy 2
Redcliffe Dolphins (32)
Tries: Tony Tumusa 3, Toby Rudolf, Jonus Pearson
Goals: Kotoni Staggs 6
---
Souths Logan Magpies 40 Wynnum Manly Seagulls 6
Venue: Davies Park
Date: Sunday 8 April 2018 at 3:00pm
Souths Logan Magpies (40)
Tries: Corey Allan 2, Simi Fatafehi, Benaiah Bowie, Sam Scarlett, Marion Seve, Brendon Gibb
Goals: Guy Hamilton 6
Wynnum Manly Seagulls (6)
Tries: Salesi Funaki
Goals: Pat Templeman 1
---
RELATED: Click here to view the current Intrust Super Cup ladder.