Results and Scorers:
RESULTS: 2018 Sydney Shield Round 1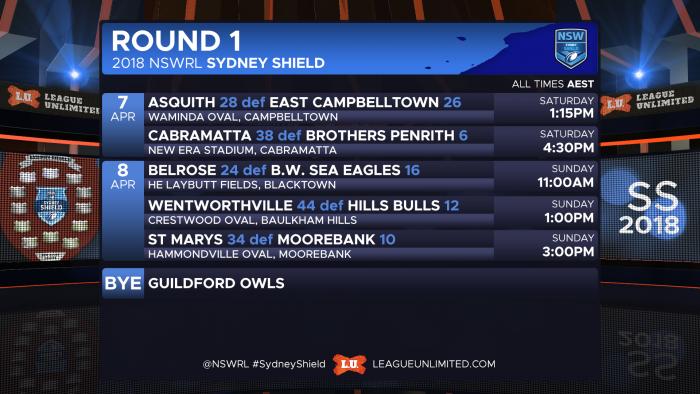 All the results and scorers from the opening weekend of the NSWRL Sydney Shield.
All listed times are AEST (NSW/QLD/VIC/ACT).
---
RELATED: See the full list of 2018 Sydney Shield Draw and Results.
---
East Campbelltown Eagles 26 Asquith Magpies 28
Venue: Waminda Oval
Date: Saturday 7 April 2018 at 1:15pm
East Campbelltown Eagles (26)
Tries: Theo Leato, Daniel Muir 2, Shannon Gallant, Sam Tramontana
Goals: Shannon Gallant 2, Brett Lahey 1
Asquith Magpies (28)
Tries: Alex Nicholls-O'Neill 2, Jeremy Marshall 2, Gibson Popoali'i, Feao Lavemai
Goals: Gibson Popoali'i 2
---
Cabramatta Two Blues 38 Brothers Penrith 6
Venue: New Era Stadium
Date: Saturday 7 April 2018 at 4:30pm
Cabramatta Two Blues (38)
Tries: Lachlan Hughes 3, Liam O'Brien 2, Kyle McLean, Auzzie Tuwhangai
Goals: Liam O'Brien 5
Brothers Penrith (6)
Tries: PJ Vaigalepa Tevaga
Goals: Jordan Arendse 1
---
Blacktown Workers Sea Eagles 16 Belrose Eagles 24
Venue: HE Laybutt Sporting Complex
Date: Sunday 8 April 2018 at 11:00am
Blacktown Workers Sea Eagles (16)
Tries: Tom Menzies, Skippy Lipano, Anson Naati
Goals: Caibryn Keating 1, Jermayne Cook 1
Belrose Eagles (24)
Tries: James Morgan 2, Adrian Ha'angana, Nick Bilsborough, Beau Abrahams
Goals: Andrew Layton 2
---
Hills Bulls 12 Wentworthville United 44
Venue: Crestwood Oval
Date: Sunday 8 April 2018 at 1:00pm
Hills Bulls (12)
Tries: Brandon Janjic, John Dunn
Goals: Hayden McWilliams 2
Wentworthville United (44)
Tries: Dane Francis 2, Adam Spicer, Dayne Vette-Welsh, Ayden Carling, Braydon Rumble, Solomone Lasalo, Brendon Newton
Goals: Brendon Newton 6
---
Moorebank Rams 10 St Marys 34
Venue: Hammondville Oval
Date: Sunday 8 April 2018 at 3:00pm
Moorebank Rams (10)
Tries: Nikau Williams, Malachi Morgan
Goals: Jake Horton 1
St Marys (34)
Tries: John Tuliatu 2, Tom Lofts, Meni Luke, Jesse Abbott, Robbie Graham
Goals: Aiden Glanville 5
---
Guildford Owls had a bye this round.
---
RELATED: Click here to view the current Sydney Shield ladder.