Results and Scorers:
RESULTS: 2018 Hastings Deering Colts Round 9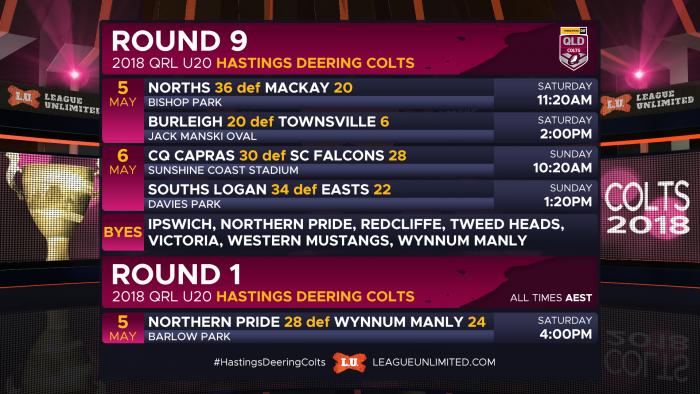 All the results and scorers from the ninth round of the QRL U20 Hastings Deering Colts competition.
This results sheet includes the result of a Round 1 catch-up match played between Northern Pride and Wynnum-Manly.
All listed times are AEST (NSW/QLD/VIC/ACT).
---
RELATED: See the full list of 2018 Hastings Deering Colts Draw and Results.
---
Norths Devils 36 Mackay Cutters 20
Venue: Bishop Park
Date: Saturday 5 May 2018 at 11:20am
Norths Devils (36)
Tries: Eddie Blacker 2, Jake Strasser, Joe McGuire, Braydan Morton, Kegan Tuhega
Goals: Michael McGrath 6
Mackay Cutters (20)
Tries: Will Paki, Walter Lauenstein, Tom Irelandes, Ryan Schill
Goals: Brendan White 2
---
Townsville Blackhawks 6 Burleigh Bears 20
Venue: Jack Manski Oval
Date: Saturday 5 May 2018 at 2:00pm
Townsville Blackhawks (6)
Tries: Marshall Hudson
Goals: Adam Cook 1
Burleigh Bears (20)
Tries: Harry Fitzhugh, Taine Tuaupiki, Mikey Williams
Goals: Sean Garner 3, Harry Fitzhugh 1
---
Round 1: Northern Pride 28 Wynnum Manly Seagulls 24
Venue: Barlow Park
Date: Saturday 5 May 2018 at 4:00pm
Northern Pride (28)
Tries: Marc Naleba, Quinlyn Cannon, Terrence Casey-Douglas, Mark Rosendale, Lui Lockington
Goals: Jack Campagnolo 4
Wynnum Manly Seagulls (24)
Tries: Payden Porter, Shannon Gardiner, Sam Ballinger, Brad Spicer
Goals: Shannon Gardiner 4
---
Sunshine Coast Falcons 28 CQ Capras 30
Venue: Sunshine Coast Stadium
Date: Sunday 6 May 2018 at 10:20am
Sunshine Coast Falcons (28)
Tries: Riley Moore 2, Rueben Olive, Caleb Daunt, Stephen Buckley
Goals: Augie Rangihuna 4
CQ Capras (30)
Tries: Zantanamaud Tupuono-Pomare 2, Charlice Atoi 2, Wes Sisifa, Eli Noovao
Goals: Jack White 2, Blake Moore 1
---
Souths Logan Magpies 34 Easts Tigers 22
Venue: Davies Park
Date: Sunday 6 May 2018 at 1:20pm
Souths Logan Magpies (34)
Tries: Ashton Watson 2, Tommy Sa'u, Kye Oates, Thane Kellermeyer, Clayton Mack
Goals: Kye Oates 5
Easts Tigers (22)
Tries: Nathan Brown 2, Luke Self, Joe Gilmour
Goals: Nathan Brown 3
---
Ipswich Jets, Northern Pride, Redcliffe Dolphins, Tweed Heads Seagulls, Victoria Thunderbolts, Western Mustangs and Wynnum Manly Seagulls had a bye this round.
---
RELATED: Click here to view the current Hastings Deering Colts ladder.