Results and Scorers:
RESULTS: 2018 Ron Massey Cup Round 5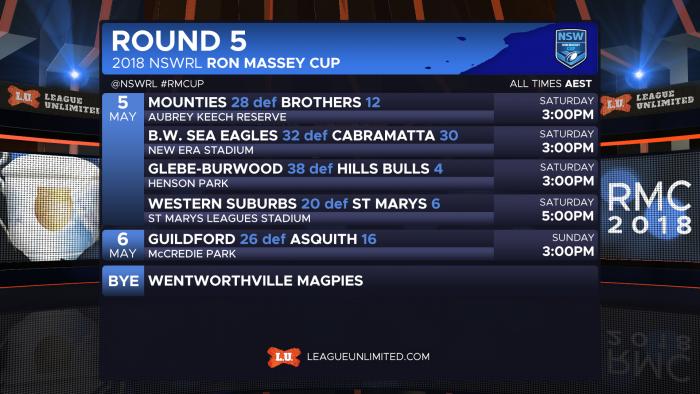 All the results and scorers from the fifth round of the NSWRL Ron Massey Cup.
All listed times are AEST (NSW/QLD/VIC/ACT).
---
RELATED: See the full list of 2018 Ron Massey Cup Draw and Results.
---
Mounties 28 Brothers Penrith 12
Venue: Aubrey Keech Reserve
Date: Saturday 5 May 2018 at 3:00pm
Mounties (28)
Tries: Josh Saunders-Jones, Jordan Martin, Willie Mataka, Alofi Mataele, Tony Satini
Goals: Jett Karam 4
Brothers Penrith (12)
Tries: Arthur Crichton, Geofery Duku
Goals: Simon Lewis 1, Ryan Foaese 1
---
Glebe Burwood Wolves 38 Hills Bulls 4
Venue: Henson Park
Date: Saturday 5 May 2018 at 3:00pm
Glebe Burwood Wolves (38)
Tries: Lachlan Stein 3, Tyla Tamou, Jordan Topai-Aveai, Latrell Schaumkel, Charlton Schaafhausen, Malakai Houma
Goals: Jesse Marschke 3
Hills Bulls (4)
Tries: David Baumann
---
Cabramatta Two Blues 30 Blacktown Workers Sea Eagles 32
Venue: New Era Stadium
Date: Saturday 5 May 2018 at 3:00pm
Cabramatta Two Blues (30)
Tries: D'Rhys Miller 2, Shane Kiel, Jesse Martin, Tala Mapesone
Goals: Jake Rafferty-Butfield 5
Blacktown Workers Sea Eagles (32)
Tries: Honeti Tuha 3, Vieru Mapesone, Kamren Cryer, James Tuitahi
Goals: Kamren Cryer 4
---
St Marys 6 Western Suburbs Magpies 20
Venue: St Marys Stadium
Date: Saturday 5 May 2018 at 5:00pm
St Marys (6)
Tries: Peter Nay
Goals: Chad O'Donnell 1
Western Suburbs Magpies (20)
Tries: Luke Williams, James Mirceski, Brendan Waters
Goals: Kurt Aldridge 4
---
Guildford Owls 26 Asquith Magpies 16
Venue: McCredie Park
Date: Sunday 6 May 2018 at 3:00pm
Guildford Owls (26)
Tries: Daniel Lotu 3, Cameron Eyles 2
Goals: Josh Camroux 3
Asquith Magpies (16)
Tries: Sean Sabutey, Kurt Horton, Amanaki Veamatahau 2
---
Wentworthville Magpies had a bye this round.
---
RELATED: Click here to view the current Ron Massey Cup ladder.