Results and Scorers:
RESULTS: 2018 Sydney Shield Round 6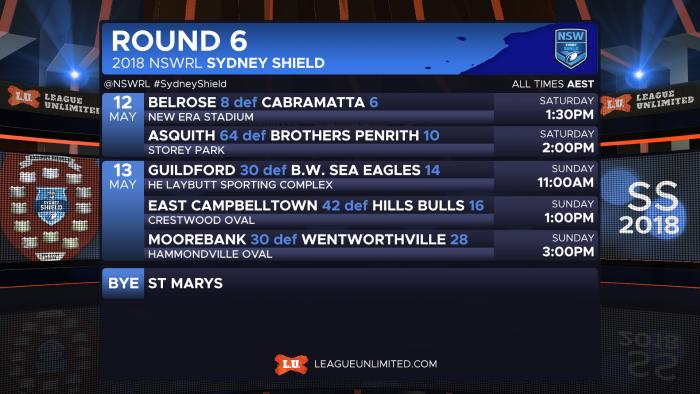 All the results and scorers from the NSWRL Sydney Shield.
All listed times are AEST (NSW/QLD/VIC/ACT).
---
RELATED: See the full list of 2018 Sydney Shield Draw and Results.
---
Cabramatta Two Blues 6 Belrose Eagles 8
Venue: New Era Stadium
Date: Saturday 12 May 2018 at 1:30pm
Cabramatta Two Blues (6)
Tries: Tom Grealy
Goals: Liam O'Brien 1
Belrose Eagles (8)
Tries: Keia Maino, Isaac Kassis
---
Asquith Magpies 64 Brothers Penrith 10
Venue: Storey Park
Date: Saturday 12 May 2018 at 2:00pm
Asquith Magpies (64)
Tries: Samuela George 2, Ngangarra Barker 2, Gibson Popoali'i, Sean Sabutey,  Corey Browne-Higginbotham, Alipate Tani, Riley Travers, Jeremy Marshall, Jale Seninawanawa, Niko Apelu
Goals: Treymaine Brown 8
Brothers Penrith (10)
Tries: Michael Tuavao, Vailepa Vailepa
Goals: Brendan Hands 1
---
Blacktown Workers Sea Eagles 14 Guildford Owls 30
Venue: HE Laybutt Sporting Complex
Date: Sunday 13 May 2018 at 11:00am
Blacktown Workers Sea Eagles (14)
Tries: Tom Menzies, Luke Chalkley, Mark Tepu-Smith
Goals: Jackson Whitby 1
Guildford Owls (30)
Tries: Savani Ratu 2, Daniel Vasek, David Oxley, Nathan Masima, Mathew Rickard
Goals: Nathan Masima 2, David Oxley 1
---
Hills Bulls 16 East Campbelltown Eagles 42
Venue: Crestwood Oval
Date: Sunday 13 May 2018 at 1:00pm
Hills Bulls (16)
Tries: Douglas Dean, Sam Shepherd, Will Mitchell
Goals: Brock Pelligra 2
East Campbelltown Eagles (42)
Tries: Shannon Gallant 2, Chris Standing 2, James Tautaiolefua 2, Daniel Muir
Goals: Edwin Connor 7
---
Moorebank Rams 30 Wentworthville United 28
Venue: Hammondville Oval
Date: Sunday 13 May 2018 at 3:00pm
Moorebank Rams (30)
Tries: Daniel Sakisi, Jacob Winterstein, Jake Horton, Kytak Chan, Malachi Morgan
Goals: Jake Horton 5
Wentworthville United (28)
Tries: Jermaine Mati-Leifi 2, Muli Lasalo, Siaosi Sisifa, Adam Spicer
Goals: Brendon Newtown 4
---
St Marys had a bye this round.
---
RELATED: Click here to view the current Sydney Shield ladder.