Results and Scorers:
RESULTS: 2018 Ron Massey Cup Round 7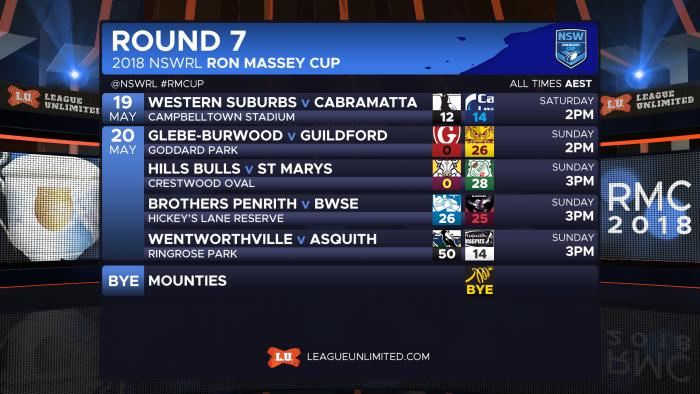 All the results and scorers from the seventh round of the NSWRL Ron Massey Cup.
All listed times are AEST (NSW/QLD/VIC/ACT).
---
RELATED: See the full list of 2018 Ron Massey Cup Draw and Results.
---
Western Suburbs Magpies 12 Cabramatta Two Blues 14
Venue: Campbelltown Stadium
Date: Saturday 19 May 2018 at 2:00pm
Western Suburbs Magpies (12)
Tries: Isaac Rabuatoka 2
Goals: Kurt Aldridge 2
Cabramatta Two Blues (14)
Tries: Brent Anderson, Tala Mapesone, Don Thompson
Goals: Don Thompson 1
---
Glebe Burwood Wolves 0 Guildford Owls 26
Venue: Goddard Park
Date: Sunday 20 May 2018 at 2:00pm
Glebe Burwood Wolves (0)

Guildford Owls (26)
Tries: Dylan McKeown, Caleb Hunt, Dom Reardon, Yahia Masri, Tangirere Hokai
Goals: Troy Errington 3
---
Hills Bulls 0 St Marys 28
Venue: Crestwood Oval
Date: Sunday 20 May 2018 at 3:00pm
Hills Bulls (0)
St Marys (28)
Tries: Jake Toby 2, Chris Aunese-Scanlon, Tevita Mapapalangi
Goals: Robert Vai 4
---
Brothers Penrith 26 Blacktown Workers Sea Eagles 25
Venue: Hickeys Lane Reserve
Date: Sunday 20 May 2018 at 3:00pm
Brothers Penrith (26)
Tries: Troy Bendell 2, Penita Tuavao, Harry Coskerie
Goals: Kurt Falls 5
Blacktown Workers Sea Eagles (25)
Tries: Jake Pickering, Joey Tramontana, Leva Li, Dylan Kelly
Goals: Kamren Cryer 4
Field Goals: Kamren Cryer 1
---
Wentworthville Magpies 50 Asquith Magpies 14
Venue: Ringrose Park
Date: Sunday 20 May 2018 at 3:00pm
Wentworthville Magpies (50)
Tries: Beau Henry 2, Dylan Izzard 2, Eli Roberts 2, Abbas Miski, Daniel Dole, Brad Deitz
Goals: Beau Henry 7
Asquith Magpies (14)
Tries: Kurt Horton, Kyle Tukapua, Asher Veamatahau
Goals: Asher Veamatahau 1
---
Mounties had a bye this round.
---
RELATED: Click here to view the current Ron Massey Cup ladder.