Results and Scorers:
RESULTS: 2018 Jersey Flegg Cup Round 13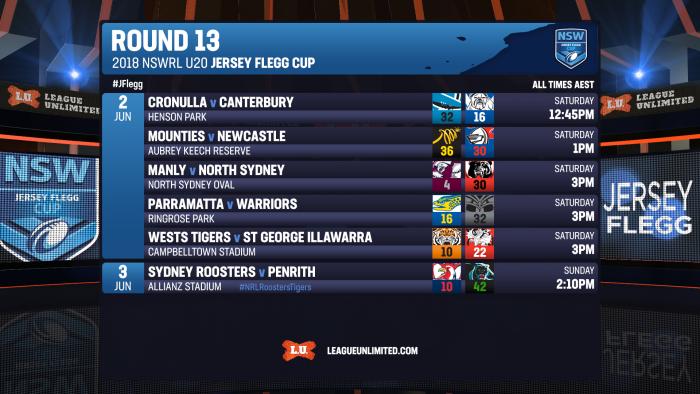 All the results and scorers from the thirteenth round of the NSWRL U20 Jersey Flegg Cup.
All listed times are AEST (NSW/QLD/VIC/ACT).
---
RELATED: See the full list of 2018 Jersey Flegg Cup Draw and Results.
---
Cronulla-Sutherland Sharks 32 Canterbury-Bankstown Bulldogs 16
Venue: Henson Park
Date: Saturday 2 June 2018 at 12:45pm
Cronulla-Sutherland Sharks (32)
Tries: Braydon Trindall, James Roumanos, Luke Jurd, Isaac Lumelume, Luke Polselli, Chris Tupou
Goals: Braydon Trindall 4
Canterbury-Bankstown Bulldogs (16)
Tries: Malachi Morgan, Javvier Pitovao, Blake Clayton
Goals: Brandon Wakeham 2
---
Mounties 36 Newcastle Knights 30
Venue: Aubrey Keech Reserve
Date: Saturday 2 June 2018 at 1:00pm
Mounties (36)
Tries: Tom McGrady, Elijah Hunt, Harley Smith-Shields, Andre Niko, Hudson Young, Seb Kris, Brendan O'Hagan
Goals: Andre Niko 4
Newcastle Knights (30)
Tries: Nash Birch, Matt Cooper, Ofa Manuofetoa, Elijah Rasiga, Lachlan Farr
Goals: Kurtis Dark 3, Matt Cooper 1
---
Manly-Warringah Sea Eagles 4 North Sydney Bears 30
Venue: North Sydney Oval
Date: Saturday 2 June 2018 at 3:00pm
Manly-Warringah Sea Eagles (4)
Tries: Semisi Kioa
North Sydney Bears (30)
Tries: Kyle Tukapua 2, Josh Cook, Kell O'Brien, Sean Sabutey
Goals: Kieran Hayman 4, Kurtis Preece 1
---
Parramatta Eels 0 Warriors 0
Venue: Ringrose Park
Date: Saturday 2 June 2018 at 3:00pm
Parramatta Eels (16)
Tries: Haze Dunster, Ayden Carling, Nicholas Okladnikov
Goals: Todd Sapienza 2
Warriors (32)
Tries: Ed Kosi 2, Kayal Iro, Carlos Henry, Pat Elia, Tom Ale
Goals: Eiden Ackland 4
---
Wests Tigers 10 St George Illawarra Dragons 22
Venue: Campbelltown Stadium
Date: Saturday 2 June 2018 at 3:00pm
Wests Tigers (10)
Tries: Tom Mikaele, Heath Gibbs
Goals: James Tautaiolefua 1
St George Illawarra Dragons (22)
Tries: Jason Gillard 2, Jayden Morgan, Jackson Willis
Goals: Jackson Willis 3
---
Sydney Roosters 10 Penrith Panthers 42
Venue: Allianz Stadium
Date: Sunday 3 June 2018 at 2:10pm
Sydney Roosters (10)
Tries: Treymain Spry, Nick O'Meley
Goals: Ethan O'Neill 1
Penrith Panthers (42)
Tries: Daine Laurie 2, Brendan Hands, Shannon Harris, Stephen Crichton, Jordan Eshgman, Thomas Lofts
Goals: Brendan Hands 7
---
RELATED: Click here to view the current Jersey Flegg Cup ladder.