Results and Scorers:
RESULTS: 2018 Sydney Shield Round 9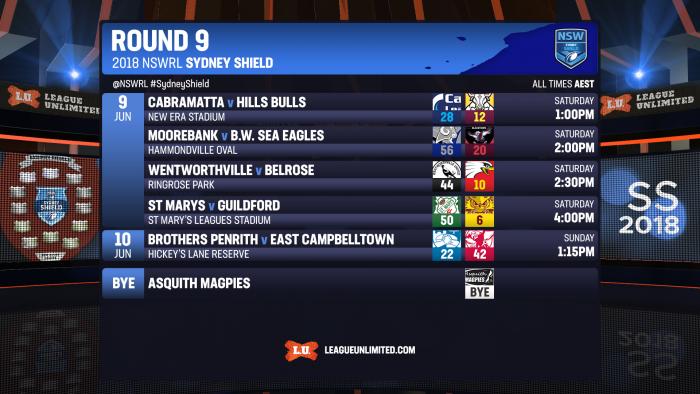 All the results and scorers from the ninth round of the NSWRL Sydney Shield.
All listed times are AEST (NSW/QLD/VIC/ACT).
---
RELATED: See the full list of 2018 Sydney Shield Draw and Results.
---
Cabramatta Two Blues 28 Hills Bulls 12
Venue: New Era Stadium
Date: Saturday 9 June 2018 at 1:00pm
Cabramatta Two Blues (28)
Tries: Siaosi Keates 3, Jayden Yates, Kakapuna Fotu, Matt Tomkins, Jason Jana
Hills Bulls (12)
Tries: Joel Bradford, Liam Walker
Goals: Brock Pelligra 2
---
Moorebank Rams 56 Blacktown Workers Sea Eagles 20
Venue: Hammondville Oval
Date: Saturday 9 June 2018 at 2:00pm
Moorebank Rams (56)
Tries: Kytak Chan 3, Josh Wilkinson 3, Uala Salia 2, Dalton Smith, Alvin Maungaati, Logan Hauff
Goals: Nikau Williams 6
Blacktown Workers Sea Eagles (20)
Tries: Sione Kaivelata, Mark Griffiths, Tekaiatia Taia, Tom Menzies
Goals: Jackson Whitby 2
---
Wentworthville United 44 Belrose Eagles 10
Venue: Ringrose Park
Date: Saturday 9 June 2018 at 2:30pm
Wentworthville United (44)
Tries: Rameses Tuipulotu 3, Adam Spicer, Inoke Vunipola 2, Matt Collins, Authur Tupou
Goals: Brendon Newton 4, James Boustani 2
Belrose Eagles (10)
Tries: Liam Christensen, Beau Abrahams
Goals: Liam Christensen 1
---
St Marys 50 Guildford Owls 6
Venue: St Marys Stadium
Date: Saturday 9 June 2018 at 4:00pm
St Marys (50)
Tries: Dylan McBain, Marlon Ritchie, Ben Cartwright, Ryan Pritchard, James Owen, Aiden Glanville, Etu Qionimacawa, Allan Fitzgibbon 2
Goals: Aiden Glanville 7
Guildford Owls (6)
Tries: Nathan Masima
Goals: Nathan Masima 1
---
Brothers Penrith 22 East Campbelltown Eagles 42
Venue: Hickeys Lane Reserve
Date: Sunday 10 June 2018 at 1:15pm
Brothers Penrith (22)
Tries: Michael Tuavao 2, Nathan Douet, Masi Paulo Fidow
Goals: Masi Paulo Fidow 3
East Campbelltown Eagles (42)
Tries: Daniel Muir 3, Vince Ripepi, Alapati Potifara 2, Edwin Connor, Amanono Tovio, Craig Moustakas
Goals: Edwin Connor 2, Shannon Gallant 1
---
Asquith Magpies had a bye this round.
---
RELATED: Click here to view the current Sydney Shield ladder.