Results and Scorers:
RESULTS: 2018 Sydney Shield Round 10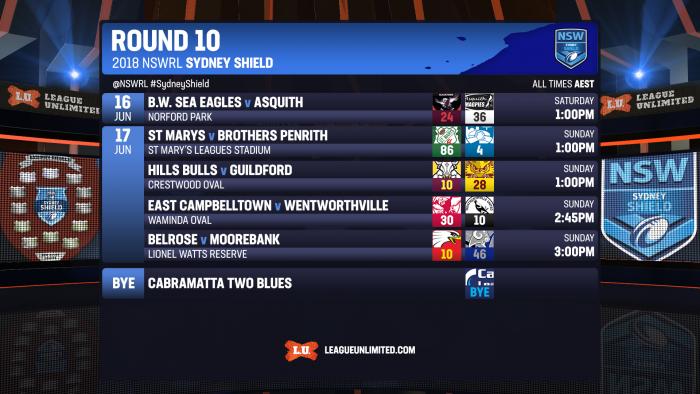 All the results and scorers from the tenth round of the NSWRL Sydney Shield.
All listed times are AEST (NSW/QLD/VIC/ACT).
---
RELATED: See the full list of 2018 Sydney Shield Draw and Results.
---
Blacktown Workers Sea Eagles 24 Asquith Magpies 36
Venue: Norford Park
Date: Saturday 16 June 2018 at 1:00pm
Blacktown Workers Sea Eagles (24)
Tries: Tom Menzies, Skippy Lipano, Jackson Whitby, Debraska Rikiriki
Goals: Jackson Whitby 4
Asquith Magpies (36)
Tries: Gibson Popoali'i, Tuki Jackson, Samuela George, Jeremy Marshall, Rob Williams, Jayden Griffin, Vinnie Ngaro
Goals: Gibson Popoali'i 3, Vinnie Ngaro 1
---
Hills Bulls 10 Guildford Owls 28
Venue: Crestwood Oval
Date: Sunday 17 June 2018 at 1:00pm
Hills Bulls (10)
Tries: Ben Mitchell, Joel Bradford
Goals: Dermot McKeever King 1
Guildford Owls (28)
Tries: Robert Longbottom 2, Julian King, Alec Bush, Caleb Kasiano
Goals: Nathan Masima 4
---
St Marys 86 Brothers Penrith 4
Venue: St Marys Stadium
Date: Sunday 17 June 2018 at 1:00pm
St Marys (86)
Tries: Etuate Qionimacawa 3, Isaac Thompson 2, Allan Fitzgibbon 2, Aiden Glanville 2, Alan Niulesa 2, Peter Betros, Ben Cartwright, John Tuilatu, Jacob Esau
Goals: Aiden Glanville 13
Brothers Penrith (4)
Tries: Masi Paulo Fidow
---
East Campbelltown Eagles 30 Wentworthville United 10
Venue: Waminda Oval
Date: Sunday 17 June 2018 at 2:45pm
East Campbelltown Eagles (30)
Tries: Shannon Gallant 3, Grant Lahey, Craig Moustakas
Goals: Edwin Connor 5
Wentworthville United (10)
Tries: Andrew Pritchard, Mana Aonga
Goals: Brendon Newton 1
---
Belrose Eagles 10 Moorebank Rams 46
Venue: Lionel Watts Reserve
Date: Sunday 17 June 2018 at 3:00pm
Belrose Eagles (10)
Tries: Nick Ferris, Nicholas Bilsborough
Goals: Andrew Layton 1
Moorebank Rams (46)
Tries: Zac Saddler 3, Jake Horton 2, Muong Dut 2, Jonty Timoni, Uala Salia
Goals: Nikau Williams 5
---
Cabramatta Two Blues had a bye this round.
---
RELATED: Click here to view the current Sydney Shield ladder.