Results and Scorers:
RESULTS: 2018 Ron Massey Cup Round 11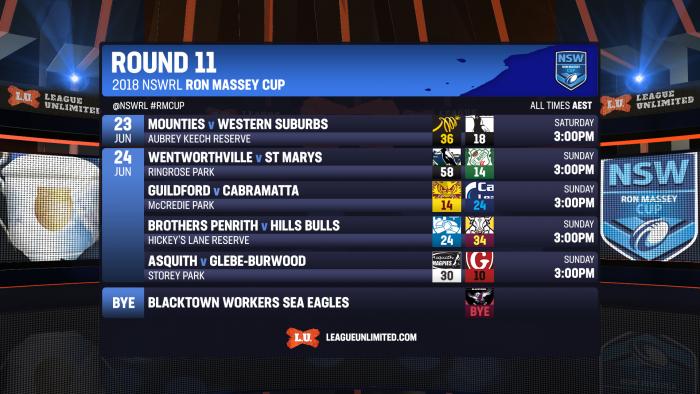 All the results and scorers from the eleventh round of the NSWRL Ron Massey Cup.
All listed times are AEST (NSW/QLD/VIC/ACT).
---
RELATED: See the full list of 2018 Ron Massey Cup Draw and Results.
---
Mounties 36 Western Suburbs Magpies 18
Venue: Aubrey Keech Reserve
Date: Saturday 23 June 2018 at 3:00pm
Mounties (36)
Tries: Shannon Chapman, Omar Slaimankhel, Rusty Bristow, Sonny Bristow, Jarrett Boland, Joel Luani, Jordan Martin
Goals: Maurice Kennedy 4
Western Suburbs Magpies (18)
Tries: Kurt Aldridge, Peter Pakoti, Zane Elsley
Goals: Kurt Aldridge 3
---
Brothers Penrith 24 Hills Bulls 34
Venue: Hickeys Lane Reserve
Date: Sunday 24 June 2018 at 3:00pm
Brothers Penrith (24)
Tries: Michael Tuavao, Harrison Coskerie 2, Kurt Falls
Goals: Kurt Falls 4
Hills Bulls (34)
Tries: Dermot McKeever-King, Brock Pelligra, Tom Perrin, Ben Falcone, Jaz Flavell, Pati Eni
Goals: Hayden McWilliam 3, Mitchell Hyde 1, Nick Holliday 1
---
Asquith Magpies 30 Glebe Burwood Wolves 10
Venue: Storey Park
Date: Sunday 24 June 2018 at 3:00pm
Asquith Magpies (30)
Tries: Asher Veamatahau 2, Brock Ilett, Jake Maizen, Max Bailey
Goals: Asher Veamatahau 1, Treymaine Brown 1, Kurt Horton 1
Glebe Burwood Wolves (10)
Tries: Jackson Garlick, Jordan Topai-Aveai
Goals: Jesse Marschke 1
---
Guildford Owls 14 Cabramatta Two Blues 24
Venue: McCredie Park
Date: Sunday 24 June 2018 at 3:00pm
Guildford Owls (14)
Tries: Daniel Lotu 2, Dom Reardon
Goals: Robert Longbottom 1
Cabramatta Two Blues (24)
Tries: Hayden Ashcroft, Jamon Wormleaton, Moses Manu, Shane Kiel
Goals: Jake Rafferty-Butfield 4
---
Wentworthville Magpies 58 St Marys 14
Venue: Ringrose Park
Date: Sunday 24 June 2018 at 3:00pm
Wentworthville Magpies (58)
Tries: Nathan Milone 3, Atini Gafa 2, Josh Minhinnick 2, Blake Cook, Abbas Miski, Rhys Davies, Beau Henry
Goals: Beau Henry 7
St Marys (14)
Tries: Joe Vaegaau, Jake Gillett-Gow
Goals: Aiden Glanville 3
---
Blacktown Workers Sea Eagles had a bye this round.
---
RELATED: Click here to view the current Ron Massey Cup ladder.