Results and Scorers:
RESULTS: 2018 Jersey Flegg Cup Round 17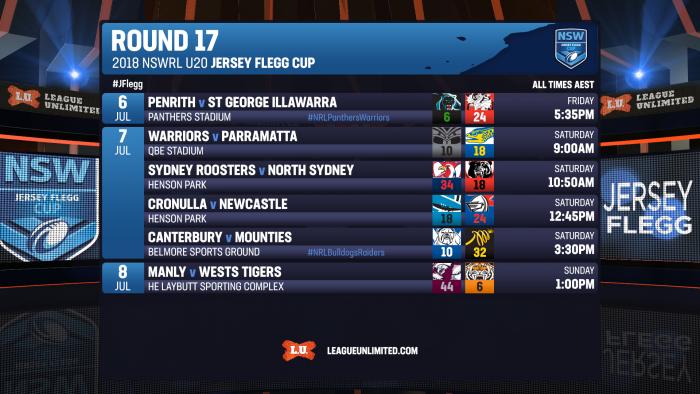 All the results and scorers from the seventeenth round of the NSWRL U20 Jersey Flegg Cup.
All listed times are AEST (NSW/QLD/VIC/ACT).
---
RELATED: See the full list of 2018 Jersey Flegg Cup Draw and Results.
---
Penrith Panthers 6 St George Illawarra Dragons 24
Venue: Panthers Stadium
Date: Friday 6 July 2018 at 5:35pm
Penrith Panthers (6)
Tries: Ratu Nanovo
Goals: Brendan Hands 1
St George Illawarra Dragons (24)
Tries: Trent Peoples 2, Matt Delbanco, Dylan Morris
Goals: Luke Gale 2, Jackson Willis 2
---
Warriors 10 Parramatta Eels 18
Venue: QBE Stadium
Date: Saturday 7 July 2018 at 9:00am
Warriors (10)
Tries: Harley Maynard, Paul Turner
Goals: Eiden Ackland 1
Parramatta Eels (18)
Tries: Noel Aukafolau, Dylan Brown, Haze Dunster
Goals: Todd Sapienza 3
---
Sydney Roosters 34 North Sydney Bears 18
Venue: Henson Park
Date: Saturday 7 July 2018 at 10:50am
Sydney Roosters (34)
Tries: Ken Koro, Treymain Spry, Kenese Kenese, Adam Pompey, Jackson Frei, Tagiolupe Tivalu, Tom Steadman
Goals: Jackson Frei 2, Tom Steadman 1
North Sydney Bears (18)
Tries: Jesse Arthars, Blake Taaffe, Ethan Abou-Ghaida
Goals: Kieran Hayman 3
---
Cronulla-Sutherland Sharks 18 Newcastle Knights 24
Venue: Henson Park
Date: Saturday 7 July 2018 at 12:45pm
Cronulla-Sutherland Sharks (18)
Tries: Cruz Topai-Aveai, Jackson Ferris 2
Goals: Braydon Trindall 3
Newcastle Knights (24)
Tries: Elijah Rasiga 2, Ben Talty, Matt Cooper, Ofa Manuofetoa
Goals: Justin Worley 2
---
Canterbury-Bankstown Bulldogs 10 Mounties 32
Venue: Belmore Sports Ground
Date: Saturday 7 July 2018 at 3:30pm
Canterbury-Bankstown Bulldogs (10)
Tries: Frank Kuresa, Dalton Smith
Goals: Brandon Wakeham 1
Mounties (32)
Tries: Paul Roache, Tobias Westcott, Mat Lyons, Andre Niko, Semi Valemei, Tom McGrady
Goals: Andre Niko 4
---
Manly-Warringah Sea Eagles 44 Wests Tigers 6
Venue: HE Laybutt Sporting Complex
Date: Sunday 8 July 2018 at 1:00pm
Manly-Warringah Sea Eagles (44)
Tries: Luke Metcalf 3, Blake Andrews 2, Bilal Maarbani, Semisi Kioa
Goals: Bilal Maarbani 6
Wests Tigers (6)
Tries: Gus Garzaniti
Goals: Ben Stevanovic 1
---
RELATED: Click here to view the current Jersey Flegg Cup ladder.