Results and Scorers:
RESULTS: 2018 Hastings Deering Colts Round 18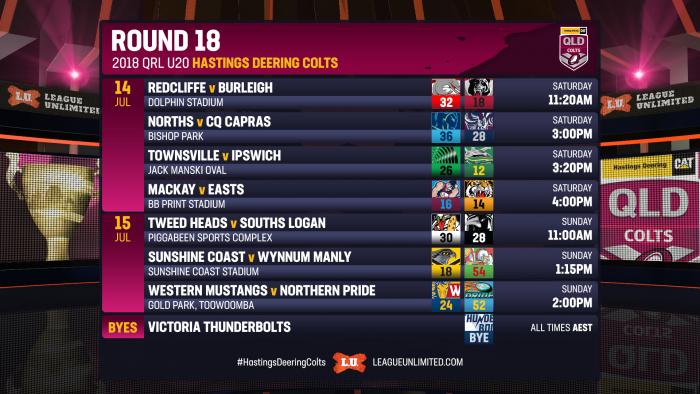 All the results and scorers from the eighteenth round of the QRL U20 Hastings Deering Colts competition.
All listed times are AEST (NSW/QLD/VIC/ACT).
---
RELATED: See the full list of 2018 Hastings Deering Colts Draw and Results.
---
Redcliffe Dolphins 32 Burleigh Bears 18
Venue: Dolphin Stadium
Date: Saturday 14 July 2018 at 11:20am
Redcliffe Dolphins (32)
Tries: Oscar Carter 2, Radean Robinson, Sam Amrstrong, Kyle Foxwell
Goals: Oscar Carter 6
Burleigh Bears (18)
Tries: Sean Garner, Reihana Marsh, Cameron Brown
Goals: Callum Boomer 3
---
Norths Devils 36 CQ Capras 28
Venue: Bishop Park
Date: Saturday 14 July 2018 at 3:00pm
Norths Devils (36)
Tries: Kobe Hetherington 2, Cory Paix, Gerome Burns, David Fauid, Jordan Riki, Ethan Bullemor
Goals: Cory Paix 3, Gerome Burns 1
CQ Capras (28)
Tries: Zaine Hammond, Ryan Flintham 2, Charlice Atoi, Toby Frater
Goals: Blake Moore 4
---
Townsville Blackhawks 26 Ipswich Jets 12
Venue: Jack Manski Oval
Date: Saturday 14 July 2018 at 3:20pm
Townsville Blackhawks (26)
Tries: Logan Bayliss, Tom McCagh 2, James Conroy, Sam Martin
Goals: Adam Cook 3
Ipswich Jets (12)
Tries: Harry Douglas 2
Goals: Lochlan Turnbull 2
---
Mackay Cutters 16 Easts Tigers 14
Venue: BB Print Stadium Mackay
Date: Saturday 14 July 2018 at 4:00pm
Mackay Cutters (16)
Tries: Garrett Smith, Michael Bell, Jayden O'Shannessy
Goals: Brendan White 2
Easts Tigers (14)
Tries: Daniel Ayres, Jaiyden Hunt, Tyrone Titasey
Goals: Nathan Brown 1
---
Tweed Heads Seagulls 30 Souths Logan Magpies 28
Venue: Piggabeen Sports
Date: Sunday 15 July 2018 at 11:00am
Tweed Heads Seagulls (30)
Tries: Blake Campbell, Bostyn Hakaraia, Gerard Ah-Nau, Liam Hampson, Lachlan Douglas
Goals: Toby Sexton 5
Souths Logan Magpies (28)
Tries: Thane Kellermeyer 2, Jacob Alick, Emosi Tuqiri, Kye Oates
Goals: Tanah Boyd 2, Kye Oates 2
---
Sunshine Coast Falcons 18 Wynnum Manly Seagulls 54
Venue: Sunshine Coast Stadium
Date: Sunday 15 July 2018 at 1:15pm
Sunshine Coast Falcons (18)
Tries: Liam Taylor, Jack Cornford, Jake Egan
Goals: Augie Rangihuna 3
Wynnum Manly Seagulls (54)
Tries: Zane Wallace 2, Shannon Gardiner 2, Ryan O'Keefe, Dredin Sorensen McGee, Payden Porter, Tino Stowers, Zayne Holleran
Goals: Shannon Gardiner 9
---
Western Mustangs 24 Northern Pride 52
Venue: Gold Park
Date: Sunday 15 July 2018 at 2:00pm
Western Mustangs (24)
Tries: Michael Naseri 2, Aidan Kennedy 2, Josh Foster
Goals: James Robinson 2
Northern Pride (52)
Tries: Marc Naleba, Ewan Moore, Evan Child, Quinlyn Cannon 2, Joshtel Charlie, Connor Luhan, Brandon Jackonia, Adam Hepworth, Qiremu Greig, Mark Rosendale
Goals: Brandon Jackonia 2, Evan Child 2
---
Victoria Thunderbolts had a bye this round.
---
RELATED: Click here to view the current Hastings Deering Colts ladder.