Results and Scorers:
RESULTS: 2018 Ron Massey Cup Round 15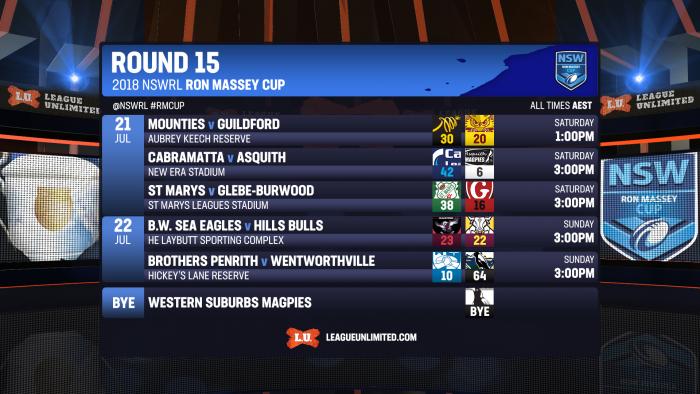 All the results and scorers from the fifteenth round of the NSWRL Ron Massey Cup.
All listed times are AEST (NSW/QLD/VIC/ACT).
---
RELATED: See the full list of 2018 Ron Massey Cup Draw and Results.
---
Mounties 30 Guildford Owls 20
Venue: Aubrey Keech Reserve
Date: Saturday 21 July 2018 at 1:00pm
Mounties (30)
Tries: Roman Ioelu 2, Mikaele Ravalawa 2, Maile Li, Shannon Chapman
Goals: Roman Ioelu 3

Guildford Owls (20)
Tries: Mathew Rickard 2, Tyrone Faulkner, Josh Lewis
Goals: Josh Lewis 2
Field Goals:
---
Cabramatta Two Blues 42 Asquith Magpies 6
Venue: New Era Stadium
Date: Saturday 21 July 2018 at 3:00pm
Cabramatta Two Blues (42)
Tries: Jesse Martin, Shane Kiel, Tala Mapesone, Jake Steadman, Emosi Alamoti, D'Rhys Miller, Frank Pritchard, Paul Simona
Goals: Zac Mackay 5

Asquith Magpies (6)
Tries: Kurt Horton
Goals: Matthew Place


---
St Marys 38 Glebe Burwood Wolves 16
Venue: St Marys Stadium
Date: Saturday 21 July 2018 at 3:00pm
St Marys (38)
Tries: Allan Fitzgibbon 3, Robert Vai, Nathan Smith, Joe Vaegaau, Lazarus Brown
Goals: Robert Vai 5

Glebe Burwood Wolves (16)
Tries: Jordan Topai-Aveai, Jackson Garlick, Penani Manumalealii
Goals: Jesse Marschke 2

---
Blacktown Workers Sea Eagles 23 Hills Bulls 22
Venue: HE Laybutt Sporting Complex
Date: Sunday 22 July 2018 at 3:00pm
Blacktown Workers Sea Eagles (23)
Tries: Peter Schuster 2, James Tuitahi, Joe Tramontana
Goals: Vieru Mapesone 3
Field Goals: Honeti Tuha 1
Hills Bulls (22)
Tries: Rory Brownlie 2, David Baumann, Ben Falcone
Goals: Nick Holliday 3
---
Brothers Penrith 10 Wentworthville Magpies 64
Venue: Hickeys Lane Reserve
Date: Sunday 22 July 2018 at 3:00pm
Brothers Penrith (10)
Tries: Jak Cannell, Masi Paulo Fidow
Goals: Kurt Falls 1
Wentworthville Magpies (64)
Tries: Beau Henry 2, Eli Roberts 2, Dylan Izzard 2, Eparama Navale 2, Jack Miller, Josh Minhinnick, Kurt Delius
Goals: Beau Henry 9, Jack Morris 1
---
Western Suburbs Magpies had a bye this round.
---
RELATED: Click here to view the current Ron Massey Cup ladder.