Results and Scorers:
RESULTS: 2018 Hastings Deering Colts Round 23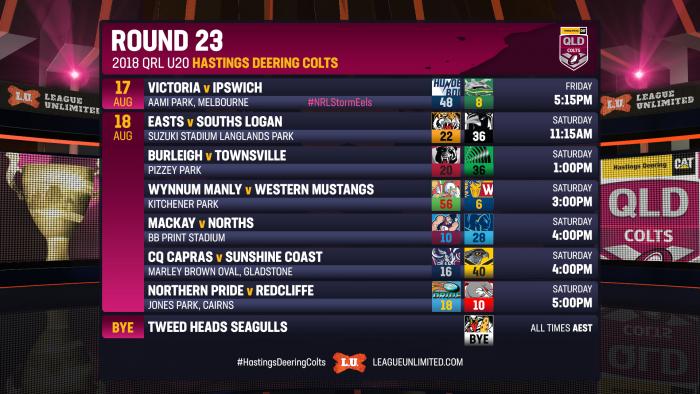 All the results and scorers from the 23rd round of the QRL Under 20's Hastings Deering Colts.
All listed times are AEST (NSW/QLD/VIC/ACT).
---
RELATED: See the full list of 2018 Hastings Deering Colts Draw and Results.
---
Victoria Thunderbolts 48 Ipswich Jets 8
Venue: AAMI Park
Date: Friday 17 August 2018 at 5:15pm
Victoria Thunderbolts (48)
Tries: Kayleb Milne 2, Matt Stimson 2, Nick Hay, Jordin Leiu, Pio Nakubuwai, Trent Toelau, Kelma Tuilagi
Goals: Cooper Johns 6
Ipswich Jets (8)
Tries: Shar Walden, Julian Christian
---
Easts Tigers 22 Souths Logan Magpies 36
Venue: Suzuki Stadium, Langlands Park
Date: Saturday 18 August 2018 at 11:15am
Easts Tigers (22)
Tries: Jared Chambers 2, Unga Wolske, Lorenzo Mulitalo
Goals: Nathan Brown 3
Souths Logan Magpies (36)
Tries: Jacob Alick 2, Bruce Ten, Blake Scott, Kye Oates, Fai Smalley
Goals: Tanah Boyd 6
---
Burleigh Bears 20 Townsville Blackhawks 36
Venue: Pizzey Park
Date: Saturday 18 August 2018 at 1:00pm
Burleigh Bears (20)
Tries: Jayden Campbell 2, Ben Willetts, Allan Lockwood
Goals: Jayden Campbell 2
Townsville Blackhawks (36)
Tries: Solomon Vasuvulagi 3, Jack Althaus, Michael Carroll, Lindsey Kirk, Lachlan La Rosa
Goals: Adam Cook 4
---
Wynnum Manly Seagulls 56 Western Mustangs 6
Venue: Kitchener Park
Date: Saturday 18 August 2018 at 3:00pm
Wynnum Manly Seagulls (56)
Tries: Lachie Perry 2, Shannon Gardiner 2, Travis Leo 2, Ryan O'Keefe, Dredin McGee, Reece McKenzie-O'Brien, Reece Hoffman, David Quinlin
Goals: Shannon Gardiner 6
Western Mustangs (6)
Tries: Benji Neliman
Goals: Chris Chalmers 1
---
Mackay Cutters 10 Norths Devils 28
Venue: BB Print Stadium Mackay
Date: Saturday 18 August 2018 at 4:00pm
Mackay Cutters (10)
Tries: Walter Lauenstein, Rayden Burns
Goals: Darcy Head 1
Norths Devils (28)
Tries: Kobe Hetherington 3, Gerome Burns, David Fauid
Goals: Gerome Burns 4
---
CQ Capras 16 Sunshine Coast Falcons 40
Venue: Marley Brown Oval
Date: Saturday 18 August 2018 at 4:00pm
CQ Capras (16)
Tries: Toby Frater, Charlice Atoi, Eli Noovao
Goals: Blake Moore 2
Sunshine Coast Falcons (40)
Tries: Riley Moore 2, Tye James, Jake Egan, Liam Taylor, Damian Forde-Hurrell, Nick Ellems, Hayden Lewis-Boyer
Goals: Tye James 4
---
Northern Pride 18 Redcliffe Dolphins 10
Venue: Jones Park, Cairns
Date: Saturday 18 August 2018 at 5:00pm
Northern Pride (18)
Tries: Tom McGrath, Terry Casey-Douglas, Marc Naleba, Pat Gallen
Goals: Evan Child 1
Redcliffe Dolphins (10)
Tries: Oscar Carter, Kyle Foxwell
Goals: Oscar Carter 1
---
Tweed Heads Seagulls had a bye this round.
---
RELATED: Click here to view the current Hastings Deering Colts ladder.