Results and Scorers:
RESULTS: 2019 Auswide Bank Mal Meninga Cup Round 6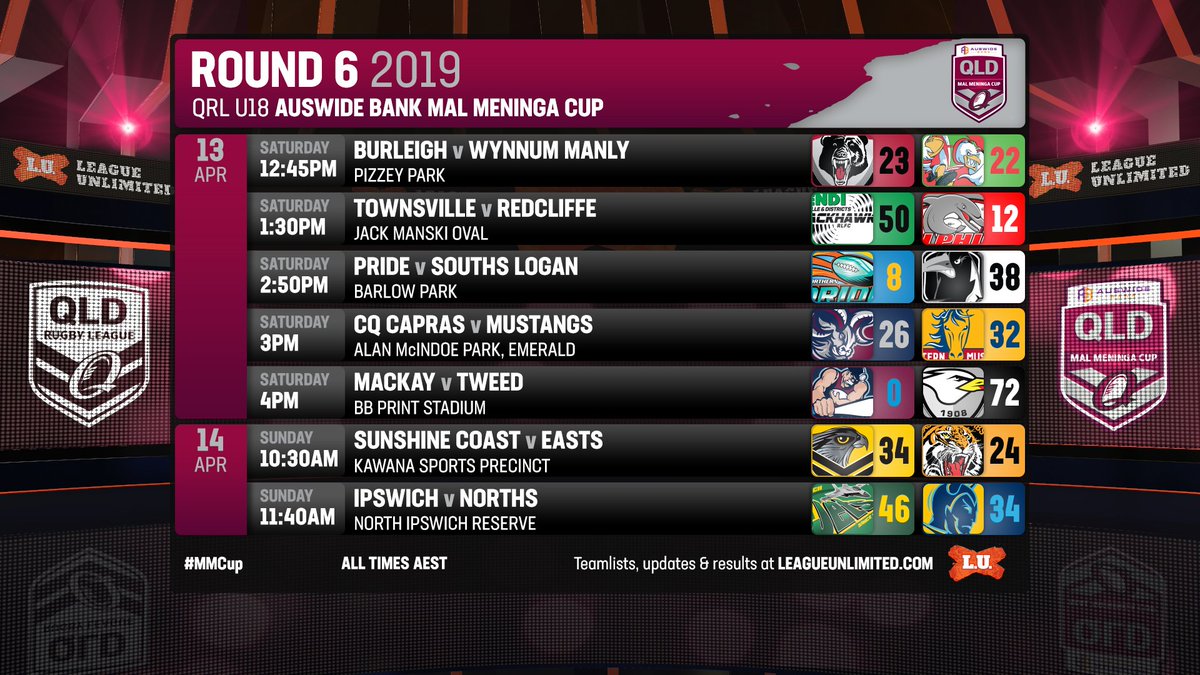 All the results and scorers from the sixth round of the QRL U18 Mal Meninga Cup.
All listed times are AEST (NSW/QLD/VIC/ACT).
---
RELATED: See the full list of 2019 Auswide Bank Mal Meninga Cup Draw and Results.
---
Burleigh Bears 23 Wynnum Manly Seagulls 22
Venue: Pizzey Park
Date: Saturday 13 April 2019 at 12:45pm
Burleigh Bears (23)
Tries: Cole Geyer, Ryan Rivett, Ryan Garner, Tyler Mahon
Goals: Ryan Rivett 3
Field Goals: Ryan Rivett 1
Wynnum Manly Seagulls (22)
Tries: Max Plath 2, Reece Hoffman, Jake Simpkin
Goals: Reece Hoffman 3
---
Townsville Blackhawks 50 Redcliffe Dolphins 12
Venue: Jack Manski Oval
Date: Saturday 13 April 2019 at 1:30pm
Townsville Blackhawks (50)
Tries: Hamiso Tabuai-Fidow 4, Tomas Chester, Jake Bourke, Dean Barnes, Dylan White, Steven Numambo
Goals: Dylan White 7
Redcliffe Dolphins (12)
Tries: Tye Cooper, Brenton Clement
Goals: Will Cahill 2
---
Northern Pride 8 Souths Logan Magpies 38
Venue: Barlow Park
Date: Saturday 13 April 2019 at 2:50pm
Northern Pride (8)
Tries: Benn Campagnolo 2
Souths Logan Magpies (38)
Tries: Richard Ioane 2, Caleb Evans 2, Sione Vakauta, Tyrone Sa'u, Callum Eggerling
Goals: Konrad Tu'ua 5
---
CQ Capras 26 Western Mustangs 32
Venue: Alan McIndoe Park
Date: Saturday 13 April 2019 at 3:00pm
CQ Capras (26)
Tries: Livingstone Lingawa, Kiya Schnabel, Jacob Spark, Max Shorter, Israel Power
Goals: Lyncoln Rebel 3
Western Mustangs (32)
Tries: Alex Brighton, Oliver Moy, Pat McGinn, Brandon Clarke, Jordan Lipp, Joel Brett
Goals: Pat McGinn 4
---
Mackay Cutters 0 Tweed Seagulls 72
Venue: BB Print Stadium Mackay
Date: Saturday 13 April 2019 at 4:00pm
Mackay Cutters (0)
Tweed Seagulls (72)
Tries: Xavier Coates 2, Solomon Torres 2, Reece Walsh 2, Kade Hill 2, Ben Liyou, Caleb Hodges, Ediq Abromsyev, Brendan Piakura, Toby Sexton
Goals: Toby Sexton 10
---
Sunshine Coast Falcons 34 Easts Tigers 24
Venue: Kawana Sports Precinct
Date: Sunday 14 April 2019 at 10:30am
Sunshine Coast Falcons (34)
Tries: Jack Aiken 2, Selwyn Cobbo, Alec Jardine, Trent Loiero, Jayden Taufa
Goals: Zac Laybutt 5
Easts Tigers (24)
Tries: Xavier Savage 3, Jack Howarth, Marly Bitungane
Goals: Jack Bowyer 2
---
Ipswich Jets 46 Norths Devils 34
Venue: North Ipswich Reserve
Date: Sunday 14 April 2019 at 11:40am
Ipswich Jets (46)
Tries: Nathan Stephensen 2, Ethan King, Elone Taufa, Watjerra Briggs, Sam Walker, Jack Martin, Tate Rhea
Goals: Sam Walker 7
Norths Devils (34)
Tries: Ethan Olsen 2, Kye Jenkins, Daniel Atkinson, Brocco Uhrle, Joel Strasser
Goals: Josh James 4, Brocco Uhrle 1
---
RELATED: Click here to view the current Auswide Bank Mal Meninga Cup ladder.