Results and Scorers:
RESULTS: 2019 Jersey Flegg Cup Round 6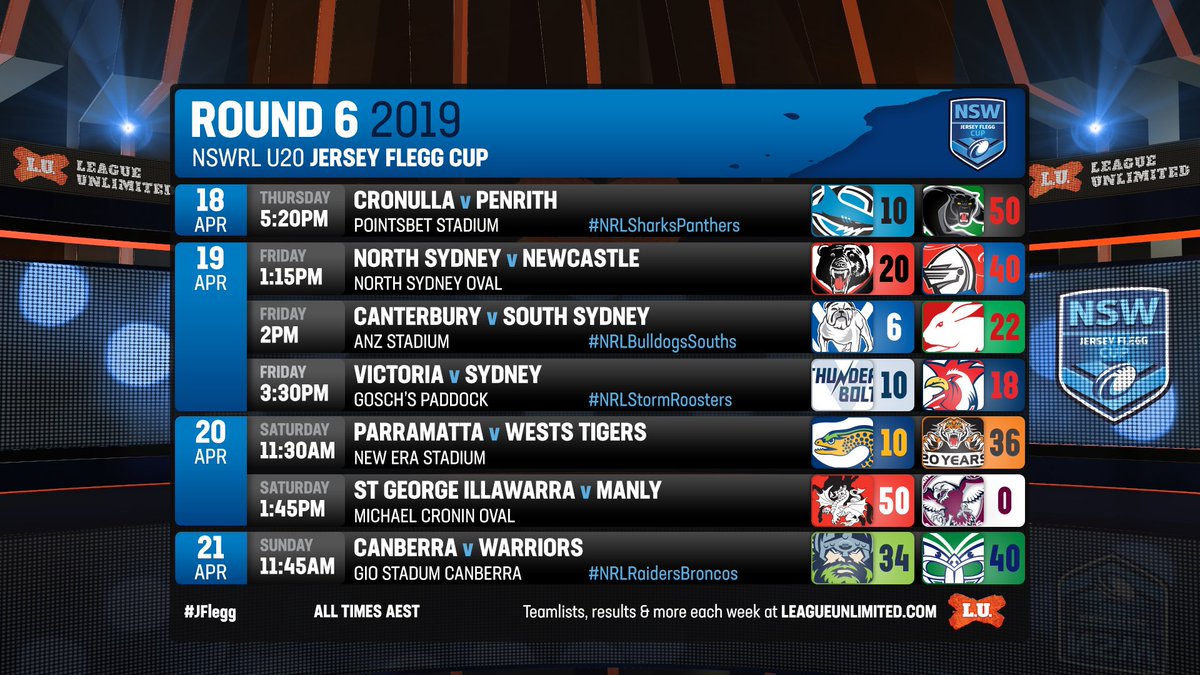 All the results and scorers from the sixth round of the NSWRL U20 Jersey Flegg Cup.
All listed times are AEST (NSW/QLD/VIC/ACT).
---
RELATED: See the full list of 2019 Jersey Flegg Cup Draw and Results.
---
Cronulla-Sutherland Sharks 10 Penrith Panthers 50
Venue: PointsBet Stadium
Date: Thursday 18 April 2019 at 5:20pm
Cronulla-Sutherland Sharks (10)
Tries: Angus Ernst, Josh Delailoa
Goals: Jonaiah Lualua 1
Penrith Panthers (50)
Tries: Stephen Crichton 2, Charlie Staines 2, Dylan McBain, Terrell May, J'maine Hopgood, Shawn Blore, Thomas Lofts
Goals: Brendan Hands 7
---
North Sydney Bears 20 Newcastle Knights 40
Venue: North Sydney Oval
Date: Friday 19 April 2019 at 1:15pm
North Sydney Bears (20)
Tries: Johnny Mitsias, Mason McCarthy, Corey Fenning, Jubilee Soloa
Goals: Connor Garetty 2
Newcastle Knights (40)
Tries: Tex Hoy 3, Toby Marks, Justin Worley, Timanu Alexander, Dylan Lucas, Brandon Russell
Goals: Bayden Searle 3, Dylan Lucas 1
---
Canterbury-Bankstown Bulldogs 6 South Sydney Rabbitohs 22
Venue: ANZ Stadium
Date: Friday 19 April 2019 at 2:00pm
Canterbury-Bankstown Bulldogs (6)
Tries: Declan Casey
Goals: Jake Averillo 1
South Sydney Rabbitohs (22)
Tries: Volkan Er, Brock Gardner, Peter Mamouzelos, Kane Allan
Goals: Blake Taaffe 3
---
Victoria Thunderbolts 10 Sydney Roosters 18
Venue: Goschs Paddock
Date: Friday 19 April 2019 at 3:30pm
Victoria Thunderbolts (10)
Tries: Trent Toelau, Kayleb Milne
Goals: Trent Toelau 1
Sydney Roosters (18)
Tries: Tyrell Neiufi, Georgie Brand, Freddy Lussick
Goals: Ethan O'Neill 3
---
Parramatta Eels 10 Wests Tigers 36
Venue: New Era Stadium
Date: Saturday 20 April 2019 at 12:00pm
Parramatta Eels (10)
Tries: Sione Fonua, Joe Small
Goals: Kyle Schneider 1
Wests Tigers (36)
Tries: Zac Cini 2, Rua Ngatikaura, Jock Madden, Curtis Wilson, Shondre Lee-Silva
Goals: Jock Madden 6
---
St George Illawarra Dragons 50 Manly-Warringah Sea Eagles 0
Venue: Michael Cronin Oval
Date: Saturday 20 April 2019 at 1:45pm
St George Illawarra Dragons (50)
Tries: Jason Saab 3, Cody Ramsey 2, Blake Barbuto, Blair Grant, Luke Gale, Matt Nicholson
Goals: Blair Grant 4, Luke Gale 3
Manly-Warringah Sea Eagles (0)
---
Canberra Raiders 34 Warriors 40
Venue: GIO Stadium Canberra
Date: Sunday 21 April 2019 at 11:45am
Canberra Raiders (20)
Tries: Harley Smith-Shields 2, Jordan Martin, Joe Roberts, Darby Medlyn, Daine Spencer
Goals: Tobias Westcott 5

Warriors (40)
Tries: Tom Ale 2, Phillip Makatoa, Paul Turner, Jyris Glamuzina, Kayal Iro, Harley Maynard
Goals: Sione Moala 6
---
RELATED: Click here to view the current Jersey Flegg Cup ladder.