Results and Scorers:
RESULTS: 2019 Intrust Super Cup Round 7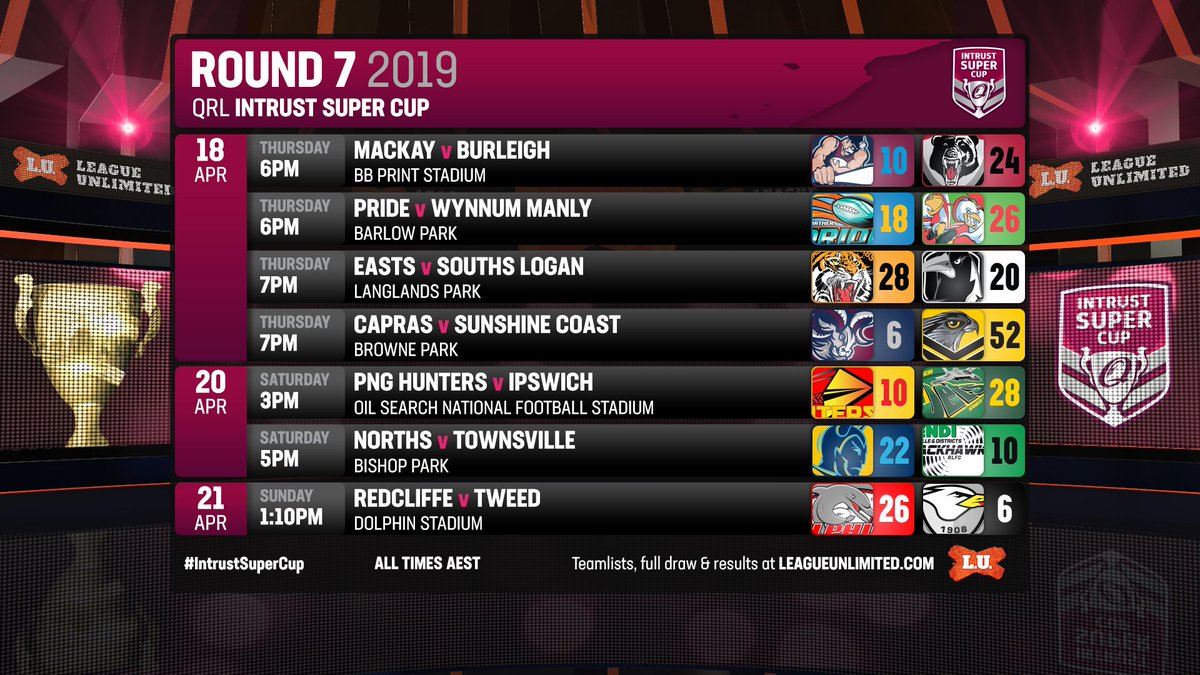 All the results and scorers from the seventh round of the QRL Intrust Super Cup.
All listed times are AEST (NSW/QLD/VIC/ACT).
---
RELATED: See the full list of 2019 Intrust Super Cup Draw and Results.
---
Northern Pride 18 Wynnum Manly Seagulls 26
Venue: Barlow Park
Date: Thursday 18 April 2019 at 6:00pm
Northern Pride (18)
Tries: Steven Taipata, Jack Murphy, Peter Hola
Goals: Brayden Torpy 3
Wynnum Manly Seagulls (26)
Tries: Ed Burns 2, Sam Scarlett, Kalolo Saitaua, Edene Gebbie
Goals: Tom Deardon 3
---
Mackay Cutters 10 Burleigh Bears 24
Venue: BB Print Stadium Mackay
Date: Thursday 18 April 2019 at 6:00pm
Mackay Cutters (10)
Tries: Reuben Cotter 2
Goals: Carlin Anderson 1
Burleigh Bears (24)
Tries: Jeff Lynch, Jamal Fogarty, Brenko Lee, Kurtis Rowe
Goals: Jamal Fogarty 4
---
Easts Tigers 28 Souths Logan Magpies 20
Venue: Langlands Park
Date: Thursday 18 April 2019 at 7:00pm
Easts Tigers (28)
Tries: Tom Hughes 2, Kelma Tuilagi 2, Tyrone Amey
Goals: Aaron Booth 4
Souths Logan Magpies (20)
Tries: Mitch Frei, Linc Port, Alex Bishop, Cameron Booth
Goals: Guy Hamilton 2
---
Central Queensland Capras 6 Sunshine Coast Falcons 52
Venue: Browne Park
Date: Thursday 18 April 2019 at 7:00pm
Central Queensland Capras (6)
Tries: Elijah Anderson
Goals: BJ Aufaga-Toomaga 1
Sunshine Coast Falcons (52)
Tries: Sitiveni Moceidreke 2, Joe Stimson 2, Nicho Hynes, Riley Moore, Todd Murphy, Daniel Dole
Goals: Todd Murphy 8
---
PNG Hunters 10 Ipswich Jets 28
Venue: Oil Search National Football Stadium
Date: Saturday 20 April 2019 at 3:00pm
PNG Hunters (10)
Tries: Brandon Nima, Woods Kawage
Goals: Ase Boas 1
Ipswich Jets (28)
Tries: Peter Gubb 2, Rogan Dean, Josh Seage, Jayden Connors
Goals: Josh Cleeland 4
---
Norths Devils 22 Townsville Blackhawks 10
Venue: Bishop Park
Date: Saturday 20 April 2019 at 5:00pm
Norths Devils (22)
Tries: Ethan Bullemor 2, Paul Ulberg, Nixon Putt
Goals: Herbie Farnworth 3
Townsville Blackhawks (10)
Tries: Tom Gilbert, Kalifa Faifai Loa
Goals: Kalifa Faifai Loa 1
---
Redcliffe Dolphins 26 Tweed Seagulls 6
Venue: Dolphin Stadium
Date: Sunday 21 April 2019 at 1:10pm
Redcliffe Dolphins (26)
Tries: Jake Turpin, Jedidiah Simbiken, Cory Paix, Taylor Brown
Goals: Bryce Donovan 5
Tweed Seagulls (6)
Tries: Jarrod Morfett
Goals: Lindon McGrady 1
---
RELATED: Click here to view the current Intrust Super Cup ladder.