Results and Scorers:
RESULTS: 2019 Sydney Shield Round 6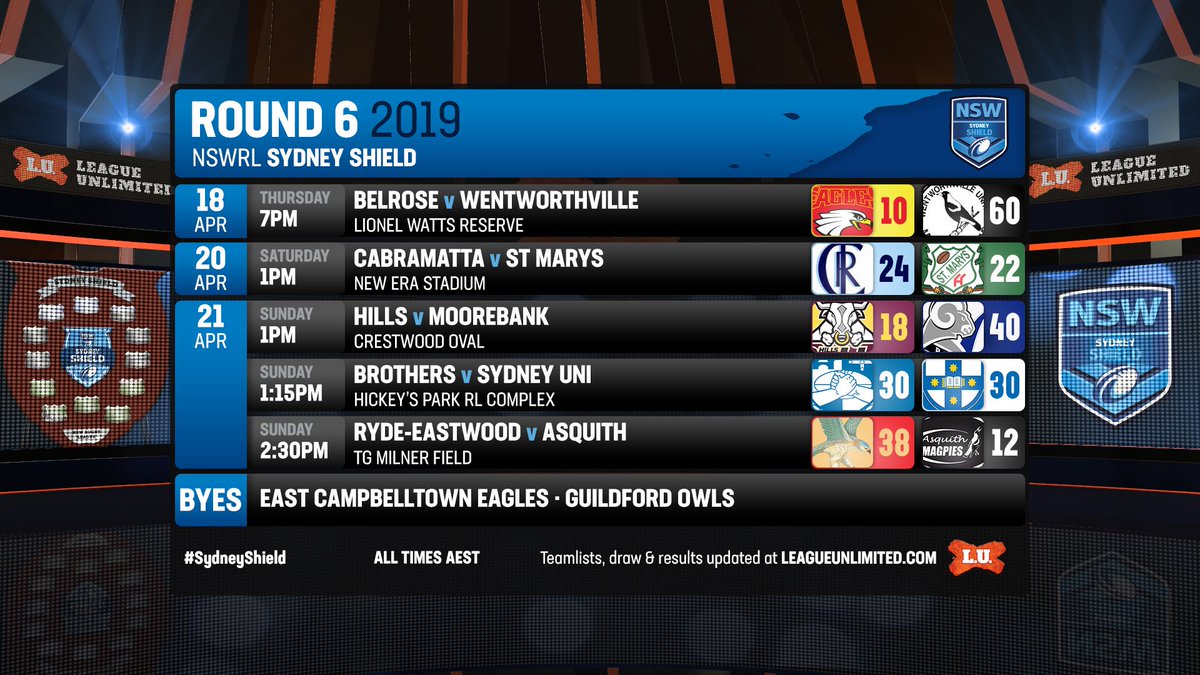 All the results and scorers from the sixth round of the NSWRL Sydney Shield.
All listed times are AEST (NSW/QLD/VIC/ACT).
---
RELATED: See the full list of 2019 Sydney Shield Draw and Results.
---
Belrose Eagles 10 Wentworthville United 60
Venue: Lionel Watts Reserve
Date: Thursday 18 April 2019 at 7:00pm
Belrose Eagles (10)
Tries: Rhys Wolloghan, Jack Ongosia
Goals: Rhys Waolloghan 1
Wentworthville United (60)
Tries: Tyrone Shelley 3, Todd Sapienza, Nick Walker, Troy Black, Saimoni Gaunavinaka, Skippy Lipano, Shaiquan Terekia, Nick Okladnikov
Goals: Brendon Newton 10
---
Cabramatta Two Blues 24 St Marys 22
Venue: New Era Stadium
Date: Saturday 20 April 2019 at 1:00pm
Cabramatta Two Blues (24)
Tries: Matt Mundine 2, Will Finau, Aussie Tuwhangai
Goals: Christian Papa 4
St Marys (22)
Tries: Alan Niulesa, Matt Tomkins, Ratu Nanovo, Daniel Brown
Goals: Dylan White 3
---
Hills District Bulls 18 Moorebank Rams 40
Venue: Crestwood Oval
Date: Sunday 21 April 2019 at 1:00pm
Hills District Bulls (18)
Tries: Isaac Gorman 2, Jake Lewis
Goals: Ezra Gibson 3
Moorebank Rams (40)
Tries: Shayden Stevens 3, Tyrone Harding, Brock Hamill, Zac Saddler, Jake Horton, Sebastian Winters-Chang
Goals: Jake Horton 3, Nikau Williams 1
---
Penrith Brothers 30 Sydney University 30
Venue: Hickeys Lane Reserve
Date: Sunday 21 April 2019 at 1:15pm
Penrith Brothers (30)
Tries: Chad Rennie 2, Sitiveni Logaivau, Jake Tago, Patrick Hinder, Kilifi Tia Kilifi
Goals: Cody Smith 3
Sydney University (30)
Tries: Jack O'Brien, Josh Boumelhem, Brock Pelligra, Kyle McLean, Matt Long
Goals: Daniel Arahu 5
---
Ryde Eastwood Hawks 38 Asquith Magpies 12
Venue: TG Millner Field
Date: Sunday 21 April 2019 at 2:30pm
Ryde Eastwood Hawks (38)
Tries: Reggie Alofipo 3, Tyler Seymour, Angus McElroy, Tristan Evans-Tsoi, Roderick Zakarija
Goals: Ben Stevanovic 3, Ethan Mokoia 2
Asquith Magpies (12)
Tries: Connor Johnston, Jale Seninawanawa
Goals: Liam Christensen 2
---
East Campbelltown Eagles and Guildford Owls had a bye this round.
---
RELATED: Click here to view the current Sydney Shield ladder.