Results and Scorers:
RESULTS: 2019 Intrust Super Cup Round 8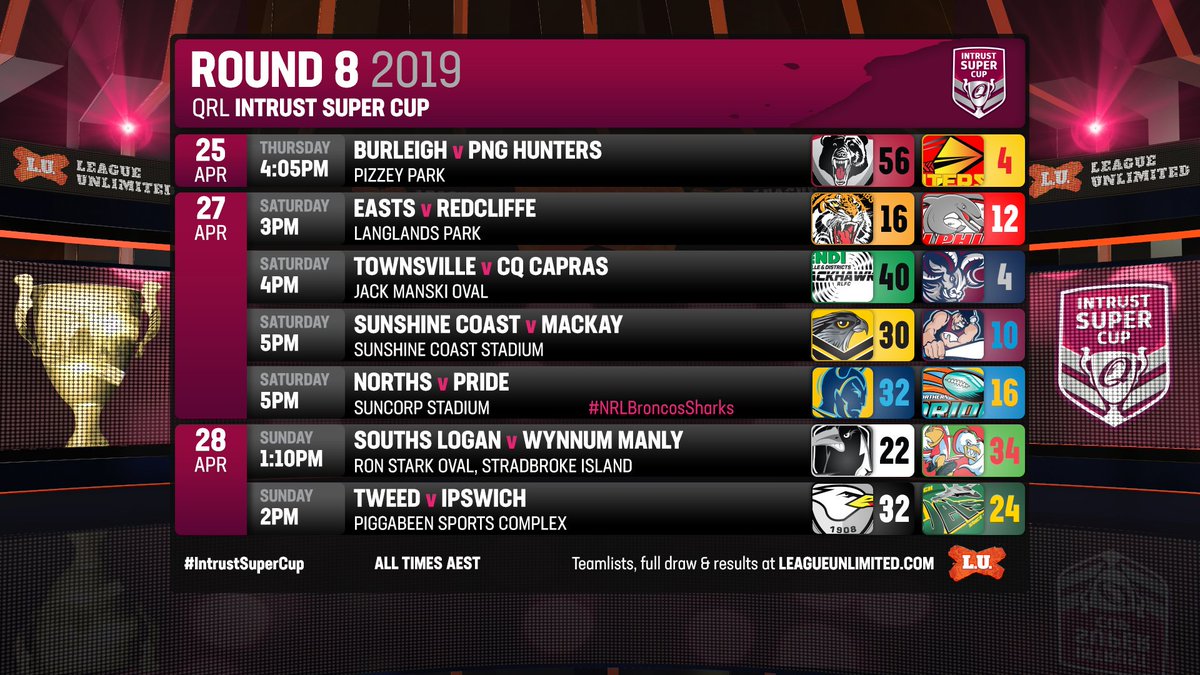 All the results and scorers from the eighth round of the QRL Intrust Super Cup.
All listed times are AEST (NSW/QLD/VIC/ACT).
---
RELATED: See the full list of 2019 Intrust Super Cup Draw and Results.
---
Burleigh Bears 56 PNG Hunters 4
Venue: Pizzey Park
Date: Thursday 25 April 2019 at 4:05pm
Burleigh Bears (56)
Tries: Troy Leo 2, Jamal Fogarty 2, Brenko Lee, Josh Ailaomai, Hayden Schwass, Troy Leo, Sami Sauiluma, Luke Page, Jordan Scott
Goals: Jamal Fogarty 8
PNG Hunters (4)
Tries: Brandon Nima
---
Easts Tigers 16 Redcliffe Dolphins 12
Venue: Langlands Park
Date: Saturday 27 April 2019 at 3:00pm
Easts Tigers (16)
Tries: Josh Ralph, Pat Kaufusi, Kelma Tuilagi
Goals: Aaron Booth 2
Redcliffe Dolphins (12)
Tries: Jeremy Hawkins, James Taylor
Goals: Bryce Donovan 2
---
Townsville Blackhawks 40 Central Queensland Capras 4
Venue: Jack Manski Oval
Date: Saturday 27 April 2019 at 4:00pm
Townsville Blackhawks (40)
Tries: Zac Santo 3, Bacho Salam, Corey Jensen, Temone Power, Jake Marketo, Kalifa Faifai Loa
Goals: Kalifa Faifai Loa 2, Levi Dodd 2
Central Queensland Capras (4)
Tries: Luke George
---
Norths Devils 32 Northern Pride 16
Venue: Suncorp Stadium
Date: Saturday 27 April 2019 at 5:00pm
Norths Devils (32)
Tries: Michael Sio 2, Luke Pollock, Brendan Frei, Paul Ulberg, Ethan Bullemor
Goals: Sean O'Sillivan 4
Northern Pride (16)
Tries: Steven Tatipata, Shawn Bowen, Connor Jones
Goals: Brayden Torpy 2
---
Sunshine Coast Falcons 30 Mackay Cutters 10
Venue: Sunshine Coast Stadium
Date: Saturday 27 April 2019 at 5:00pm
Sunshine Coast Falcons (30)
Tries: Joe Stimson, Harry Grant, Ryan Papenhuyzen, Tino Faasuamaleaui, Sandor Earl
Goals: Todd Murphy 5
Mackay Cutters (10)
Tries: Dan Russell, Yamba Bowie
Goals: Carlin Anderson 1
---
Souths Logan Magpies 22 Wynnum Manly Seagulls 34
Venue: Ron Stark Oval
Date: Sunday 28 April 2019 at 1:10pm
Souths Logan Magpies (22)
Tries: Gerome Burns, Fanitesi Niu, Alex Bishop, Linc Port
Goals: Tanah Boyd 3
Wynnum Manly Seagulls (34)
Tries: Matiu Love-Henry 2, Alex Barr, Sam Scarlett, Ed Burns, Jayden Berrell
Goals: Pat Templeman 5
---
Tweed Seagulls 32 Ipswich Jets 24
Venue: Piggabeen Sports
Date: Sunday 28 April 2019 at 2:00pm
Tweed Seagulls (32)
Tries: Jack Cook, Kalani Going, Talor Walters, Treymain Spry, Lamar Liolevave
Goals: Lindon McGrady 6
Ipswich Jets (24)
Tries: Shar Walden, Peter Gubb, Jayden Connors, Julian Christian
Goals: Josh Cleeland 4
---
RELATED: Click here to view the current Intrust Super Cup ladder.