Results and Scorers:
RESULTS: 2019 Intrust Super Cup Round 10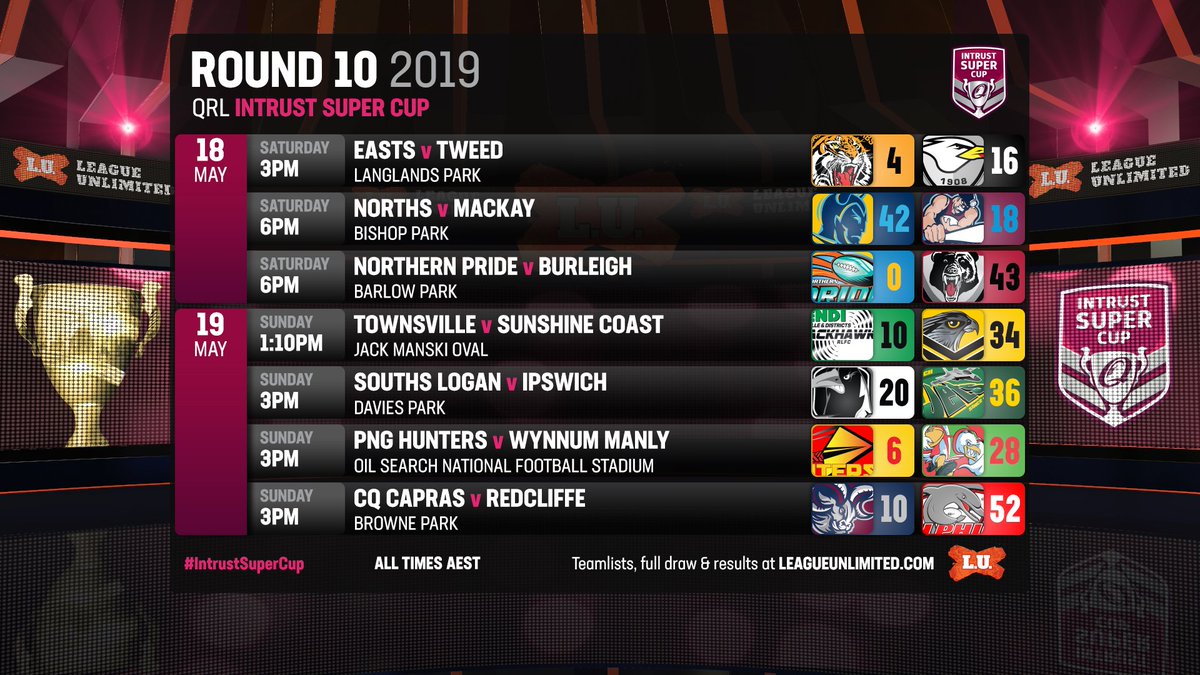 All the results and scorers from the tenth round of the QRL Intrust Super Cup.
All listed times are AEST (NSW/QLD/VIC/ACT).
---
RELATED: See the full list of 2019 Intrust Super Cup Draw and Results.
---
Easts Tigers 4 Tweed Seagulls 16
Venue: Langlands Park
Date: Saturday 18 May 2019 at 3:00pm
Easts Tigers (4)
Tries: Tyrone Amey

Tweed Seagulls (16)
Tries: Ryland Jacobs, Treymain Sprey
Goals: Lindon McGrady 2

---
Northern Pride 0 Burleigh Bears 43
Venue: Barlow Park
Date: Saturday 18 May 2019 at 6:00pm
Northern Pride (0)

Burleigh Bears (43)
Tries: Tyronne Roberts-Davis 2, Pat Politoni, Kurtis Rowe, Jamal Fogarty, Josh Rogers, Sami Sauiliuma, Troy Le 
Goals: Jamal Fogarty 5
Field Goals: Pat Politoni 1
---
Norths Devils 42 Mackay Cutters 18
Venue: Bishop Park
Date: Saturday 18 May 2019 at 6:00pm
Norths Devils (42)
Tries: Herbie Farnworth 3, Nixon Putt 2, Sean O'Sullivan, Paul Ulberg, Jack Ahearn
Goals: Herbie Farnworth 5

Mackay Cutters (18)
Tries: Carlin Anderson, Brenden Treston, Jayden Hodges
Goals: Carlin Anderson 3

---
Townsville Blackhawks 10 Sunshine Coast Falcons 34
Venue: Jack Manski Oval
Date: Sunday 19 May 2019 at 1:10pm
Townsville Blackhawks (10)
Tries: Michael Carroll, Temone Power
Goals: Shaun Nona 1
Sunshine Coast Falcons (34)
Tries: Jon Reuben, Sitiveni Moceidreke, Sandor Earl, Harry Grant, Cooper Johns, Joe Stimson
Goals: Todd Murphy 5
---
Central Queensland Capras 10 Redcliffe Dolphins 52
Venue: Browne Park
Date: Sunday 19 May 2019 at 3:00pm
Central Queensland Capras (10)
Tries: Kainoa Gudgeon, Elijah Anderson
Goals: BJ Aufaga-Toomaga 1
Redcliffe Dolphins (52)
Tries: Trai Fuller 2, Sheldon Pitama 2, Jamil Hopoate, Josh Beehag, Tom Geraghty, Jedidiah Simbiken
Goals: Bryce Donovan 10
---
PNG Hunters 6 Wynnum Manly Seagulls 28
Venue: Oil Search National Football Stadium
Date: Sunday 19 May 2019 at 3:00pm
PNG Hunters (6)
Tries: Bland Abavu
Goals: Ase Boas 1
Wynnum Manly Seagulls (28)
Tries: Junior Pauga 2, Ed Burns, Kalolo Saitaua
Goals: Pat Templeman 6
---
Souths Logan Magpies 20 Ipswich Jets 36
Venue: Davies Park
Date: Sunday 19 May 2019 at 3:00pm
Souths Logan Magpies (20)
Tries: Mitch Frei 2, Fanitesi Niu, Matt Soper-Lawler
Goals: Guy Hamilton 1
Ipswich Jets (36)
Tries: Billy McConnachie, Josh Cleeland, Marmin Barba, Kierran Moseley, Julian Christian, Josh Seage
Goals: Josh Cleeland 6
---
RELATED: Click here to view the current Intrust Super Cup ladder.