Results and Scorers:
RESULTS: 2019 Ron Massey Cup Round 11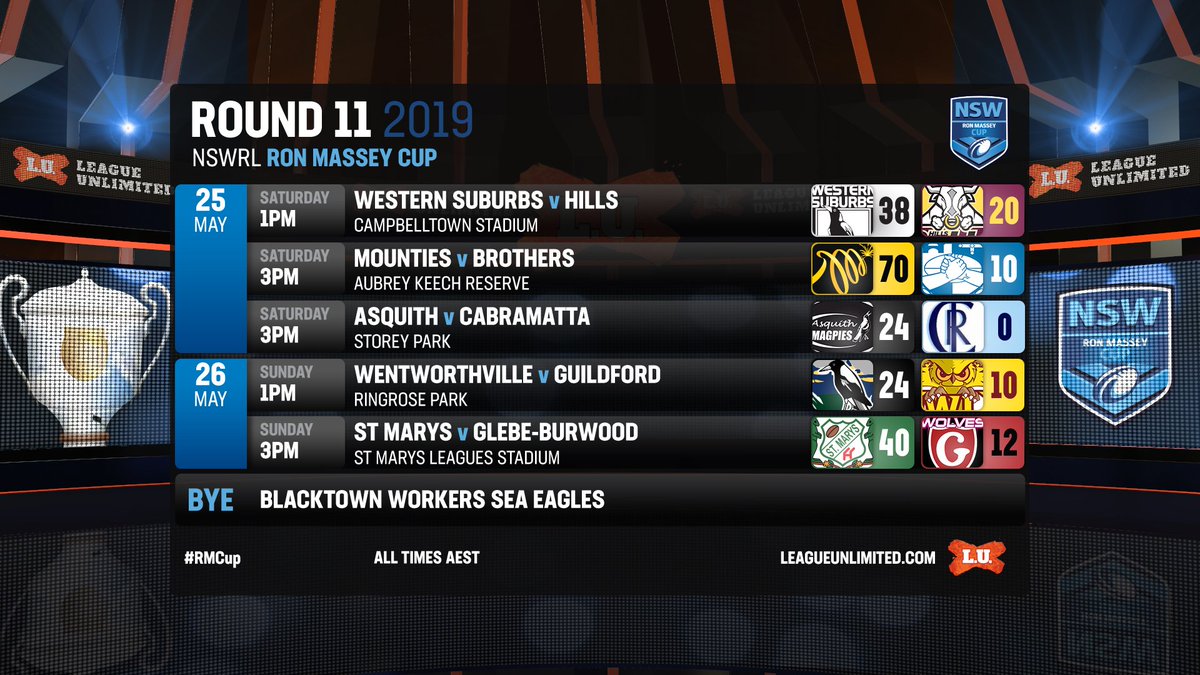 All the results and scorers from the eleventh round of the NSWRL Ron Massey Cup.
All listed times are AEST (NSW/QLD/VIC/ACT).
---
RELATED: See the full list of 2019 Ron Massey Cup Draw and Results.
---
Western Suburbs Magpies 38 Hills District Bulls 20
Venue: Campbelltown Stadium
Date: Saturday 25 May 2019 at 1:00pm
Western Suburbs Magpies (38)
Tries: Isaac Rabuatoka 3, Ed Carter, Samuel Kimi-Ioane, Josh Daley, Kane McQuiggin
Goals: Kelsey Coakes 5
Hills District Bulls (20)
Tries: Ezra Gibson, Joel Bradford, Meimeite Siale, Tim Robinson
Goals: Nick Holliday 1, Mitch Hyde 1
---
Mounties RLFC 70 Penrith Brothers 10
Venue: Aubrey Keech Reserve
Date: Saturday 25 May 2019 at 3:00pm
Mounties RLFC (70)
Tries: Vincent Rennie 3, Dean Matterson 2, Mitch Kennedy, Jamin Williams, Ryan King, Jack Payne, Eddie Aiono, Mitch Cahalane, Roman Ioelu
Goals: Sam Duggan 6, Roman Ioelu 5

Penrith Brothers (10)
Tries: Masi Paulo Fidow, Quinn Ma'aelopa
Goals: Ryan Foaese 1
---
Asquith Magpies 24 Cabramatta Two Blues 0
Venue: Storey Park
Date: Saturday 25 May 2019 at 3:00pm
Asquith Magpies (24)
Tries: Nick O'Meley, Michael Pearsall, Jordan Remfrey, Shane Kiel, Kenneth Koro
Goals: Treymaine Brown 2
Cabramatta Two Blues (0)
---
Wentworthville Magpies 24 Guildford Owls 10
Venue: Ringrose Park
Date: Sunday 26 May 2019 at 1:00pm
Wentworthville Magpies (24)
Tries: Liam Mulvihill 2, Charlton Shaafhausen, Beau Henry
Goals: Beau Henry 3, Rydge Smith 1
Guildford Owls (10)
Tries: Robert Longbottom, Blake Judd
Goals: Matt Woods 1
---
St Marys 40 Glebe Burwood Wolves 12
Venue: St Marys Leagues Stadium
Date: Sunday 26 May 2019 at 3:00pm
St Marys (40)
Tries: Jake Maizen 2, Maliko Filino 2, Patrick Hollis, Jake Toby, Veta Henry Seumanu, Zac Ryan
Goals: John Faiumu 4
Glebe Burwood Wolves (12)
Tries: Josh Carr 2
Goals: Ben Jackson 2
---
Blacktown Workers Sea Eagles had a bye this round.
---
RELATED: Click here to view the current Ron Massey Cup ladder.