Results and Scorers:
RESULTS: 2019 Jersey Flegg Cup Round 12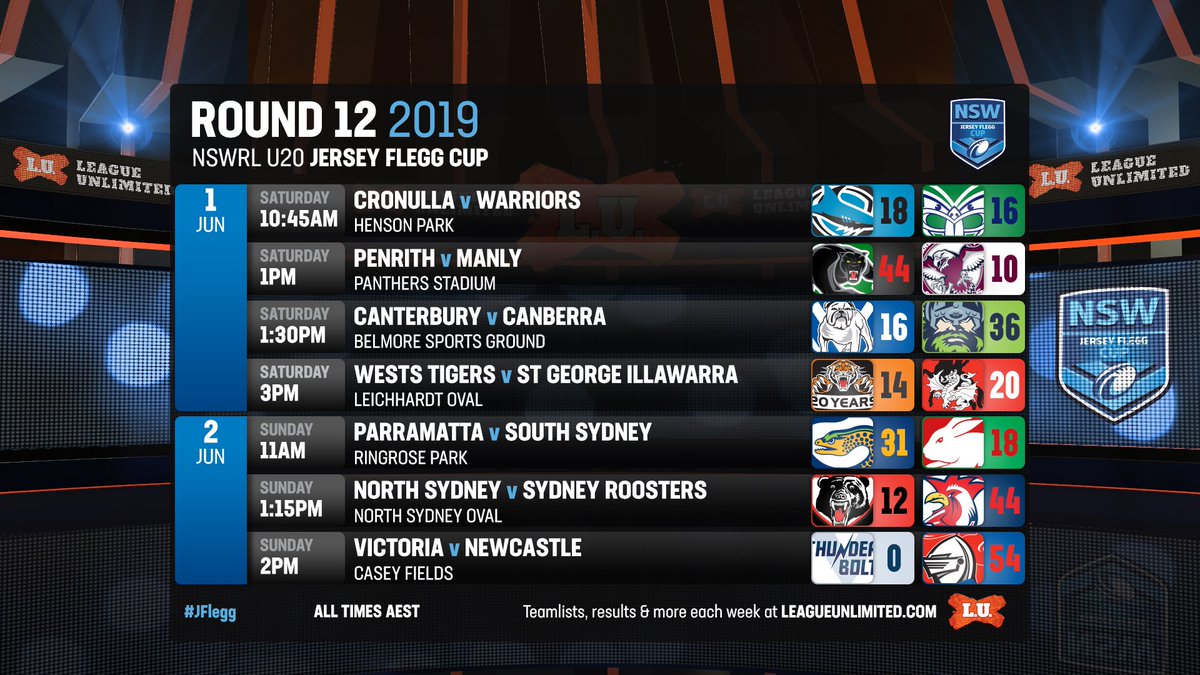 All the results and scorers from the twelfth round of the NSWRL U20 Jersey Flegg Cup.
All listed times are AEST (NSW/QLD/VIC/ACT).
---
RELATED: See the full list of 2019 Jersey Flegg Cup Draw and Results.
---
Cronulla-Sutherland Sharks 18 Warriors 16
Venue: Henson Park
Date: Saturday 1 June 2019 at 10:45am
Cronulla-Sutherland Sharks (18)
Tries: Josh Delailoa 3, Tom Caughlan
Goals: Jonaiah Lualua 1

Warriors (16)
Tries: Kayal Iro, Selestino Ravutaumada, Isaiah Vagana
Goals: Sione Moala 2

---
Penrith Panthers 44 Manly-Warringah Sea Eagles 10
Venue: Panthers Stadium
Date: Saturday 1 June 2019 at 1:00pm
Penrith Panthers (44)
Tries: Charlie Staines 2, Matt Burton 2, Terrell May, Glenn McGrady, Ryan Pritchard, Brendan Hands
Goals: Brendan Hands 6

Manly-Warringah Sea Eagles (10)
Tries: Simi Afeaki, Keegan Turner
Goals: Jack Birt 1

---
Canterbury-Bankstown Bulldogs 16 Canberra Raiders 36
Venue: Belmore Sports Ground
Date: Saturday 1 June 2019 at 1:30pm
Canterbury-Bankstown Bulldogs (16)
Tries: Declan Casey 2, Blake Clayton
Goals: Jake Averillo 2

Canberra Raiders (36)
Tries: Daine Spencer, Jarrett Subloo, Brigham Moeakioala, Silafano Titiuti, Charlie Rorke, Liam Mock
Goals: Tobias Westcott 6


---
Wests Tigers 14 St George Illawarra Dragons 20
Venue: Leichhardt Oval
Date: Saturday 1 June 2019 at 3:00pm
Wests Tigers (14)
Tries: Curtis Wilson, Aiden Young, Ben Seufale
Goals: Ben Stevanovic 1

St George Illawarra Dragons (20)
Tries: Blake Barbuto, Blair Grant, Matt Delbanco
Goals: Blair Grant 4

---
Parramatta Eels 31 South Sydney Rabbitohs 18
Venue: Ringrose Park
Date: Sunday 2 June 2019 at 11:00am
Parramatta Eels (31)
Tries: Haze Dunster 2, Lachlan Poko, Harry Duggan, Sione Fonua
Goals: Kyle Schneider 3, Bailey Biondi-Odo 2
Field Goals: Bailey Biondi-Odo 1
South Sydney Rabbitohs (18)
Tries: Peter Mamouzelos, Maila Chan-Foon, James Tautaiolefua
Goals: Lachlan Ilias 3
---
North Sydney Bears 12 Sydney Roosters 44
Venue: North Sydney Oval
Date: Sunday 2 June 2019 at 1:15pm
North Sydney Bears (12)
Tries: Luke Hodge, Harrison Geraghty, Corey Fenning
Sydney Roosters (44)
Tries: Geordie Brand 2, Coby Thomas 2, Elih Jackson, Amer Ghazzaoui, Hugo Patterson, McKenzie Baker
Goals: Zane Harris 6
---
Victoria Thunderbolts 0 Newcastle Knights 54
Venue: Casey Fields
Date: Sunday 2 June 2019 at 2:00pm
Victoria Thunderbolts (0)
Newcastle Knights (54)
Tries: Elijah Rasiga 2, Timanu Alexander 2, Toby Marks 2, Jack Cameron, Gary Anderson, Dylan Lucas, Luke Huth
Goals: Bayden Searle 7
---
RELATED: Click here to view the current Jersey Flegg Cup ladder.