Results and Scorers:
RESULTS: 2019 Sydney Shield Round 14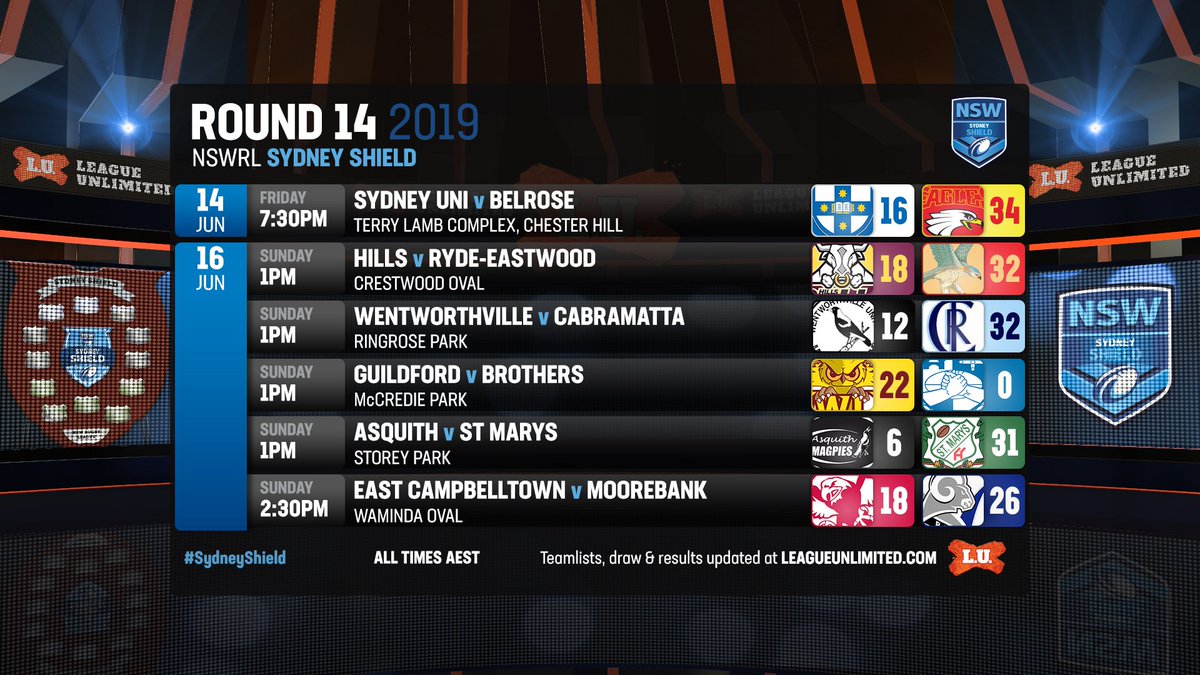 All the results and scorers from the 14th round of the NSWRL Sydney Shield.
All listed times are AEST (NSW/QLD/VIC/ACT).
---
RELATED: See the full list of 2019 Sydney Shield Draw and Results.
---
Sydney University 16 Belrose Eagles 34
Venue: Terry Lamb Complex
Date: Friday 14 June 2019 at 7:30pm
Sydney University (16)
Tries: Matthew Long, Anthony Overton, Joshua Boumelhem
Goals: Benjamin Jackson 2
Belrose Eagles (34)
Tries: Stefano Totidis, Issac Treml, Terry Taia, Luke Warren, Warren Butler, Alec Panetta
Goals: Rhys Wolloghan 2, Jack Wilson 3
---
Hills District Bulls 18 Ryde Eastwood Hawks 32
Venue: Crestwood Oval
Date: Sunday 16 June 2019 at 1:00pm
Hills District Bulls (18)
Tries: Dean Kammel, Isaac Gorman, Shane Motu
Goals: Mitch Hyde 3
Ryde Eastwood Hawks (32)
Tries: Reggie Alofipo 2, Brad Cousins 2, Mitch Gray, Angus McElroy
Goals: Angelo Panambalana 4
---
Wentworthville United 12 Cabramatta Two Blues 32
Venue: Ringrose Park
Date: Sunday 16 June 2019 at 1:00pm
Wentworthville United (12)
Tries: Tyrone Shelley, Feao Lavemai
Goals: Brendon Newton 2
Cabramatta Two Blues (32)
Tries: Anzacsemi Aviata 2, Solomon Tomokino, Justin Frain, Junior Mapesone, Moo Doh
Goals: Ayden Carling 4
---
Guildford Owls 22 Penrith Brothers 0
Venue: McCredie Park
Date: Sunday 16 June 2019 at 1:00pm
Guildford Owls (22)
Tries: Saimone Lasalo 2, Connor Reardon, Lachlan Camroux
Goals: Lachlan Camroux 3
Penrith Brothers (0)
---
Asquith Magpies 6 St Marys 31
Venue: Storey Park
Date: Sunday 16 June 2019 at 1:00pm
Asquith Magpies (6)
Tries: Alipate Tani
Goals: Liam Christensen 1
St Marys (31)
Tries: Mose Feilo 3, Christopher Anuese-Scanlon 2, Matt Filipo
Goals: Dylan White 3
Field Goals: Dylan White 1
---
East Campbelltown Eagles 18 Moorebank Rams 26
Venue: Waminda Oval
Date: Sunday 16 June 2019 at 2:30pm
East Campbelltown Eagles (18)
Tries: Amanono Tovio, Shannon Gallant, Vince Ripepi
Goals: Edwin Connor 3
Moorebank Rams (26)
Tries: Sakaraia Ratuvou, Jake Kamire, Murray Sua, Jason Tuualu, Shayden Stevens
Goals: Jake Horton 3
---
RELATED: Click here to view the current Sydney Shield ladder.