Results and Scorers:
RESULTS: 2019 Sydney Shield Round 15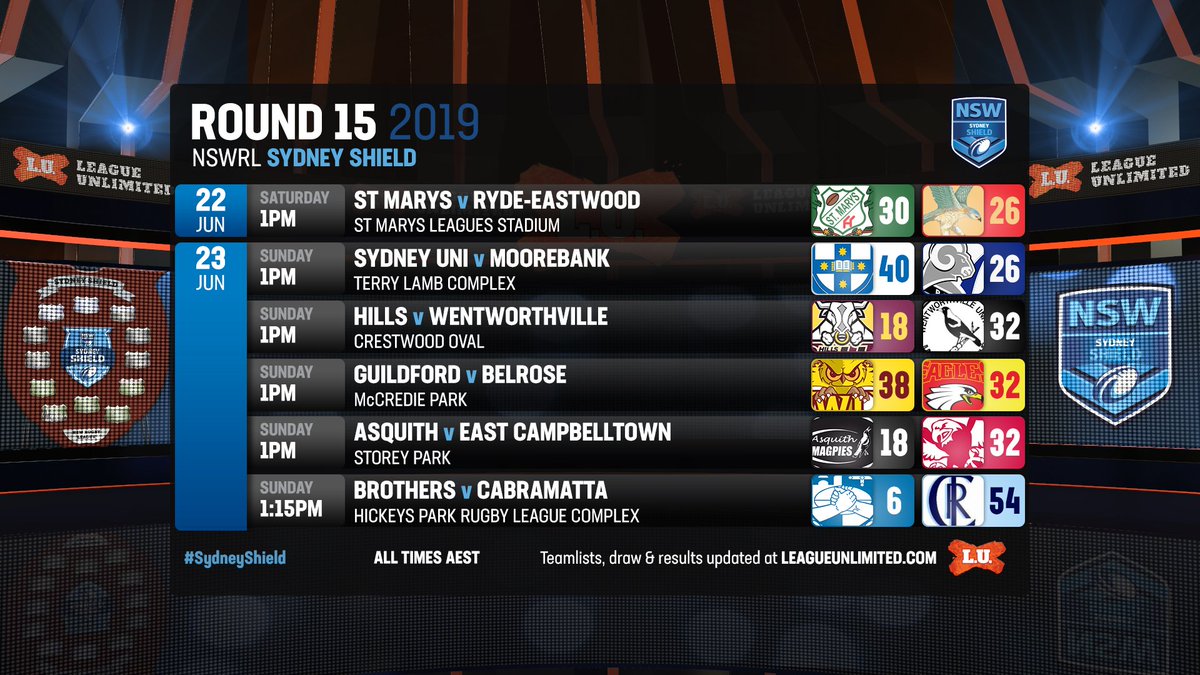 All the results and scorers from the fifteenth round of the NSWRL Sydney Shield.
All listed times are AEST (NSW/QLD/VIC/ACT).
---
RELATED: See the full list of 2019 Sydney Shield Draw and Results.
---
St Marys 30 Ryde Eastwood Hawks 26
Venue: St Marys Leagues Stadium
Date: Saturday 22 June 2019 at 1:00pm
St Marys (30)
Tries: Dylan Fuad 2, Shanan Wood, Daniel Brown, Christopher Aunese-Scanlan, Dylan McBain
Goals: Dylan White 3
Ryde Eastwood Hawks (26)
Tries: Tristan Evans-Tsoi 2, Bradley Cousins, Josh Rizk, Reggie Alofipo
Goals: Joshua Condon 3
---
Hills District Bulls 18 Wentworthville United 32
Venue: Crestwood Oval
Date: Sunday 23 June 2019 at 1:00pm
Hills District Bulls (18)
Tries: Dean Kammel, Isaac Gorman, Shane Motu
Goals: Mitch Hyde 3

Wentworthville United (32)
Tries: Reggie Alofipo 2, Bradley Cousins 2, Mitchell Gray, Angus McElroy
Goals: Angelo Panambalana

---
Guildford Owls 38 Belrose Eagles 32
Venue: McCredie Park
Date: Sunday 23 June 2019 at 1:00pm
Guildford Owls (38)
Tries: Mathew Rickard 3, Jayden Wheelhouse, Julian King, Josh Maree, Adam Soultan
Goals: Lachlan Camroux 5
Belrose Eagles (32)
Tries: Marvin Slavin 2, Pita Godinet, Warren Butler, Roly Podesta, Jack Wilson
Goals: Roly Podesta 4, Jack Wilson 1
---
Asquith Magpies 18 East Campbelltown Eagles 32
Venue: Storey Park
Date: Sunday 23 June 2019 at 1:00pm
Asquith Magpies (18)
Tries: Robert Williams, Thomas Menzies, James Mirceski
Goals: Kore-Lee Perenara 3
East Campbelltown Eagles (32)
Tries: Shannon Gallant 2, Brett Lahey, Grant Lahey, John Da Silva, Kobe Chamberlain
Goals: Shannon Gallant 4
---
Sydney University 40 Moorebank Rams 26
Venue: Terry Lamb Complex
Date: Sunday 23 June 2019 at 1:00pm
Sydney University (40)
Tries: Anthony Overton 3, Joshua Boumelhelm 2, James Morgan, Neenan Simpson, Daniel Arahu
Goals: Daniel Arahu 4

Moorebank Rams (26)
Tries: Kurtis Lamaro 2, Joel William Barry, Christian Urso
Goals: Mosese Pope 3
---
Penrith Brothers 6 Cabramatta Two Blues 54
Venue: Hickeys Lane Reserve
Date: Sunday 23 June 2019 at 1:15pm
Penrith Brothers (6)
Tries: Zach Nuttall
Goals: Jason Cookson 1
Cabramatta Two Blues (54)
Tries: Aussie Tuwhangai 3, Kakapuna Fotu, Isaih Tuari. Christian Papa, Moses Manu, Kaylen Miller, Anthony Raheb, Anzacsemi Aviata
Goals: Solomon Tomokino 4, Christian Papa 2, Sam McGregor 1
---
RELATED: Click here to view the current Sydney Shield ladder.