Results and Scorers:
RESULTS: 2019 Sydney Shield Round 17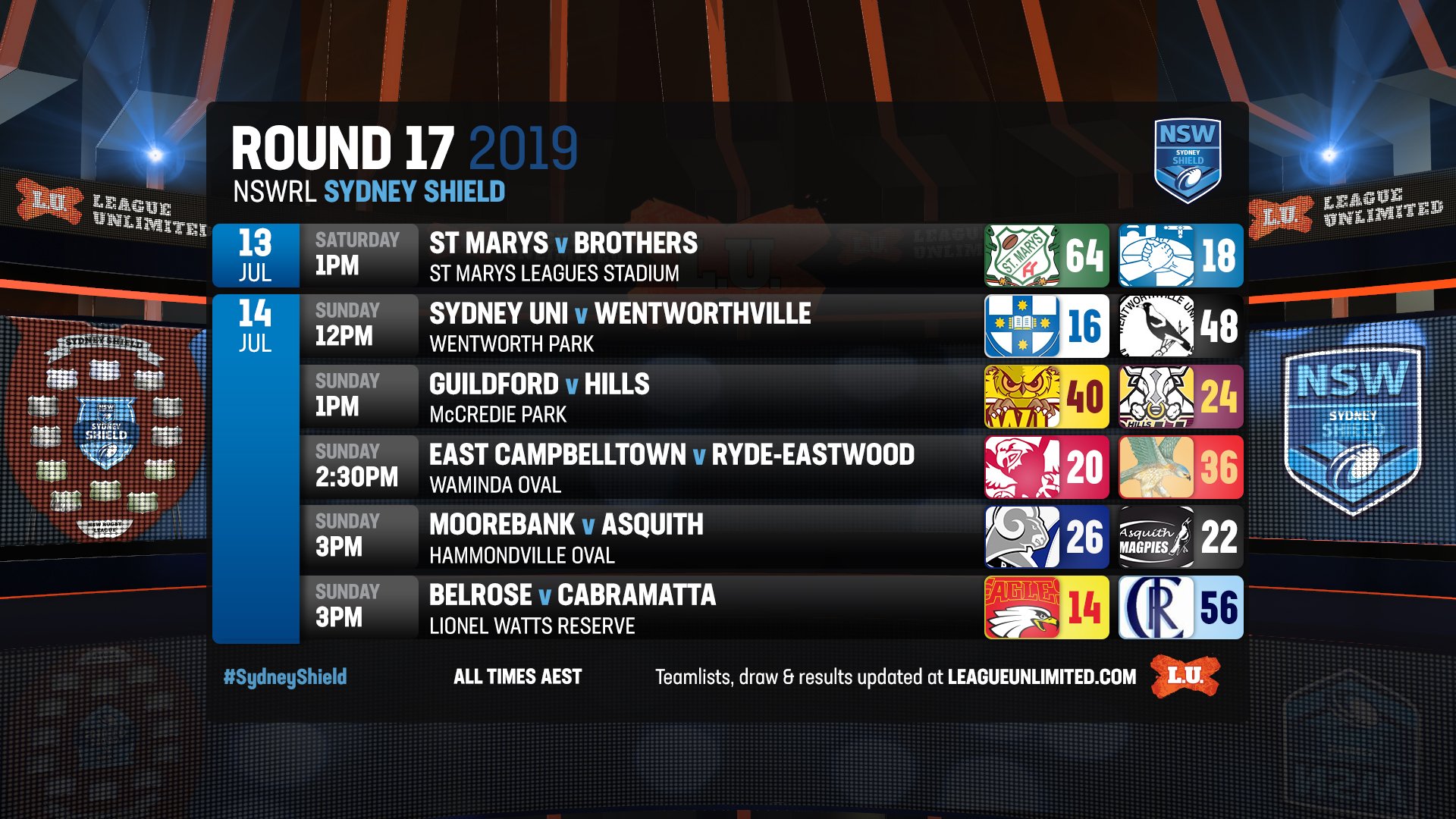 All the results and scorers from the seventeenth round of the NSWRL Sydney Shield.
All listed times are AEST (NSW/QLD/VIC/ACT).
---
RELATED: See the full list of 2019 Sydney Shield Draw and Results.
---
St Marys 64 Penrith Brothers 18
Venue: St Marys Leagues Stadium
Date: Saturday 13 July 2019 at 1:00pm
St Marys (64)
Tries: Ben Ernest 2, Daniel Brown 2, Veta Henry Seumanu, Dylan White, Blake McDermott, Luke Roseworne, Dylan McBain, Jesse Abbott, Tom Romer, Emmanuel Petrus
Goals: Dylan White 8
Penrith Brothers (18)
Tries: Cody Smith 2, Blake McCaffery
Goals: Cody Smith 3
---
Sydney University 16 Wentworthville United 48
Venue: Wentworth Park
Date: Sunday 14 July 2019 at 12:00pm
Sydney University (16)
Tries: Lewis Habkouk, John Paul Hannawe, Deighton Ieriko
Goals: Daniel Arahu 2
Wentworthville United (48)
Tries: Shaiquam Terekia, Josh Tuitupou, Josaiah Tamasi, Solomone Lasalo, Troy Black, Todd Sapienza, Skippy Lipano, Josh Bergamin
Goals: Brendon Newton 6
---
Guildford Owls 40 Hills District Bulls 24
Venue: McCredie Park
Date: Sunday 14 July 2019 at 1:00pm
Guildford Owls (40)
Tries: Robert Longbottom 2, Ashley Brown 2, Troy Errington 2, Yahia Masri, Caleb Paiaka Hunt
Goals: Lachlan Camroux 3, Troy Errington 1
Hills District Bulls (24)
Tries: Clayton Faulalo, Colin Munro, Michael Cheer, Mitch Hyde
Goals: Mitch Hyde 3, Noah Smith 1
---
East Campbelltown Eagles 20 Ryde Eastwood Hawks 36
Venue: Waminda Oval
Date: Sunday 14 July 2019 at 2:30pm
East Campbelltown Eagles (20)
Tries: Blake Wells, Craig Moustakas, Aaron Teariki, Alapati Potifara
Goals: Edwin Connor 2
Ryde Eastwood Hawks (36)
Tries: Angelo Panambalana 3, Brad Cousins, Sione Folau, Dane Knuth, Mitch Gray, Tristan Evans-Tsoi
Goals: Angelo Panambalana 2
---
Belrose Eagles 14 Cabramatta Two Blues 56
Venue: Lionel Watts Reserve
Date: Sunday 14 July 2019 at 3:00pm
Belrose Eagles (14)
Tries: Terry Taia, Aaron Fogarty, Alec Panetta
Goals: Pita Godinet 1
Cabramatta Two Blues (56)
Tries: Anthony Raheb 3, Ilatia Nitiva 2, Isiah Panuve, Moses Manu, Christian Papa, Solomon Tomokino, Daniel Mati-Leifi
Goals: Christian Papa 7, Kakapuna Fotu 1
---
Moorebank Rams 26 Asquith Magpies 22
Venue: Hammondville Oval
Date: Sunday 14 July 2019 at 3:00pm
Moorebank Rams (26)
Tries: Justin Filo, Jacob Winterstein, Jake Horton 2, Shayden Stevens
Goals: Jake Horton 3
Asquith Magpies (22)
Tries: Jacob Samoa, Alipate Tani, Johnny Mitsias, Sean Sabutey
Goals: Hayden McWilliam 3
---
RELATED: Click here to view the current Sydney Shield ladder.