Results and Scorers:
RESULTS: 2019 Jersey Flegg Cup Round 21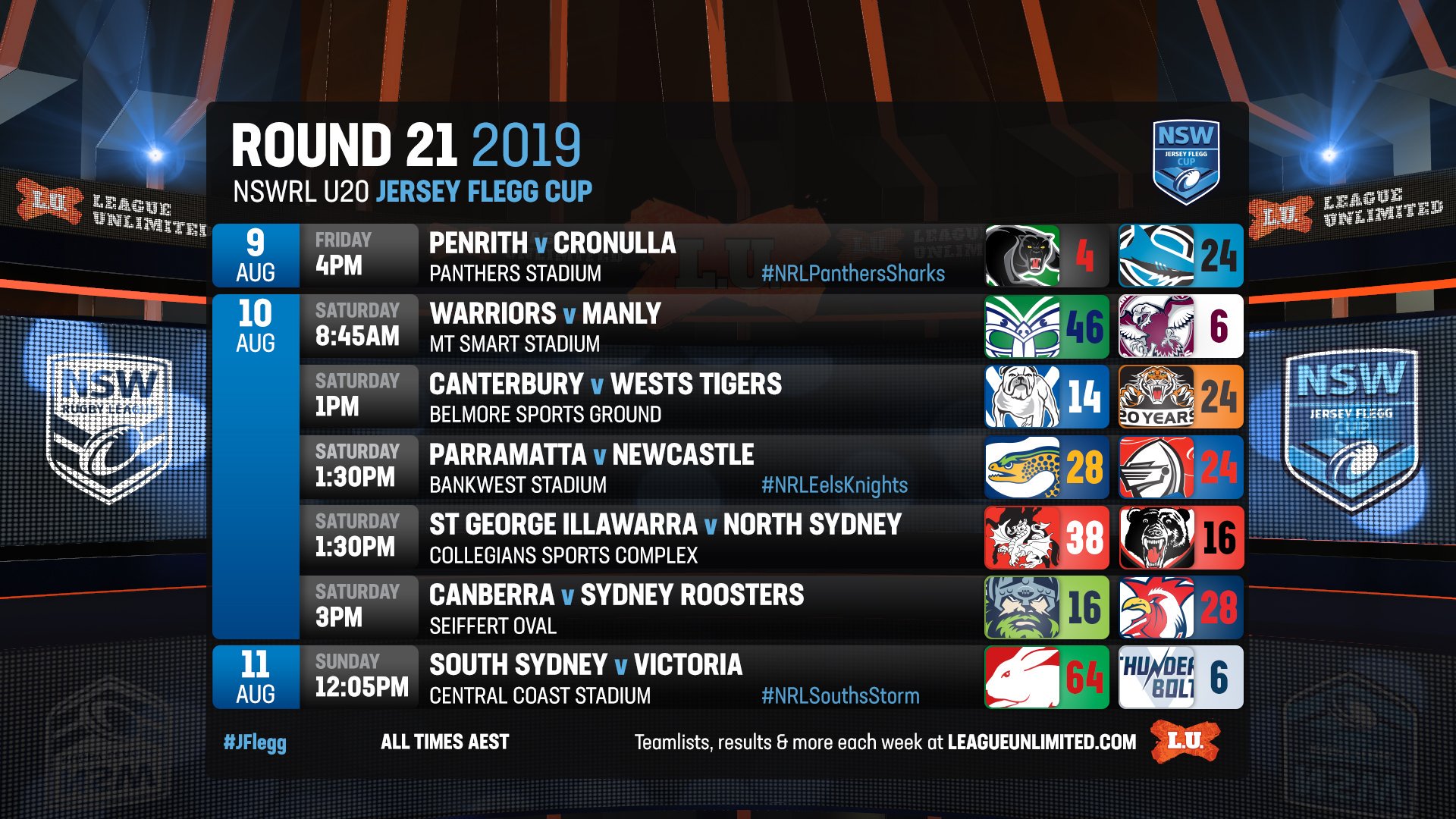 All the results and scorers from the 21st round of the NSWRL U20 Jersey Flegg Cup.
All listed times are AEST (NSW/QLD/VIC/ACT).
---
RELATED: See the full list of 2019 Jersey Flegg Cup Draw and Results.
---
Penrith Panthers 4 Cronulla-Sutherland Sharks 24
Venue: Panthers Stadium
Date: Friday 9 August 2019 at 4:00pm
Penrith Panthers (4)
Tries: Shannon Harris
Cronulla-Sutherland Sharks (24)
Tries: Jack Boyling, Franklin Pele, Tom Caughlan, Cooper Bowen, Lorenzo Mulitalo
Goals: Jonaiah Lualua 2
---
Warriors 46 Manly-Warringah Sea Eagles 6
Venue: Mt Smart Stadium
Date: Saturday 10 August 2019 at 8:45am
Warriors (46)
Tries: Casey Smith 2, Selestino Ravutaumada, Isaiah Vagana, Brody Tamarua, Taniela Otukolo, Neylamoris Masima, Eliesa Katao
Goals: Emauel Tuimavave-Gerrard 7
Manly-Warringah Sea Eagles (6)
Tries: Max Lehmann
Goals: Jack Birt 1
---
Canterbury-Bankstown Bulldogs 14 Wests Tigers 22
Venue: Belmore Sports Ground
Date: Saturday 10 August 2019 at 1:00pm
Canterbury-Bankstown Bulldogs (14)
Tries: Isaiah Tass, Tuipulotu Katoa, Frank Kuresa
Goals: Alex Seve 1

Wests Tigers (22)
Tries: Liam Scolari, Max Burey, Henry Lealuga-Puhotau, Zac Cini, Daniel Sykes
Goals: Ben Stevanovic 2

---
St George Illawarra Dragons 38 North Sydney Bears 16
Venue: Collegians Sports Complex
Date: Saturday 10 August 2019 at 1:30pm
St George Illawarra Dragons (38)
Tries: Tyran Wishart 2, Cody Ramsey 2, Luke Gale, Sam McCann, Blair Grant
Goals: Blair Grant 5

North Sydney Bears (24)
Tries: Max Altus, Jacob Preston, Sean Sabutey
Goals: Connor Garretty 2

---
Parramatta Eels 28 Newcastle Knights 24
Venue: Bankwest Stadium
Date: Saturday 10 August 2019 at 1:30pm
Parramatta Eels (28)
Tries: Charbel Tasipale 2, Solomone Naiduki, Bailey Biondi-Odo, Vea Tapa'atoutai
Goals: Bailey Biondi-Odo 4

Newcastle Knights (24)
Tries: Grant Anderson 2, Liam Wilkinson, Justin Worley
Goals: Cameron Davies 4

---
Canberra Raiders 16 Sydney Roosters 28
Venue: Seiffert Oval
Date: Saturday 10 August 2019 at 3:00pm
Canberra Raiders (16)
Tries: Manase Kaho, Jordan Martin, Matthew Timoko
Goals: Tobias Westcott 2

Sydney Roosters (28)
Tries: Tagiolupe Tivalu, Coby Thomas, Tyrell Neifui, Reihana Marsh, Freddy Lussick
Goals: Zane Harris 4

---
South Sydney Rabbitohs 64 Victoria Thunderbolts 6
Venue: Central Coast Stadium
Date: Sunday 11 August 2019 at 12:05pm
South Sydney Rabbitohs (64)
Tries: Tallis Angianga 3, Matt French 2, Dean Hawkins 2 James Tautaiolefua, Nick Mougios, Muong Dut, Aiden Manowski
Goals: Lachlan Ilias 9
Victoria Thunderbolts (6)
Tries: Trent Toelau
Goals: Matt Stimson 1
---
RELATED: Click here to view the current Jersey Flegg Cup ladder.