Results and Scorers:
RESULTS: 2019 Sydney Shield Round 22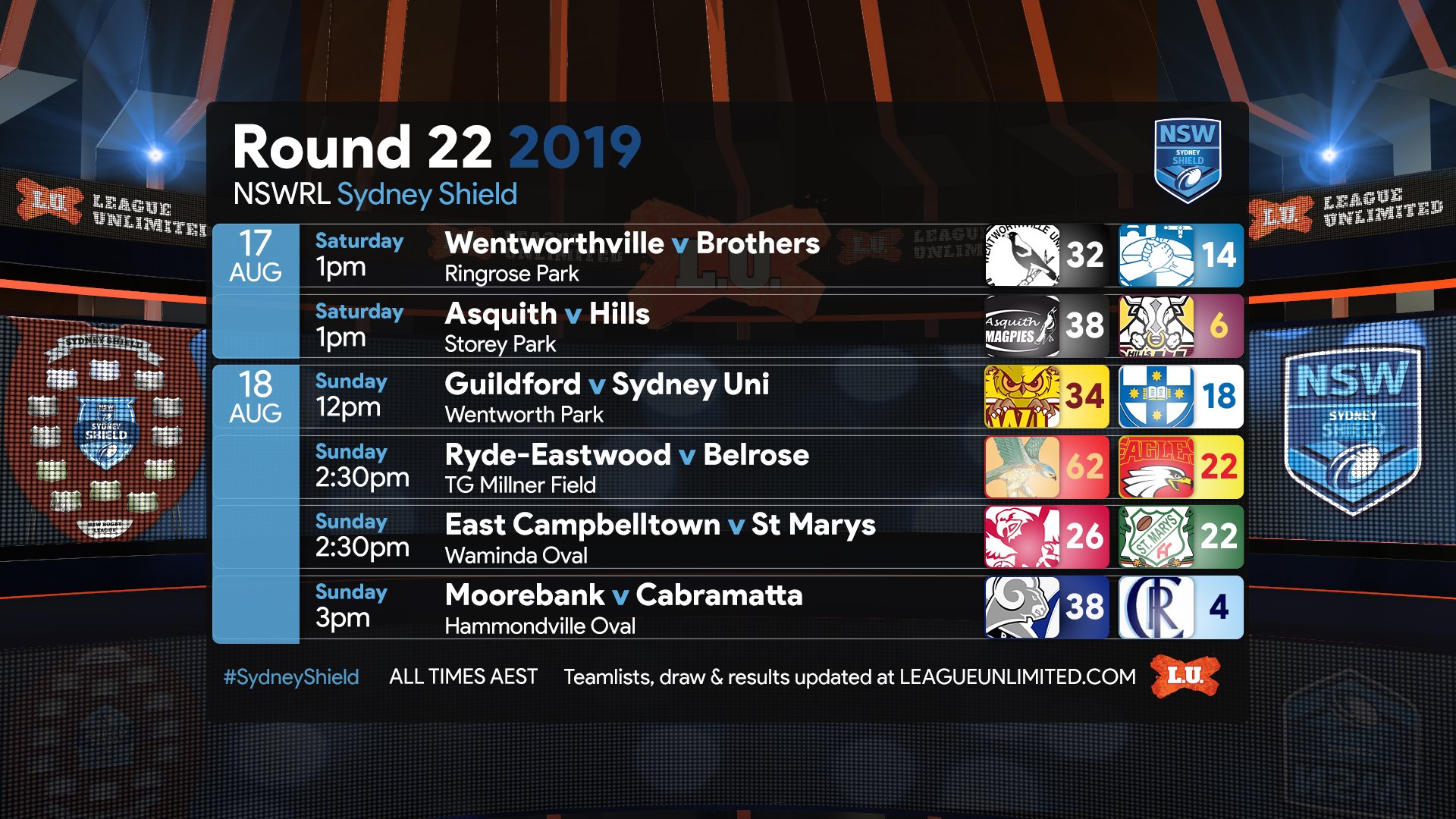 All the results and scorers from the 22nd round of the NSWRL Sydney Shield.
All listed times are AEST (NSW/QLD/VIC/ACT).
---
RELATED: See the full list of 2019 Sydney Shield Draw and Results.
---
Asquith Magpies 38 Hills District Bulls 36
Venue: Storey Park
Date: Saturday 17 August 2019 at 1:00pm
Asquith Magpies (38)
Tries: Liam Christensen 2, Caleb Campbell, Jake Beetson, Robert Afu, Jeremy Marshall, Curtis Johnston
Goals: Kore-Lee Perenara 5
Hills District Bulls (36)
Tries: Noah Smith 2, Daniel De Vecchis, Isaac Gorman, Dean Barron, Josh Gatt
Goals: Mitch Hyde 6
---
Wentworthville United 32 Penrith Brothers 14
Venue: Ringrose Park
Date: Saturday 17 August 2019 at 3:00pm
Wentworthville United (32)
Tries: Nick Okladnikov, Rydge Smith, Shaiquan Terekia, Tyrone Shelley, George Aroyan, Siaosi Sisifa
Goals: Brendon Newton 4
Penrith Brothers (14)
Tries: Malachi Ravalawa, Zach Camilleri, Corey La Rosa
Goals: Zach Camilleri 1
---
Guildford Owls 34 Sydney University 18
Venue: Wentworth Park
Date: Sunday 18 August 2019 at 12:00pm
Guildford Owls (34)
Tries: Dylan Holdsworth 2, Jake Ferguson 2, Ashley Brown, Jad Mahmoud, Connor Reardon
Goals: Lachlan Camroux 3
Sydney University (18)
Tries: Neenan Simpson, John Paul Hannawe, James Morgan
Goals: Braeden Stewart-Thomas 2, Kai Broadhurst 1
---
East Campbelltown Eagles 26 St Marys 22
Venue: Waminda Oval
Date: Sunday 18 August 2019 at 2:30pm
East Campbelltown Eagles (26)
Tries: Theo Leato 2, Jarryd Eggleton, Amanono Tovio, Samuel Kimi-Ioane
Goals: Edwin Connor 3
St Marys (22)
Tries: Jesse Abbott 2, Ethan McPherson, Thomas Skinner
Goals: Dylan White 3
---
Ryde Eastwood Hawks 62 Belrose Eagles 22
Venue: TG Millner Field
Date: Sunday 18 August 2019 at 2:30pm
Ryde Eastwood Hawks (62)
Tries: Angelo Panambalana 3, Reggie Alofipo 2, Josh Rizk 2, Tristan Evans-Tsoi, Brad Cincotta, Kirk Patton, Adam Rizk
Goals: Josh Rizk 9
Belrose Eagles (22)
Tries: Warren Butler, Keia Maino, Alec Panetta, Brad Meaney
Goals: Pita Godinet 3
---
Moorebank Rams 38 Cabramatta Two Blues 4
Venue: Hammondville Oval
Date: Sunday 18 August 2019 at 3:00pm
Moorebank Rams (38)
Tries: Shayden Stevens 2, Billy Mozer 2, Jacob Winterstein, Zachary Rumble, Christian Urso, Jake Kamire
Goals: Jake Horton 3
Cabramatta Two Blues (4)
Tries: Nick Toomata
---
RELATED: Click here to view the current Sydney Shield ladder.