Results and Scorers:
RESULTS: 2019 Hastings Deering Colts Round 22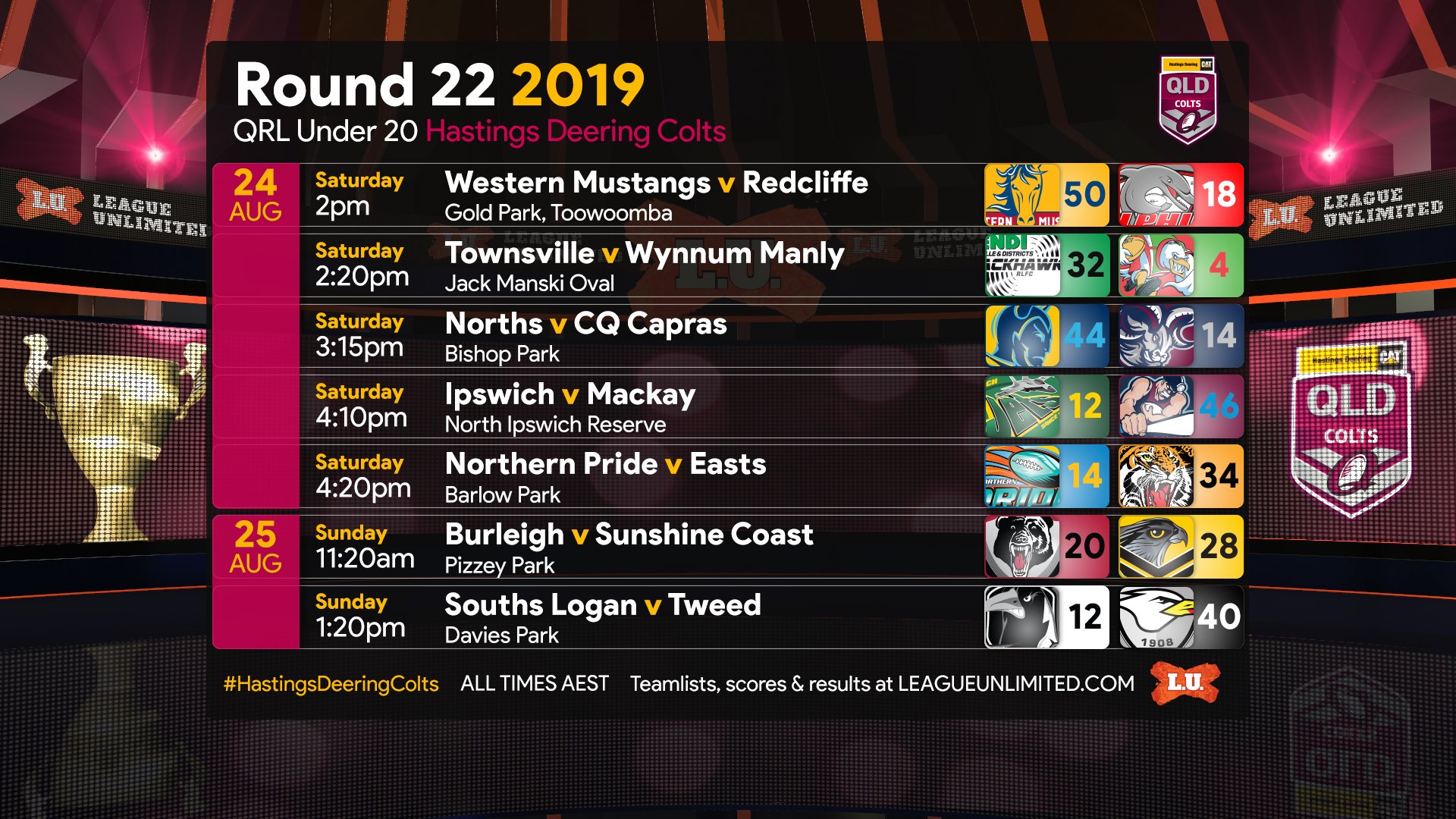 All the results and scorers from the penultimate, 22nd round of the QRL U20 Hastings Deering Colts.
All listed times are AEST (NSW/QLD/VIC/ACT).
---
RELATED: See the full list of 2019 Hastings Deering Colts Draw and Results.
---
Western Mustangs 50 Redcliffe Dolphins 18
Venue: Gold Park
Date: Saturday 24 August 2019 at 2:00pm
Western Mustangs (50)
Tries: Liam Short 2, Leslie Hartvigsen 2, Kavaua Neliman, Zac Stevens, Pat McGinn, Austin Jennings, Jackson Mladenovic
Goals: Sam Thompson 7
Redcliffe Dolphins (18)
Tries: Will Cahill, Dane Pratt, William Dobson, Jesse Jennings
Goals: Dwight Saueha 1
---
Townsville Blackhawks 32 Wynnum Manly Seagulls 4
Venue: Jack Manski Oval
Date: Saturday 24 August 2019 at 2:20pm
Townsville Blackhawks (32)
Tries: Aaron Moore 2, Ben Condon, Zin Zan Martin, Daejarn Asi
Goals: Adam Cook 6
Wynnum Manly Seagulls (4)
Tries: Jake Simpkin
---
Norths Devils 44 CQ Capras 14
Venue: Bishop Park
Date: Saturday 24 August 2019 at 3:15pm
Norths Devils (44)
Tries: Josh James, Sosefo Filipine, Terrell Sala, Micah Marsh, Michael McGrath, Zane Jones, Fruean Easthope, Jared Chambers
Goals: Josh James 6
CQ Capras (14)
Tries: Jacob Spark, Isaiah Conway, Harrison McIndoe
Goals: Blake Moore 1
---
Ipswich Jets 12 Mackay Cutters 46
Venue: North Ipswich Reserve
Date: Saturday 24 August 2019 at 4:10pm
Ipswich Jets (12)
Tries: Wilson Malaesilia, Ray Turnbull
Goals: Josh McCarroll 2
Mackay Cutters (46)
Tries: Rayden Burns 2, Blake Paskins 2, Tom Irelandes, Sean Dalton, Hayden Brownsey, Josh Smith
Goals: Brendan White 7
---
Northern Pride 14 Easts Tigers 34
Venue: Barlow Park
Date: Saturday 24 August 2019 at 4:20pm
Northern Pride (14)
Tries: Steven Stafford, Joshtel Charlie, Daniel Lazarus
Goals: Dantoray Lui 1
Easts Tigers (34)
Tries: Tom Kenny, Andrew Jackson, Luke Self, Harrison Cannon, Dray Ngatuere-Wroe, Dario Takitaki
Goals: Dray Ngatuere-Wroe 4, Andrew Jackson 1
---
Burleigh Bears 20 Sunshine Coast Falcons 28
Venue: Pizzey Park
Date: Sunday 25 August 2019 at 11:20am
Burleigh Bears (20)
Tries: Lochlan Turnbull, Will Evans, Alofiana Khan-Pereira, Jayden Campbell
Goals: Jayden Campbell 1, Lochlan Turnbull 1
Sunshine Coast Falcons (28)
Tries: Tom Dwan, Wyatt Reynols, Jaiden Zanchetta, Steven Borg, Zac Green
Goals: Tyson Smoothy 4
---
Souths Logan Magpies 12 Tweed Seagulls 40
Venue: Davies Park
Date: Sunday 25 August 2019 at 1:20pm
Souths Logan Magpies (12)
Tries: Thane Kellermeyer, Cruise Ten
Goals: Hayden Ryan 1, Leevai Sutton 1
Tweed Seagulls (40)
Tries: Reece Butler 2, Aidan Kennedy 2, Nash Geyer, Jaylan To'o, Juwan Compain
Goals: Callum Boomer 4, Jaman Rio 2
---
RELATED: Click here to view the current Hastings Deering Colts ladder.