Results and Scorers:
RESULTS: 2019 Sydney Shield Round 23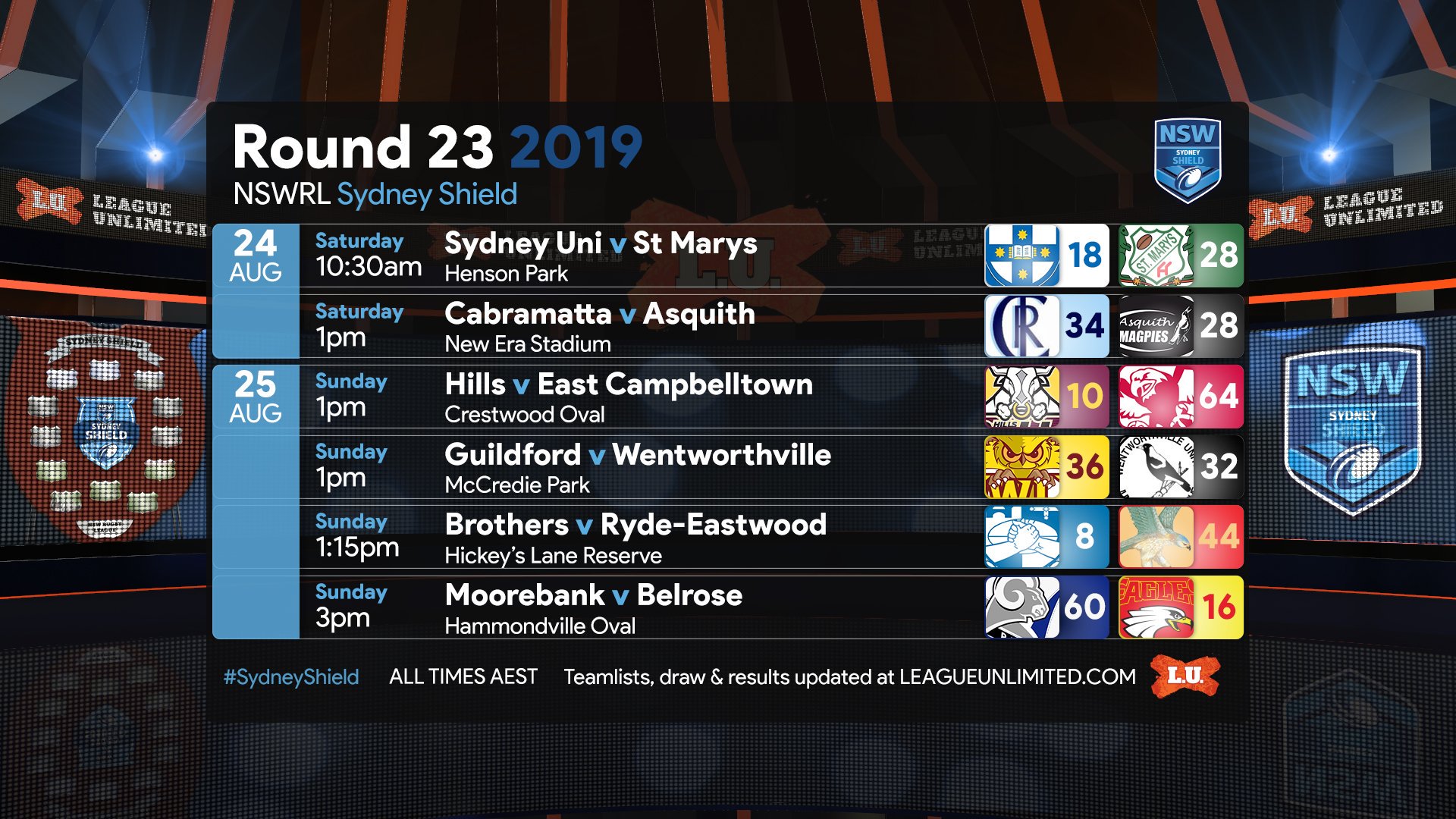 All the results and scorers from the penultimate, 23rd round of the NSWRL Sydney Shield.
All listed times are AEST (NSW/QLD/VIC/ACT).
---
RELATED: See the full list of 2019 Sydney Shield Draw and Results.
---
Sydney University 18 St Marys 28
Venue: Henson Park
Date: Saturday 24 August 2019 at 10:30am
Sydney University (18)
Tries: Joe Kavoa, Mutu Stanley, Deighton Ieriko, John Paul Hannawe
Goals: Dom Ayoub 1
St Marys (28)
Tries: Chris Aunese-Scanlon, Dylan White, Nitoa Kairau, Ethan McPherson, Beau Mackey
Goals: Dylan White 4
---
Cabramatta Two Blues 34 Asquith Magpies 28
Venue: New Era Stadium
Date: Saturday 24 August 2019 at 1:00pm
Cabramatta Two Blues (34)
Tries: Isiah Tuari 2, Tevita Vea 2, Tavena Koroisau, Jason Jana, Kaylen Miller
Goals: Christian Papa 2, Anzacsemi Aviata 1
Asquith Magpies (28)
Tries: Thomas Menzies 2, Hayden McWilliam, Josh Fraser, Kore-Lee Perenara
Goals: Kore-Lee Perenara 4
---
Hills District Bulls 10 East Campbelltown Eagles 64
Venue: Crestwood Oval
Date: Sunday 25 August 2019 at 1:00pm
Hills District Bulls (10)
Tries: Dean Barron, Thomas Gibbeson
Goals: Noah Smith 1
East Campbelltown Eagles (64)
Tries: Alapati Potifara 2, Jayke Lealuga-Puhotau 2, Va'enuku Vatuvei 2, Shannon Gallant, Grant Lahey, Edwin Connor, Theo Leato, Jim Laulilii
Goals: Edwin Connor 10
---
Guildford Owls 36 Wentworthville United 32
Venue: McCredie Park
Date: Sunday 25 August 2019 at 1:00pm
Guildford Owls (36)
Tries: Leslie Ngaluafe 2, Mohamad Soultan, Ashley Brown, Dylan Holdsworth, Saimone Lasalo, Lachlan Camroux
Goals: Lachlan Camroux 4
Wentworthville United (32)
Tries: Siaosi Sisifa 4, Skippy Lipano 2
Goals: Brendon Newtown 4
---
Penrith Brothers 8 Ryde Eastwood Hawks 44
Venue: Hickeys Lane Reserve
Date: Sunday 25 August 2019 at 1:15pm
Penrith Brothers (8)
Tries: Corey La Rosa 2
Ryde Eastwood Hawks (44)
Tries: Tristan Evans-Tsoi 2, Langi Suli-Ruka, Brad Cincotta, Angelo Panambalana, Santino Battagliolo, Dane Knuth
Goals: Josh Rizk 6
---
Moorebank Rams 60 Belrose Eagles 16
Venue: Hammondville Oval
Date: Sunday 25 August 2019 at 3:00pm
Moorebank Rams (60)
Tries: Sebastian Winters-Chang 3, Jake Kamire 2, Aiden Aue 2, Jake Horton 2, Sakaraia Ratuvou, Mosese Pope
Goals: Jake Horton 7, Joel Barry 1
Belrose Eagles (16)
Tries: Mataika Vatuvei, Issac Treml, Alec Panetta
Goals: Warren Butler 1, Ken Szeremeta 1
---
RELATED: Click here to view the current Sydney Shield ladder.