Results and Scorers:
RESULTS: 2019 Ron Massey Cup Round 23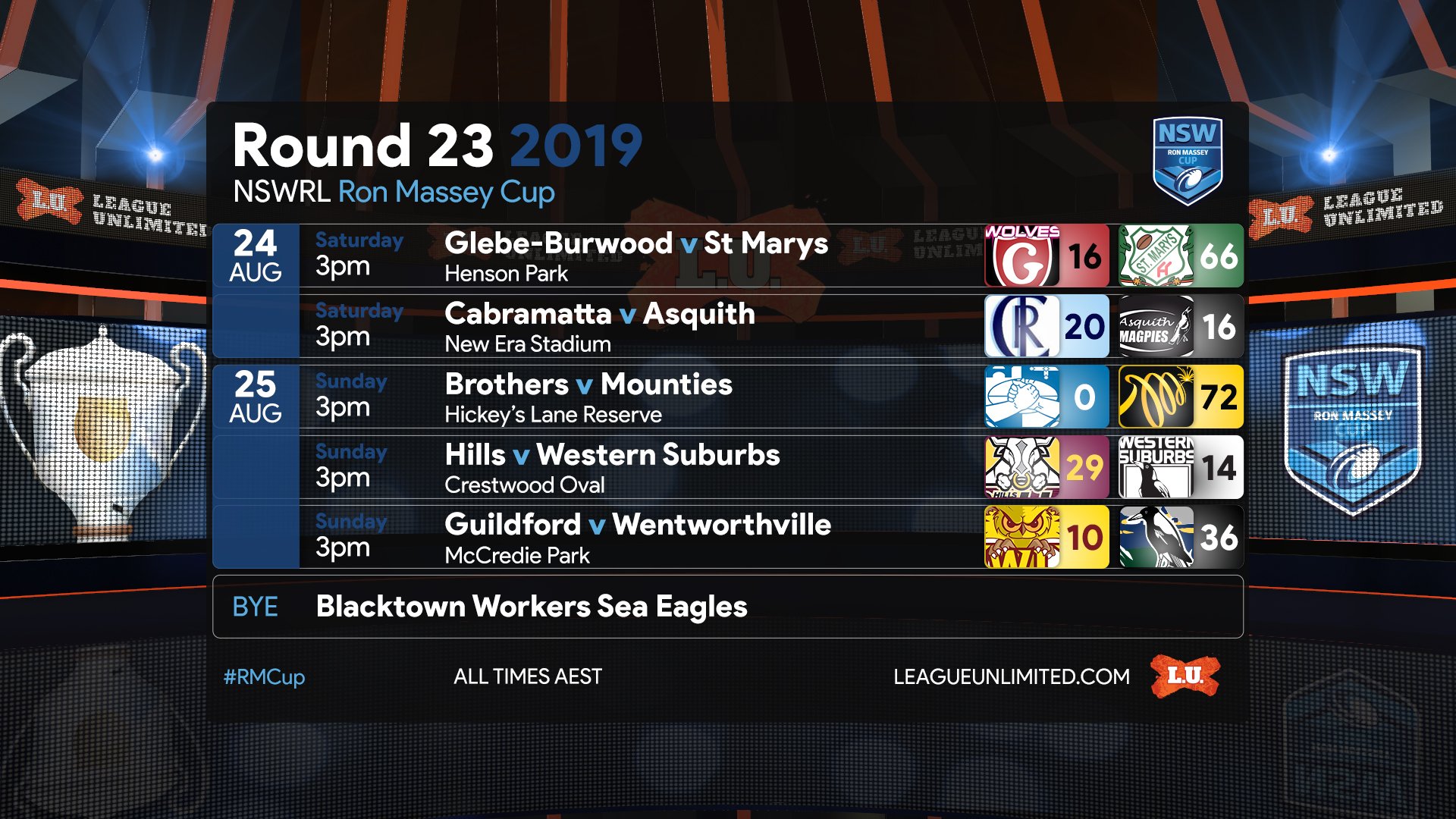 All the results and scorers from the second-last round of the NSWRL Ron Massey Cup.
All listed times are AEST (NSW/QLD/VIC/ACT).
---
RELATED: See the full list of 2019 Ron Massey Cup Draw and Results.
---
Glebe Burwood Wolves 16 St Marys 66
Venue: Henson Park
Date: Saturday 24 August 2019 at 3:00pm
Glebe Burwood Wolves (16)
Tries: Anthony Overton, Chris Tupou, Kyle Lovett
Goals: Ben Jackson 2
St Marys (66)
Tries: Jake Maizen 2, Thomas Skinner 2, Jake Toby 2, Vasili Tsikrikas 2, George Tsikrikas, Maliko Filino, John Faiumu
Goals: Kurt Falls 11
---
Cabramatta Two Blues 20 Asquith Magpies 16
Venue: New Era Stadium
Date: Saturday 24 August 2019 at 3:00pm
Cabramatta Two Blues (20)
Tries: Jamon Wormleaton 3, Kakapuna Fotu
Goals: Honeti Tuha 1, Brandon Finnegan 1
Asquith Magpies (16)
Tries: Will Solway, Kenneth Koro, Curtis Johnson
Goals: Matt Place 2
---
Penrith Brothers 0 Mounties RLFC 72
Venue: Hickeys Lane Reserve
Date: Sunday 25 August 2019 at 3:00pm
Penrith Brothers (0)
Mounties RLFC (72)
Tries: Jett Karam 2, Atini Gafa 2, Eddie Aiono 2, Jarrett Boland 2, Anthony Layoun 2, Roman Ioelu 2, Jakob Giles, Jack Payne
Goals: Sam Duggan 5, Roman Ioelu 2, Jett Karam 1
---
Hills District Bulls 29 Western Suburbs Magpies 14
Venue: Crestwood Oval
Date: Sunday 25 August 2019 at 3:00pm
Hills District Bulls (29)
Tries: Chris McCoy 2, Daniel Harrison, Sean Walpole, Meimeite Siale
Goals: Lachlan Walmsley 4
Field Goals: Nick Holliday 1
Western Suburbs Magpies (14)
Tries: David Minute, Brandan Su'A, Isaac Rabuatoka
Goals: Kelsey Coakes 1
---
Guildford Owls 10 Wentworthville Magpies 36
Venue: McCredie Park
Date: Sunday 25 August 2019 at 3:00pm
Guildford Owls (10)
Tries: Jarred Petero, Jayden Wheelhouse
Goals: Jarred Petero 1
Wentworthville Magpies (36)
Tries: Liam Mulvihill 2, Josh Bergamin, Eli Roberts, Beau Henry, Kieran Hayman, Josh Minhinnick
Goals: Brad Keighran 3, Beau Henry 1
---
Blacktown Workers Sea Eagles had a bye this round.
---
RELATED: Click here to view the current Ron Massey Cup ladder.