Results and Scorers:
RESULTS: 2019 Jersey Flegg Cup Finals Week 1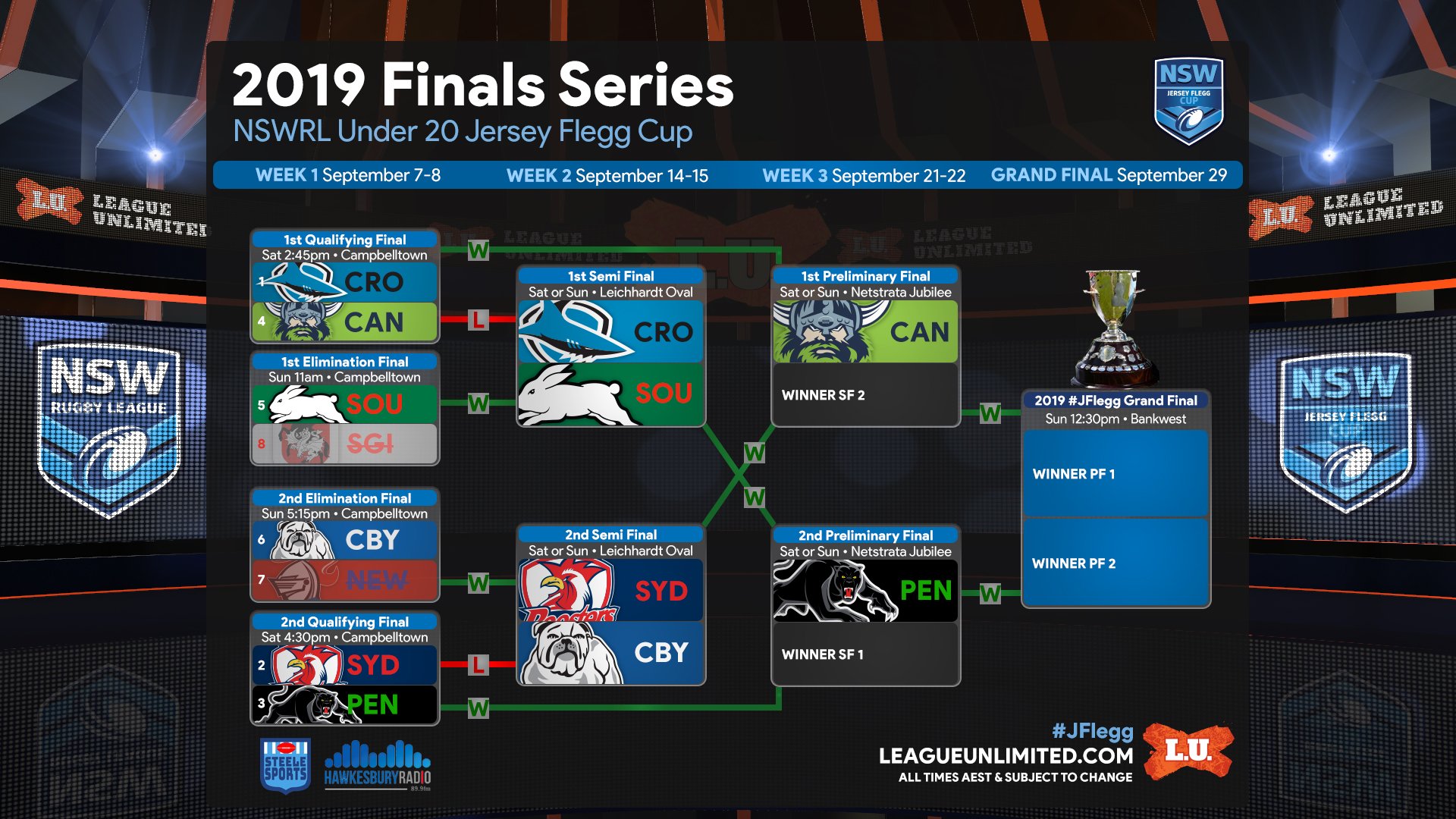 All the results and scorers from the first weekend of the NSWRL U20 Jersey Flegg Cup finals.
Canberra and Penrith proceed to Week 3, while Dragons and Knights have been eliminated.
All listed times are AEST (NSW/QLD/VIC/ACT).
---
RELATED: See the full list of 2019 Jersey Flegg Cup Draw and Results.
---
Cronulla-Sutherland Sharks 18 Canberra Raiders 19
Venue: Campbelltown Stadium
Date: Saturday 7 September 2019 at 2:45pm
Cronulla-Sutherland Sharks (18)
Tries: Josh Delailoa 3, Jonaiah Lualua
Goals: Jonaiah Lualua 1
Canberra Raiders (19)
Tries: Kyle Paterson, Gideon Afemui, Manase Kaho
Goals: Tobias Westcott 3
Field Goals: Tobias Westcott 1
---
Sydney Roosters 24 Penrith Panthers 25
Venue: Campbelltown Stadium
Date: Saturday 7 September 2019 at 4:30pm
Sydney Roosters (24)
Tries: McKenzie Baker 2, Ethan Quai-Ward, Reihana Marsh, Christian Tuipulotu
Goals: Bayleigh Bentley-Hape 2
Penrith Panthers (25)
Tries: Alexander Myles, Glenn McGrady, Daine Laurie, Justin Jones, Terrell May
Goals: Glenn McGrady 2
Field Goals: Daine Laurie 1
---
South Sydney Rabbitohs 30 St George Illawarra Dragons 24
Venue: Campbelltown Stadium
Date: Sunday 8 September 2019 at 11:00am
South Sydney Rabbitohs (30)
Tries: Kane Allan 2, Lachlan Ilias 2, Josh Cook, Marc Zaurinni
Goals: Lachlan Ilias 3
St George Illawarra Dragons (24)
Tries: Cody Ramsey 2, Sam McCann 2
Goals: Blair Grant 4
---
Canterbury-Bankstown Bulldogs 22 Newcastle Knights 18
Venue: Campbelltown Stadium
Date: Sunday 8 September 2019 at 5:15pm
Canterbury-Bankstown Bulldogs (22)
Tries: Justin Filo, Frank Kuresa, Sua Ailoilo, Declan Casey
Goals: Jackson Topine 3
Newcastle Knights (18)
Tries: Onosai Auina 2, Ben Talty, Justin Worley
Goals: Bayden Searle 1