Fixture This: the 2020 NRL Draw breakdown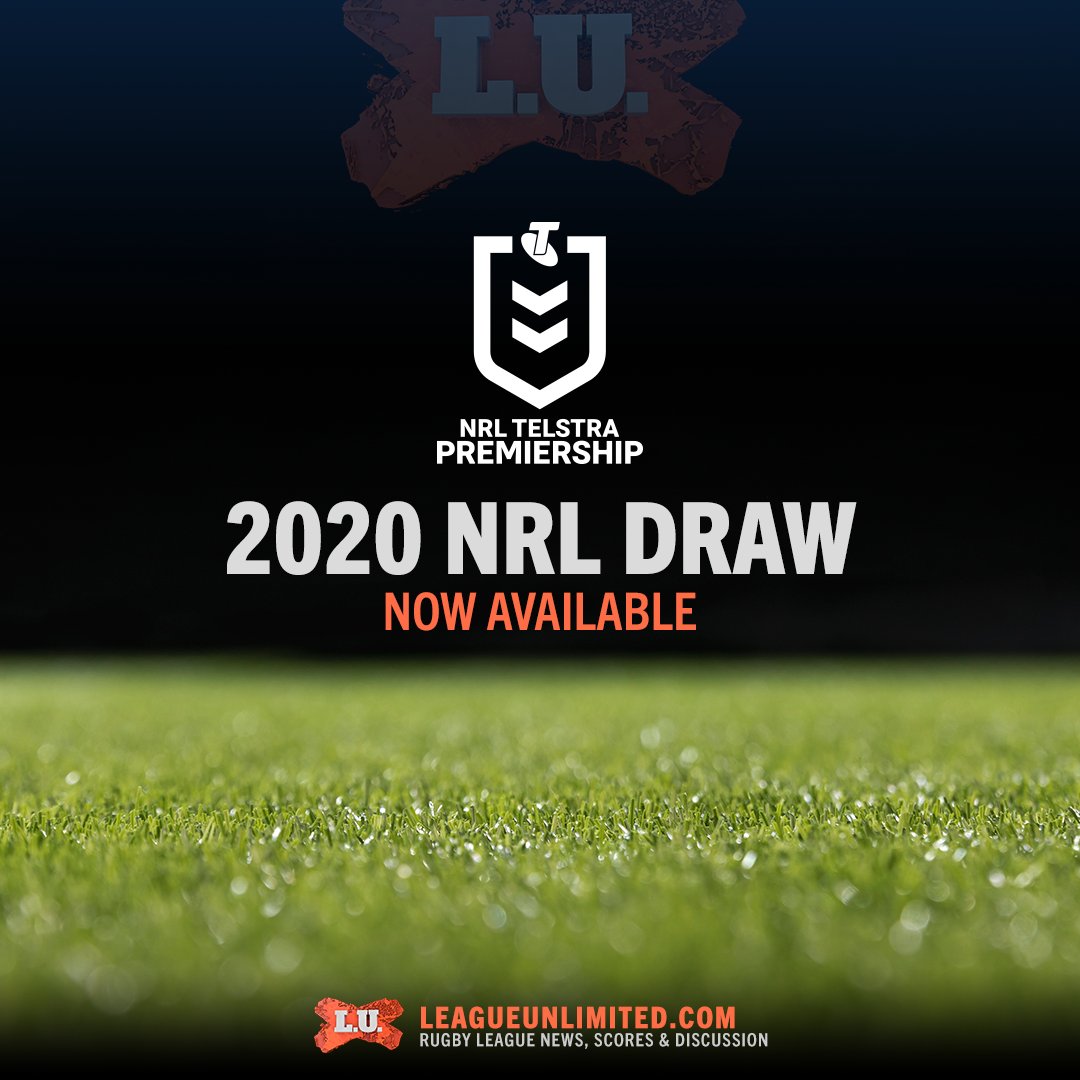 LeagueUnlimited.com looks at the 2020 NRL Draw - who wins, who loses and how the timeslots are distributed.
Each year when the NRL draw is released ahead of each new season, the usual suspects come out of the woodwork to complain that their team got the rough end of the stick, or worse still, that the entire draw is lopsided or unfair.
Looking purely at allocations of timeslots and opponents, we've decided to separate myth from fact. Let's shake.
RELATED: Check out the full 2020 NRL Draw here.
Timeslot allocation
Thursday night: Rabbitohs 6, Cowboys 5, Broncos Bulldogs Storm & Dragons 4, Sharks & Panthers 3, Manly Knights Eels & Roosters 2, Raiders & Tigers 1, Warriors 0
A fairly well distributed bunch of games this season after Broncos dominated this slot last year. Souths and the Cowboys have the lions share.
Friday 6pm: Titans 7, Warriors 6, Panthers & Manly 5, Sharks 4, Cowboys Bulldogs & Tigers 3, Dragons & Knights 2, Broncos Eels Roosters & Raiders 1, Rabbitohs & Storm 0
The Warriors and Titans dominate this slot again - the Titans presumably due to form, while the timezone suits the Warriors well. Knights fans will be pleased after having 8 of these fixtures two seasons ago to now have just two. Melbourne and Souths avoid the slot altogether.
Friday night: Broncos 10, Roosters & Storm 6, Cowboys Eels & Rabbitohs 4, Sharks & Tigers 3, Panthers Manly & Dragons 2, Titans Warriors Bulldogs & Raiders 1, Knights 0
Friday night Broncos persists for another year, with ten matches across their 24 being Friday night fixtures. The two form teams of the last decade in the Roosters and Storm have the next most, with high rating sides like the Cowboys, Eels and Rabbitohs also getting plenty. None for Newcastle though.
Sunday 4pm: Tigers 8, Panthers 7, Eels & Manly 6, Dragons Raiders & Knights 4, Broncos Roosters Storm Sharks & Bulldogs 2, Rabbitohs 1, Cowboys Titans & Warriors 0
Continuing the theme of Sydney clubs dominating the Sunday arvo footy timeslot for Channel 9, the Wests Tigers and Penrith will be the regulars at 4pm as your weekend winds down. No games in this slot for the Cowboys, Titans or Warriors.
Overall free to air coverage: Broncos 18, Storm 14, Tigers Panthers Eels & Rabbitohs 12, Manly & Dragons 11, Roosters 10, Bulldogs & Cowboys 9, Raiders & Sharks 8, Knights 7, Titans 2, Warriors 1
No real change to this apart from surprisingly less Roosters games on Free to Air. Brisbane well out on top, with the Titans and Warriors getting slim pickings.
Five day turnarounds
The NRL has taken an axe to five-day turnarounds and there's very few across the season now:
Eels Storm Rabbitohs & Sharks 3, Dragons & Roosters 2, Raiders Bulldogs Manly Knights Warriors Cowboys Panthers Tigers 1, Broncos & Titans 0
24 five-day turnarounds in total - two fewer than last season.
On the road
Several factors have once again forced clubs to take games away from traditional homes, most notably the Suncorp Stadium event in Round 9 - Magic Round Brisbane.
No real changes to those key venues, which once again include Gosford Tamworth, Wagga Wagga, Darwin, Bathurst, Wellington, Christchurch and the Sunshine Coast.
Below is a breakdown of every clubs' home venues:
Broncos: 12 x Suncorp Stadium
Raiders: 11 x GIO Stadium, 1 x Wagga Wagga
Bulldogs: 5 x ANZ Stadium, 4 x Bankwest Stadium, 1 x Belmore S.G, 1 x Suncorp Stadium, 1 x HBF Park
Sharks: 11 x Netstrata Jubilee Stadium, 1 x Sunshine Coast Stadium
Titans: 11 x Cbus Super Stadium, 1 x Suncorp Stadium
Sea Eagles: 10 x Lottoland, 1 x Central Coast Stadium, 1 x Suncorp Stadium
Storm: 11 x AAMI Park, 1 x Suncorp Stadium
Knights: 12 x McDonald Jones Stadium
Cowboys: 12 x North Queensland Stadium
Eels: 11 x Bankwest Stadium, 1 x TIO Stadium Darwin
Panthers: 11 x Panthers Stadium, 1 x Bathurst
Dragons: 5 x Netstrata Jubilee Stadium, 6 x WIN Stadium, 1 x SCG
Rabbitohs: 7 x ANZ Stadium, 2 x Bankwest, 1 x Sunshine Coast, 1 x Suncorp Stadium, 1 x Central Coast Stadium
Roosters: 9 x SCG, 1 x Suncorp Stadium, 1 x Central Coast Stadium, 1 x HBF Park
Warriors: 9 x Mt Smart Stadium, 1 x Suncorp Stadium, 1 x Wellington, 1 x Eden Park
Wests Tigers: 4 x Bankwest Stadium, 3 x Campbelltown, 3 x Leichhardt, 1 x Suncorp Stadium, 1 x Tamworth
Note that ANZ Stadium closes after Round 15, with the Rabbitohs and Bulldogs relocating home matches to Bankwest Stadium until 2022.