The Front Row - Volume 1 Issue 18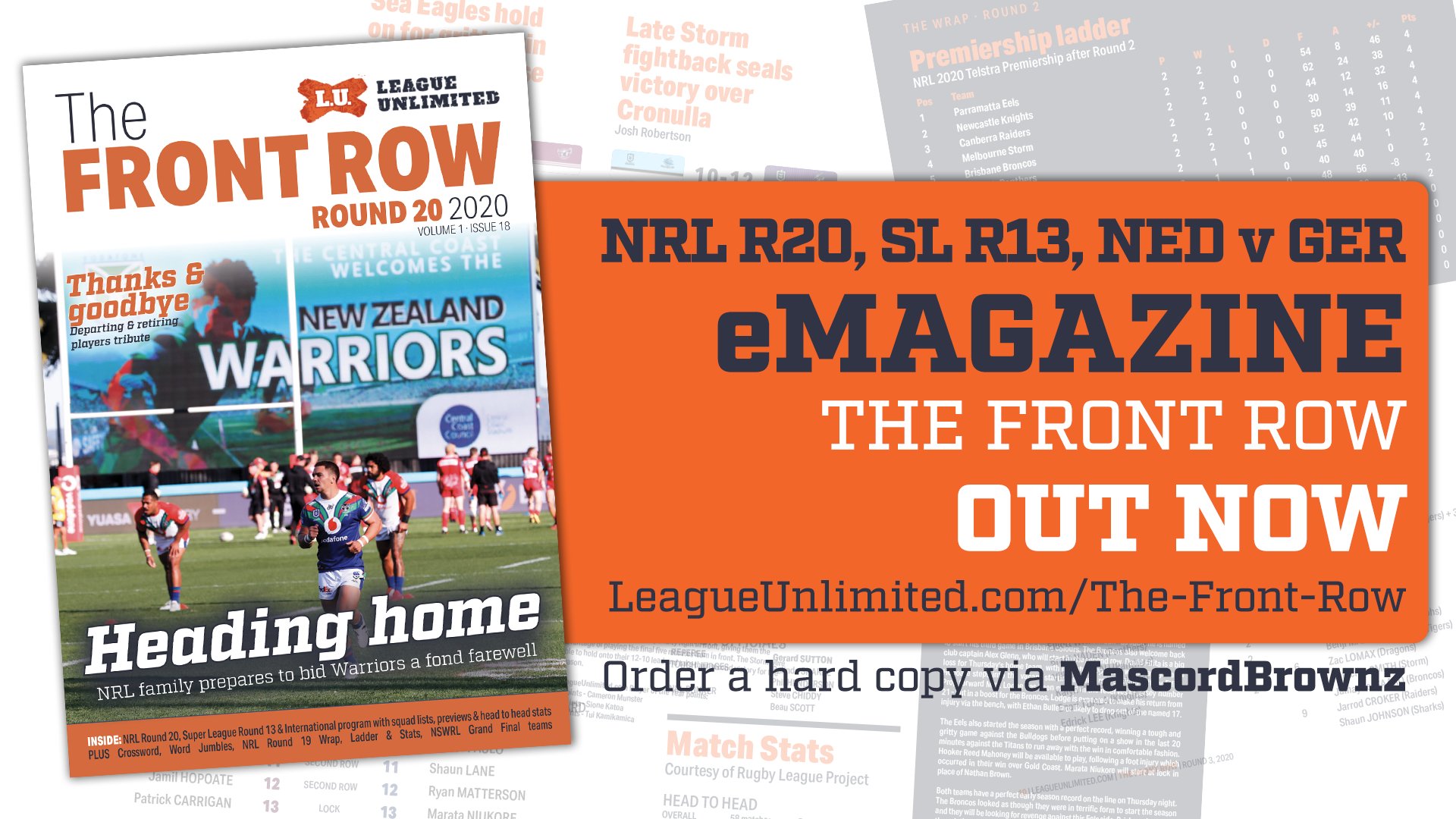 Here it is - the latest edition of The Front Row, our exclusive online e-magazine with a full wrap on last weekend's NRL along with the match programme for the coming weekend of action in the NRL, Super League and Saturday's Netherlands-Germany international!
This week Paul Jobber looks at the sacrifices made by the NZ Warriors as they prepare to head home after many long months keeping the NRL afloat by relocating to Australia, while Rob Crosby looks at the departing and retiring class of 2020 as many players make their exits. Rick's weekly finals column peaks with rankings of the top eight forward packs headed into the pointy end of the season.
Add to that all the regular features you've come to expect - a full NRL Round 20, Super League Round 13 and Netherlands-Germany programme - and you have one fantastic 50-page magazine for your weekend's reading!
If you're having trouble opening the flipbook below, click here.
A PDF copy can be downloaded here.
Printed versions can be ordered from MascordBrownz.
Past editions can always be viewed right here!

---
As we do each week, we express our gratitude to our incredible contributors and partners;
Andrew Ferguson of Rugby League Project
Steve Mascord & Phillip Browne of Mascord Brownz
Paul Jobber
Josh Robertson
Rick Edgerton
Robert Crosby
Justin Davies
Lachy MacCorquodale
Adam Huxtable
Hamish Parker
Sam Bourke
Andrew Jackson
Jason Hosken
Emile El-Azar
Twizzle Brennan
Andrew Carey
Got any questions about the content, feedback, or want to enquire about advertising? Email us via media@leagueunlimited.com