Results and Scorers:
RESULTS: 2021 QRL Intrust Super Cup Finals Week 1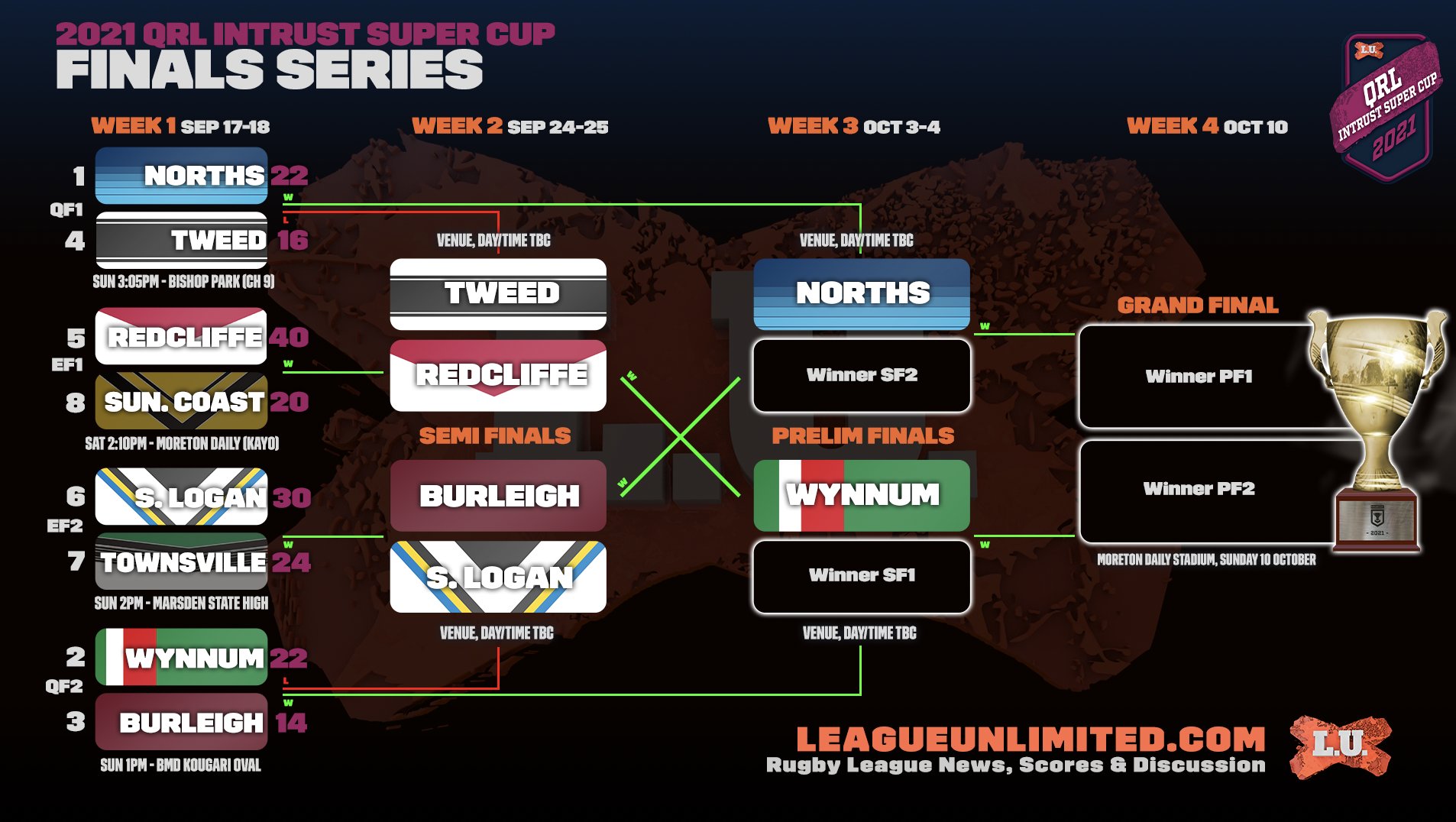 All the results and scorers from the opening week of the finals.
All listed times are AEST (NSW/QLD/VIC/ACT).
---
RELATED: See the full list of 2021 QRL Intrust Super Cup Draw and Results.
---
Redcliffe Dolphins 40 Sunshine Coast Falcons 20
Venue: Moreton Daily Stadium
Date: Saturday 18 September 2021 at 2:10pm
Redcliffe Dolphins (40)
Tries: Will Partridge 2, Trai Fuller, Edward Kosi, Tom Ale, Jeremy Hawkins, Viliami Vailea
Goals: Will Partridge 6
Sunshine Coast Falcons (20)
Tries: Paul Ulberg, Louis Geraghty, Luke Polselli, William Toloi
Goals: Luke Murphy 2
---
Wynnum Manly Seagulls 22 Burleigh Bears 14
Venue: BMD Kougari Oval
Date: Sunday 19 September 2021 at 1:10pm
Wynnum Manly Seagulls (22)
Tries: TC Robati, Sam Scarlett, Selwyn Cobbo
Goals: Jesse Arthars 5

Burleigh Bears (14)
Tries: Dylan Kelly, Shallin Fuller
Goals: Josh Rogers 3
---
Souths Logan Magpies 30 Townsville Blackhawks 24
Venue: Marsden State High School
Date: Sunday 19 September 2021 at 2:00pm
Souths Logan Magpies (30)
Tries: Isaiah Tass 2, Creedence Toia, Benaiah Bowie, Ezra Mam
Goals: Jamayne Isaako 4
Field Goals: Jamayne Isaako 2
Townsville Blackhawks (24)
Tries: Kalifa Faifai-Loa, Josh Chudleigh, Jaelen Feeney, Kyle Laybutt
Goals: Shaun Nona 4
---
Norths Devils 22 Tweed Seagulls 16
Venue: Bishop Park
Date: Sunday 19 September 2021 at 3:05pm
Norths Devils (22)
Tries: Jonathon Reuben 2, Matthew Milson, Bernard Gregorius
Goals: Connor Broadhurst 2, Tyrone Roberts 1
Tweed Seagulls (16)
Tries: Joshua Patston, Braden Robson, Toby Sexton
Goals: Lindon McGrady 1, Toby Sexton 1
---
RELATED: Click here to view the current QRL Intrust Super Cup ladder.