Results and Scorers:
RESULTS: 2022 Betfred Super League Round 20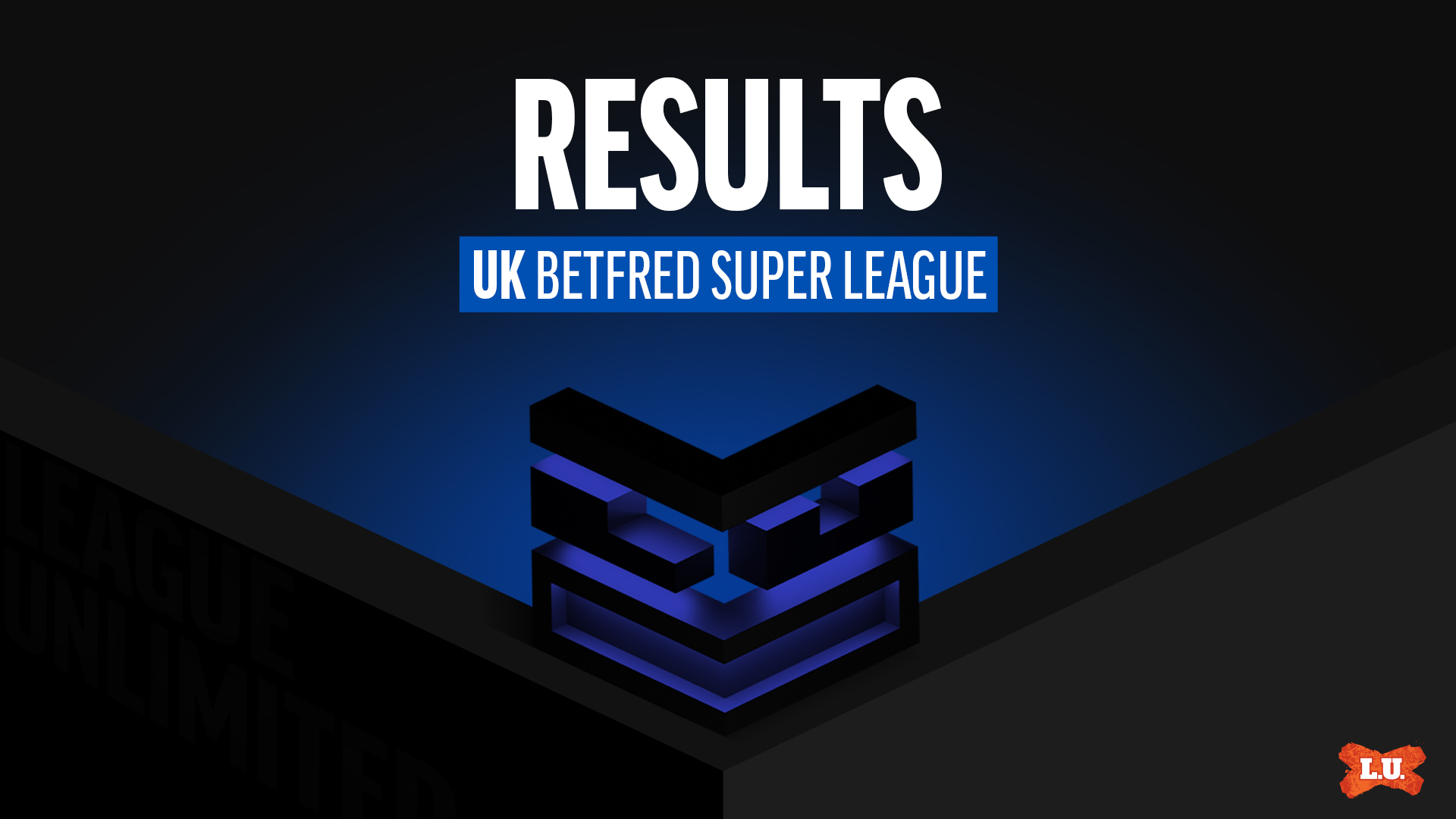 All the results and scorers from the twentieth round.
All listed times are AEST (NSW/QLD/VIC/ACT).

---
RELATED: See the full list of 2022 Betfred Super League Draw and Results.
---
Rhinos trample Warriors in massive upset
Leeds Rhinos were comfortable 42-12 winners against Wigan Warriors in an upset on Thursday night at the Headingley Stadium.
The Rhinos were never headed in the one-sided affair and got the game going with a four-pointer to centre Liam Sutcliffe followed by James Bentley touching down for 12-0.
Wigan Warriors hit back through their Australian connection. Jai Field darted down the right side before he unfurled a pass for Bevan French to dive over.
Rhyse Martin who had a perfect night with the boot going seven from seven and added a four-pointer himself just before the half hour mark to restore the 12-point lead.
It's been a good few weeks for Cameron Smiths in sport and the Rhinos halfback got himself on the scoresheet late in the first half to make it 24-6 at the break.
Leeds picked up right where they left off when Harry Newman finished off a long break for the Rhinos fifth try of the contest before the Warriors hit back through Jake Bibby.
Interchange players flourished in the late stages with Brad Dwyer and Muizz Mustapha both got themselves across the whitewash after coming off the bench to make it 42-12.
Leeds Rhinos 42 Wigan Warriors 12
Venue: Headingley Stadium, Leeds
Crowd: 13368
Date: Friday 22 July 2022 at 5:00am
Leeds Rhinos (42)
Tries: Liam Sutcliffe, James Bentley, Rhyse Martin, Cameron Smith, Harry Newman, Brad Dwyer, Muizz Mustapha
Goals: Rhyse Martin 7
Wigan Warriors (12)
Tries: Bevan French, Jake Bibby
Goals: Harry Smith 2
---
Hull KR post comeback for a crucial win against worried Warrington Wolves
Hull KR kept their finals hopes alive with a 30-22 win against Warrington Wolves on Friday night at the Halliwell Jones Stadium.
The Wolves were howling in the first half. The hosts scored the first two tries of the contest through a double to Jake Wardle to make it 14-0.
Stefan Ratchford kept the scoreboard ticking in the first half with four goals from the boot in the first half and helped them to a 16-12 lead at the break.
The Rovers helped reduce their deficit with tries to centres Ben Crooks and Sam Wood helped by the sin bin of Peter Mata'utia just before the half hour mark.
Warrington extended their lead out to ten through interchange forward Thomas Mikaele which much like the Robins scores came with the opponents down to 12.
Headed into the final 15 minutes Hull KR piled on three tries to overcome the Wolves and take the two points to keep themselves in the top six hunt.
Matt Parcell, Ethan Ryan and Will Dagger all were try scorers for the visitors as the traveling fans enjoyed their trip home in a Friday night delight.
Warrington Wolves 22 Hull Kingston Rovers 30
Venue: Halliwell Jones Stadium, Warrington
Crowd: 7551
Date: Saturday 23 July 2022 at 5:00am
Warrington Wolves (22)
Tries: Jake Wardle 2, Thomas Mikaele
Goals: Stefan Ratchford 3
Hull Kingston Rovers (30)
Tries: Ben Crooks, Sam Wood, Matt Parcell, Ethan Ryan, Sam Royle
Goals: Lachlan Coote 4, Will Dagger 1
---
Tigers consolidate fifth spot with huge win against Hull FC
Castleford Tigers led by a second half surge prevailed 46-18 against a disappointing Hull FC side on Friday night.
The Tigers hit the scoreboard first through a Danny Richardson penalty goal from an offside followed by in-form winger Derrell Olpherts diving over to make it 8-0.
Hull FC steadied themselves after a scuffle saw both Tigers Olpherts and Hull's Connor Wynne sent to the bin. The hosts scored all 18 of their points in the first half on Friday.
Miteli Vulikijapani, Darnell McIntosh and Danny Houghton all crossed the stripe for Hull FC to give them a 18-14 lead at half-time as they try to keep their spot in the top six.
Olpherts continued his superb try-scoring form recently on Friday night with three tries in the second half to help the Tigers blow away the hosts and give them a four-point gap to sixth.
The Tigers were reduced to 12 again early in the second half when Jake Mamo was binned for dissent but it didn't stop them finding Bureta Faraimo out wide to take the lead.
Faraimo completed his double three minutes later alongside scores from Suaia Matagi and Alex Sutcliffe alongside Olpherts continued feats helped them run out convincing winners.
In a feisty game which saw 5 cards handed out including a red card to Hull FC's Ligi Sao for a dangerous tackle in the second half. George Lawler was also binned late for the Tigers.
Hull FC 18 Castleford Tigers 46
Venue: MKM Stadium, Hull
Crowd: 9550
Date: Saturday 23 July 2022 at 5:00am
Hull FC (18)
Tries: Mitieli Vulikijapani, Darnell McIntosh, Danny Houghton
Goals: Luke Gale 3
Castleford Tigers (46)
Tries: Derrell Olpherts 4, Bureta Faraimo 2, Suaia Matagi, Alex Sutcliffe
Goals: Danny Richardson 7
---
Catalans move into third with tense win against Giants
Sam Tomkins drop goal was enough to settle Catalans Dragons 13-12 win over Huddersfield Giants on Saturday afternoon.
The win sees the Dragons leap over the Giants into third spot on the Super League ladder and snap their recent losing streak in dramatic fashion.
Huddersfield Giants were the first side to score when Chris McQueen cleaned up from a kick which hit the ground and touched down for the visitors.
Catalans went close through winger Mathieu Laguerre who was held up before they swung it wide on the right for Arthur Romano to level the scores at 4-all.
Buoyed by their four-pointer before the break, Catalans hit the front through Benjamin Jullien who steamed onto a soft pass from Mitchell Pearce to make it 10-4 good buddy.
It was a tight contest so the Giants hit back through second rower Danny Levi before a conversion from Oliver Russell had the game locked up at 10-all.
Both sides traded penalty goals through Sam Tomkins and Will Pryce to keep the game tighter than a new pair of jeans at 12-all.
Much of the attack in the final ten was for the hosts. The Dragons were camped in the Giants half and missed their first field goal when Pearce hit the post.
The Dragons took home the vital two points in the final minute. Tomkins stepped up and piloted home the one-pointer to send a majority of the 6,845 fans home happy.
Catalans Dragons 13 Huddersfield Giants 12
Venue: Stade Gilbert Brutus, Perpignan
Crowd: 6845
Date: Sunday 24 July 2022 at 3:00am
Catalans Dragons (13)
Tries: Arthur Romano, Benjamin Jullien
Goals: Sam Tomkins 2
Field Goals: Sam Tomkins 1
Huddersfield Giants (12)
Tries: Chris McQueen, Danny Levi
Goals: Olly Russell 2
---
Red Devils surge into top six in tight Toulouse tussle
Salford Red Devils kept up their recent good form with a 24-11 win against Toulouse Olympique on Saturday night in Toulouse.
This was a clash between two sides in good form and Toulouse freshly removed from the relegation zone struck first through Matieu Jussaume for a 6-0 lead.
Both sides went close to adding to their scores but some superb defence denied them any further. The Red Devils did lock the game up when Joe Burgess touched down from a high kick.
Toulouse took a three-point advantage into the break. Tony Gigot slotted a field goal to give the hosts the lead before a late hit after a break allowed Chris Hankinson to pilot home the penalty for a 9-6 lead.
Hankinson raised the flags again from the tee to give Toulouse the advantage again in the contest before a late rally from Salford Red Devils sent the points back over the channel.
Ken Sio moved into second spot on the Super League top scorers list with a pair of tries in the Salford success which takes his season total to 19 just behind Wigan's Bevan French on 20.
Burgess also completed his double in the second half alongside some precise kicking from Marc Sneyd was enough to move the Red Devils into the top six.
Toulouse Olympique XIII 11 Salford Red Devils 24
Venue: Stade Ernest-Wallon. Toulouse
Crowd: 3706
Date: Sunday 24 July 2022 at 4:00am
Toulouse Olympique XIII (11)
Tries: Mathieu Jussaume
Goals: Chris Hankinson 3
Field Goals: Tony Gigot 1
Salford Red Devils (24)
Tries: Joe Burgess 2, Ken Sio 2
Goals: Marc Sneyd 3
---
Saints survive scare to record golden win against Wakefield
St Helens stirred late to win in Golden Point 13-12 against a gallant Wakefield Trinity side on Sunday afternoon.
The golden win pushes St Helens advantage at the top of the Super League ladder to six points as the Saints eye off another Minor Premiership.
The leaders didn't have it all their own way on Sunday afternoon. Wakefield Trinity scored first through mid-season signing Jorge Taufua in the left corner.
Trinity added to their advantage when Jacob Miller tried to boot a 40/20 which was kept in by the Saints defence which gave enough time for Jack Croft to make it 10-0.
Mason Lino who was two from four from the boot on the windy afternoon extended Trinity's lead to a dozen as Wakefield Trinity looked to get themselves out of the drop zone again.
The old saying is 'Never Write Off The Saints' and the Champions hit back through Reagan Grace in the left corner and then a similar move on the right for Jon Bennison to make it 12-all.
Neither side were able to break the deadlock in regulation time which meant we headed to Golden Point. Trinity had the first attempt through Lino who sent it wide of the mark.
St Helens were steady under pressure. Jonny Lomax fumbled the ball when set for a field goal before he shuffled it to Jack Welsby to give the Saints a 13-12 win.
Wakefield Trinity 12 St Helens 13
Venue: Be Well Support Stadium, Wakefield
Crowd: 4162
Date: Tuesday 26 July 2022 at 12:00am
Wakefield Trinity (12)
Tries: Jorge Taufua, Jack Croft
Goals: Mason Lino 2
St Helens (13)
Tries: Jon Bennison, Regan Grace
Goals: Jonny Lomax 2
Field Goals: Jack Welsby 1
---
Ladder after Round 20
| Team | P | W | L | D | F | A | +/- | Pts |
| --- | --- | --- | --- | --- | --- | --- | --- | --- |
| 1. St Helens | 20 | 17 | 3 | 0 | 480 | 220 | 260 | 34 |
| 2. Wigan Warriors | 20 | 14 | 6 | 0 | 570 | 385 | 185 | 28 |
| 3. Catalans Dragons | 20 | 13 | 7 | 0 | 405 | 317 | 88 | 26 |
| 4. Huddersfield Giants | 20 | 12 | 7 | 1 | 439 | 348 | 91 | 25 |
| 5. Castleford Tigers | 20 | 11 | 9 | 0 | 461 | 442 | 19 | 22 |
| 6. Salford Red Devils | 20 | 9 | 11 | 0 | 471 | 466 | 5 | 18 |
| 7. Hull Kingston Rovers | 20 | 9 | 11 | 0 | 360 | 430 | -70 | 18 |
| 8. Hull FC | 20 | 9 | 11 | 0 | 378 | 485 | -107 | 18 |
| 9. Leeds Rhinos | 20 | 8 | 11 | 1 | 405 | 390 | 15 | 17 |
| 10. Warrington Wolves | 20 | 7 | 13 | 0 | 404 | 487 | -83 | 14 |
| 11. Toulouse Olympique XIII | 20 | 5 | 15 | 0 | 333 | 511 | -178 | 10 |
| 12. Wakefield Trinity | 20 | 5 | 15 | 0 | 327 | 552 | -225 | 10 |
RELATED: Click here to view the current Betfred Super League ladder.