Results and Scorers:
RESULTS: 2022 Betfred Championship Round 23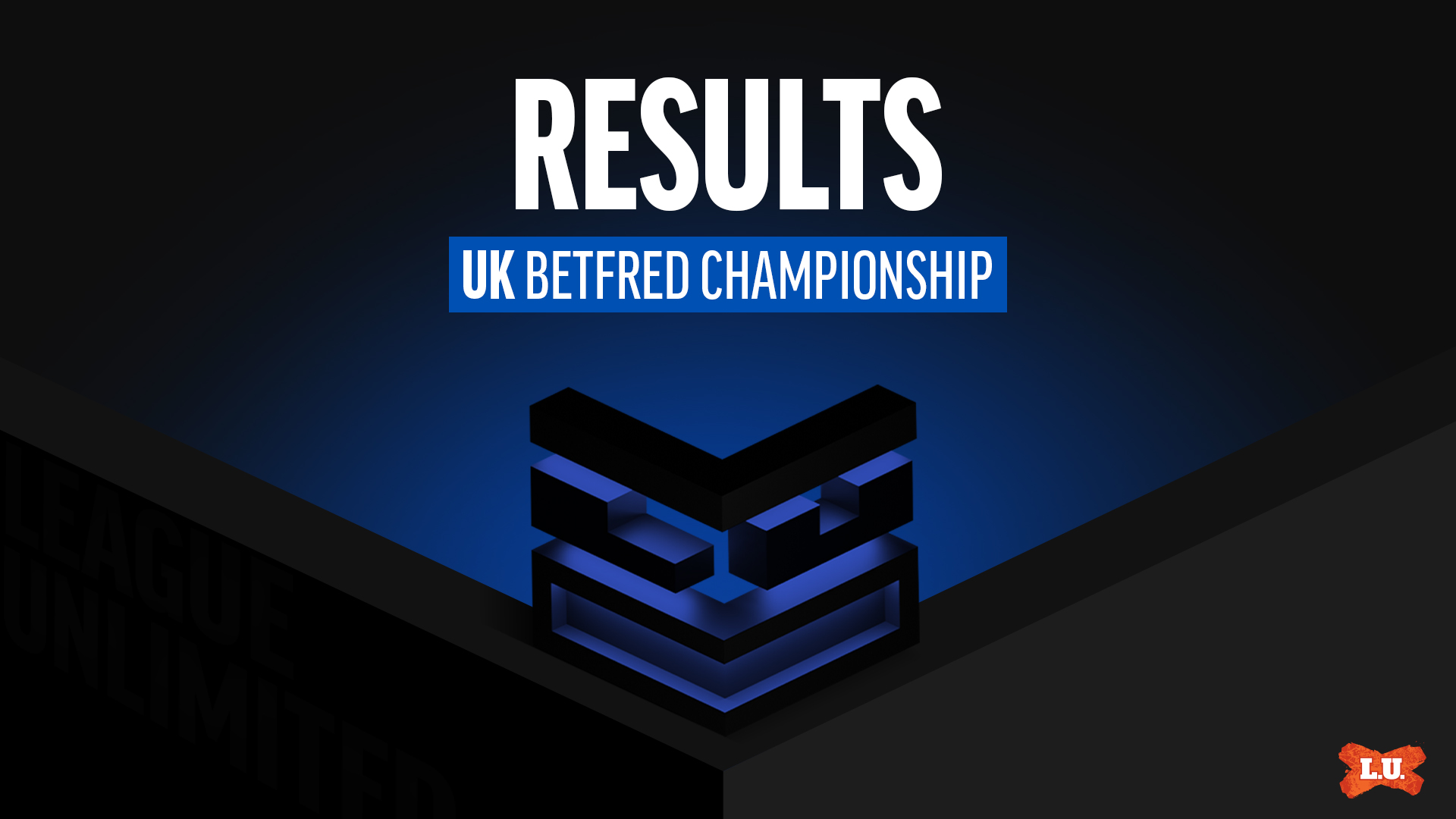 All the results and scorers from the twenty-third round.
All listed times are AEST (NSW/QLD/VIC/ACT).
---
RELATED: See the full list of 2022 Betfred Championship Draw and Results.
---
Sheffield Eagles 26 Halifax Panthers 32
Venue: Olympic Legacy Park Community Stadium, Sheffield
Date: Saturday 13 August 2022 at 4:45am
Sheffield Eagles (26)
Tries: Kris Welham, Tom Holmes 2, Anthony Thackeray, Brandon Douglas
Goals: Josh Guzdek 3
Halifax Panthers (32)
Tries: Lachlan Walmsley, Joe Arundel 3, Zach McComb, Joe Keyes
Goals: Joe Keyes 4
---
Batley Bulldogs 12 Barrow Raiders 30
Venue: Fox's Biscuits Stadium, Batley
Date: Monday 15 August 2022 at 12:00am
Batley Bulldogs (12)
Tries: James Meadows, Kieran Buchanan
Goals: Tom Gilmore 2
Barrow Raiders (30)
Tries: Luke Cresswell 2, Shane Toal, Hakim Miloudi, Ryan Shaw
Goals: Ryan Shaw 3
---
Featherstone Rovers 72 Dewsbury Rams 6
Venue: Millennium Stadium, Featherstone
Date: Monday 15 August 2022 at 12:00am
Featherstone Rovers (72)
Tries: Craig Hall 3, Gadwin Springer, Craig Kopczak, Johnathon Ford, Luke Briscoe 2, Junior Moors, Joseph Leilua, Tom Lineham, Sam Eseh, Connor Jones
Goals: Craig Hall 9, Luke Cooper 1
Dewsbury Rams (6)
Tries: Keenen Tomlinson
Goals: Paul Sykes 1
---
London Broncos 38 Workington Town 12
Venue: Cherry Red Records Stadium, London
Date: Monday 15 August 2022 at 12:00am
London Broncos (38)
Tries: Iliess Macani, Alex Walker 2, Will Lovell, Dean Parata, Rhys Curran, Paul Ulberg
Goals: Olly Leyland 5
Workington Town (12)
Tries: Ethan Bickerdike, Matty Henson
Goals: Carl Forber 2
---
Newcastle Thunder 0 Leigh Centurions 60
Venue: Kingston Park, Newcastle
Date: Monday 15 August 2022 at 12:00am
Newcastle Thunder (0)

Leigh Centurions (60)
Tries: Joe Wardle, John Asiata, Tom Amone, Tom Nisbet 2, Sam Stone, Edwin Ipape 2, Josh Charnley, Lachlan Lam
Goals: Krisnan Inu 10
---
Whitehaven RLFC 12 Widnes Vikings 26
Venue: LEL Arena, Whitehaven
Date: Monday 15 August 2022 at 12:00am
Whitehaven RLFC (12)
Tries: Will Evans, Ryan King
Goals: Nikau Williams 1, Josh Martin 1
Widnes Vikings (26)
Tries: Matthew Fleming, Sam Wilde, Liam Bent, Matty Fozard
Goals: Ste Tyrer 5
---
York City Knights 16 Bradford Bulls 20
Venue: LNER Community Stadium, York
Date: Tuesday 16 August 2022 at 4:45am
York City Knights (16)
Tries: Will Jubb, Matty Marsh, Joe Brown
Goals: James Glover 2
Bradford Bulls (20)
Tries: AJ Wallace, George Flanagan Jr., Myles Lawford
Goals: Elliot Kear 4
---
RELATED: Click here to view the current Betfred Championship ladder.